Pupuk Bersubsidi, Dirjen PSP Minta Pendistribusian Patuhi Prinsip Enam Tepat
Indonesian Govt Oversees the Distribution of Subsidized Fertilizer for Farmers
Reporter : Gusmiati Waris
Editor : Cahyani Harzi
Translator : Dhelia Gani

PUBLISHED: Jum'at, 01 Maret 2019 , 01:58:00 WIB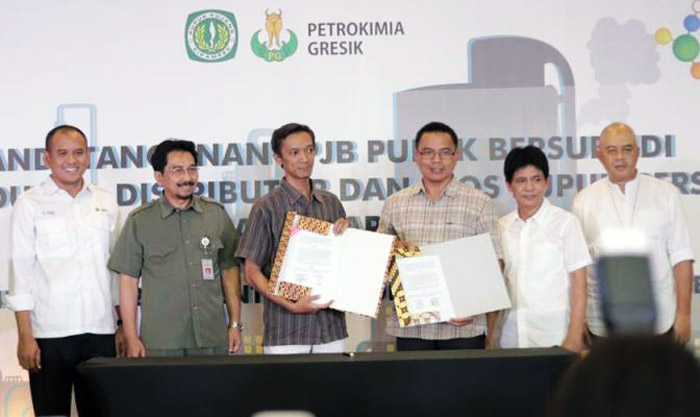 KONTRAK JUAL BELI: Dirjen PSP Sarwo Edhy (ke-2 kiri) dan Dirut PT Pupuk Indonesia, Aas Asikin (ke-2 kanan) menyaksikan kontrak jual beli 24 distributor dan 476 dengan Pupuk Kujang dan Petrokimia Gresik (Foto: Humas Ditjen PSP)
Purwakarta, Jabar (B2B) - Kementerian Pertanian RI mengingatkan PT Pupuk Indonesia, distributor dan kios pupuk bersubsidi untuk melaksanakan prinsip Enam Tepat mencakup ´waktu, jumlah, tempat, jenis, mutu dan harga´ dan meminta aparat penegak hukum dan keamanan mengawal distribusi pupuk bersubsidi untuk memenuhi kebutuhan petani, sekaligus mencegah dan menindak penyalahgunaan pupuk bersubsidi.
Hal itu dikemukakan Dirjen Dirjen Prasarana dan Sarana Pertanian, Sarwo Edhy dalam arahannya setelah penandatanganan kontrak jual beli 24 distributor dan 476 kios pupuk bersubsidi di empat kabupaten di Provinsi Jawa Barat: Purwakarta, Subang, Karawang, dan Bandung dengan PT Pupuk Kujang dan Petrokimia Gresik, yang disaksikan oleh Direktur Utama PT Pupuk Indonesia, Aas Asikin di Purwakarta, Rabu (27/3). Hingga saat ini ada 131 distributor didukung 3.807 kios resmi pupuk bersubsidi di seluruh Jabar.
"Dalam menjalankan pendistribusian pupuk bersubsidi harus sesuai prinsip enam tepat, untuk memastikan penyaluran pupuk bersubsidi berjalan optimal terutama sepanjang musim tanam hingga Maret," kata Dirjen Sarwo Edhy.
Menurutnya, Kementan juga mengharapkan PT Pupuk Indonesia menjalankan sejumlah strategi untuk mengoptimalkan distribusi pupuk bersubsidi, antara lain dengan mewajibkan anak usaha produsen pupuk yang tergabung dalam Pupuk Indonesia Group untuk menyediakan stok pupuk bersubsidi dan nonsubsidi hingga lini keempat atau kios pupuk.
Aas Asikin mengatakan bahwa PT Pupuk Indonesia didukung anak perusahaan berupaya melaksanakan tugas dari pemerintah untuk menyalurkan pupuk bersubsidi sesuai alokasi yang ditetapkan Permentan No 47/SR.310/11/2018.
"Kami menjamin ketersediaan pupuk bersubsidi di seluruh Indonesia, dan khususnya Jawa Barat sesuai arahan Dirjen PSP," kata Aas Asikin. (Sur)
Purwakarta of West Java (B2B) - Indonesian Agriculture Ministry reminded Pupuk Indonesia Holding Company, subsidized fertilizer distributor and kiosk to implement the Six Right principle: time, amount, place, type, quality and price and asked law enforcers and security forces to guard the distribution of subsidized fertilizers to meet farmers´ needs.
It was stated by the Director General of Agricultural Infrastructure and Facilities, Sarwo Edhy in his direction after witnessing the signing of a contract to buy and sell 24 distributors and 476 subsidized fertilizer kiosks in four districts of West Java province: Purwakarta, Subang, Karawang, dan Bandung with Pupuk Kujang and Petrokimia Gresik, subsidiaries of Pupuk Indonesia Holding Company. Until now there are 131 distributors and 3,807 official subsidized kiosks across the West Java province.
"Distribution must be in accordance with the six principles, to ensure the availability of subsidized fertilizer for farmers, especially for the March planting season," said DG Sarwo Edhy.
According to him, the government also expects Pupuk Indonesia Holding Company to run a number of strategies to optimize the distribution of subsidized fertilizers that subsidiaries are required to provide subsidized and non-subsidized fertilizer stocks to the fourth line or kiosks.
Aas Asikin said that Pupuk Indonesia Holding Company was supported by its subsidiaries ready to carry out government instructions to distribute subsidized fertilizer according to the allocation set by the agriculture minister´s 2018 regulation.
"We guarantee the availability of subsidized fertilizers throughout the country, and especially West Java," Asikin said.