SDM Pertanian: Penyuluh, Petani, Santri Ikuti Temu Teknis BPPSDMP di Bekasi
Indonesian Agriculture Focuses of Farmers` Regeneration in the Millennial Era
Editor : M. Achsan Atjo
Translator : Dhelia Gani

PUBLISHED: Rabu, 13 Maret 2019 , 01:59:00 WIB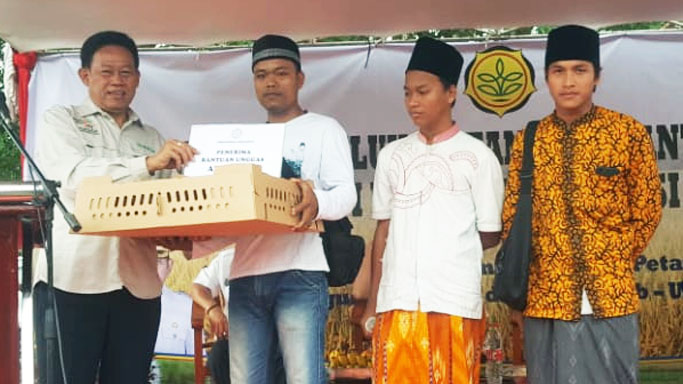 BANTUAN KEMENTAN: Kepala BPPSDMP Kementan, Momon Rusmono (kiri) menyerahkan bantuan kepada santri tani di Bekasi (Foto: Humas BPPSDMP)
Bekasi, Jabar [B2B] - Sedikitnya 1.000 petani, santri dan penyuluh dari Kabupaten Bekasi dan sekitarnya menghadiri kegiatan ´temu teknis´ menyongsong pembangunan pertanian di era milenial yang adaptif terhadap perkembangan teknologi dan informasi di era revolusi industri 4.0.
"Pengembangan SDM pertanian menjadi perhatian utama pemerintah, karena ke depan, Indonesia tidak lagi dapat mengandalkan sumber daya alam yang melimpah tanpa mampu memelihara dan mengelolanya dengan baik," kata Momon Rusmono, Kepala Badan Penyuluhan dan Pengembangan SDM Pertanian - Kementerian Pertanian RI [BPPSDMP] di Bekasi, Selasa [12/3].
Menurut Momon Rusmono, hal itu sejalan dengan instruksi Presiden RI Joko Widodo bahwa 2019 merupakan ´tahun pembangunan SDM, maka Kementan berkomitmen meningkatkan kualitas SDM pertanian, salah satunya dengan gerakan penumbuhan generasi milenial pertanian khususnya penyuluh, petani dan santri tani mendukung sukses program lumbung pangan dunia 2045.
Dia menguraikan program peningkatan minat dan kualitas SDM pertanian oleh Kementan seperti Penumbuhan Wirausahawan Muda Pertanian [PWMP], Bedah Kemiskinan Rakyat Sejahtera [Bekerja], Selamatkan Rawa Sejahterakan Petani [Serasi], Optimalisasi Mesin Pertanian [Opsin], Sapi Betina Wajib Bunting [Siwab].
"Keberhasilan membangun sektor pangan ini tidak hanya tergantung pada pemerintah saja, melainkan merupakan kolaborasi bersama antara seluruh pelaku yaitu petani, penyuluh, swasta, praktisi, akademisi, pemerintah dan masyarakat tani lainnya," kata Momon Rusmono.
BPPSDMP Kementan memberikan bantuan 10 unit traktor roda dua, 10 unit pompa air, lima unit cultivator, 10 unit hand sprayer, 62,5 ton benih padi, satu unit rice milling unit, 550 sachet benih ketimun, 45 sachet benih jagung manis, 155 sachet benih kangkung, lima sachet benih kacang panjang, dan lima sachet benih bayam. (Ema)
Bekasi of West Java [B2B] - At least 1,000 farmers, santri and agricultural extension of Bekasi district and surrounding areas attended the ´technical meeting´ activities to meet agricultural development in the millennium to adapt of information technology in the era of industrial revolution 4.0.
"The development of agricultural human resources is the government´s main concern, because going forward, Indonesia can no longer rely on natural resources without the ability to maintain and manage it well," said Momon Rusmono, Director General of Extension and Agricultural HR Development at the Agriculture Ministry or the BPPSDMP here on Tuesday [March 12].
According to Rusmono, this is in line with President Joko Widodo´s instructions that 2019 is the ´year of human resource development, the Ministry of Agriculture is committed to improve the quality of agricultural human resources.
He described a program to increase the interest and quality of agricultural human resources such as the development of young agricultural entrepreneurs and others.
"The success of the food sector does not only depend on the government, but collaboration between farmers, extension agents, private sector, practitioners, academics, the government and stakeholders," Rusmono said.