Produktivitas Pertanian, Ini Strategi Ditjen PSP Kementan hingga 2024
Indonesian Agricultural Infrastructure, this is the Government`s Strategy
Editor : M. Achsan Atjo
Translator : Dhelia Gani

PUBLISHED: Senin, 24 Juni 2019 , 01:59:00 WIB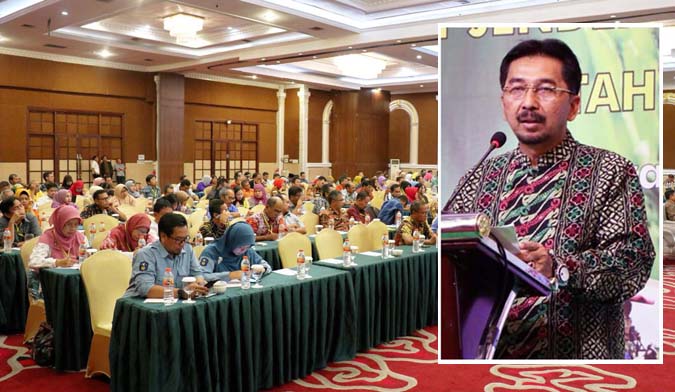 Dirjen PSP Kementan Sarwo Edhy [Foto: Humas Ditjen PSP]
Jakarta [B2B] - Kementerian Pertanian RI akan terus meningkatkan strategi dan kegiatan operasional untuk mendukung peningkatan produksi pertanian hingga 2024 mendatang. Strateginya adalah meningkatkan ketersediaan dan pemanfaatan lahan dan air, infrastruktur dan sarana, penguatan kelembagaan petani, pengembangan dan penguatan pembiayaan pangan dan pertanian.
Direktur Jenderal Prasarana dan Sarana Pertanian - Dirjen PSP Kementan, Sarwo Edhy mengatakan strategi operasional untuk 2020-2024 terdiri dari pengembangan lahan rawa pasang surut dan lebak 1 juta ha, pengembangan lahan kering dan tadah hujan (rainfed) 4 juta ha, peningkatan indeks pertanaman (IP) 100 menjadi 200 dan 300, mekanisasi pertanian hingga pengembangan korporasi petani dan asuransi padi dan sapi/kerbau.
Strategi tersebut kemudian diturunkan menjadi kegiatan operasional yang meliputi rehabilitasi jaringan irigasi tersier, irigasi perpompaan, irigasi perpipaan, cetak sawah, optimasi lahan, alat dan mesin pertanian pra panen, pembangunan embung pertanian, bangunan konservasi air dan antisipasi anomali iklim.
"Termasuk pengawalan penyaluran pupuk bersubsidi, asuransi usaha tani padi disingkat AUTP, asuransi usaha ternak sapi/kerbau atau AUTS/K," kata Sarwo Edhy.
Sejak 2015, Ditjen PSP Kementan melakukan rehabilitasi dan pembangunan jaringan irigasi tersier; pembangunan sumber-sumber air, alat dan mesin pertanian pra panen juga pascapanen, optimasi lahan; asuransi pertanian. Kegiatan operasional tersebut telah terbukti positif meningkatkan produksi selama ini.
Menurut catatan Ditjen PSP, rehabilitasi dan pembangunan jaringan irigasi tersier sepanjang 2015 -2018 lebih 3,1 juta hektar di seluruh sentra produksi.
"Kemudian ada pembangunan sumber-sumber air seperti embug, dam parit, long storage dan irigasi perpipaan sebanyak 5.589 unit," kata Sarwo Edhy
Termasuk Alsintan pra panen mencapai 1.526.487 unit dan pascapanen 8.142 unit, sedangkan penyediaan lahan melalui kegiatan cetak sawah seluas 217.631 hektar serta optimasi lahan 1.166.930 hektar.
Dari sisi perlindungan, ada asuransi usaha pertanian yang mencakup 1.987.610 hektar dan asuransi ternak sapi yang sudah melindungi 126.831 ekor sapi. [Sur]
Jakarta [B2B] - Indonesian Agriculture Ministry will continue to improve its strategy and operational activities to support increased agricultural production until 2024. The strategy is to increase the availability and use of land and water, infrastructure and facilities, strengthening farmer institutions, and strengthening food and agricultural financing.