Pengendalian Internal, Itjen Kementan Gelar Temu Koordinasi Kehumasan di Bogor
Indonesian Agriculture Ministry Held the Public Relations Coordination Meeting
Editor : M. Achsan Atjo
Translator : Dhelia Gani

PUBLISHED: Kamis, 29 November 2018 , 16:03:00 WIB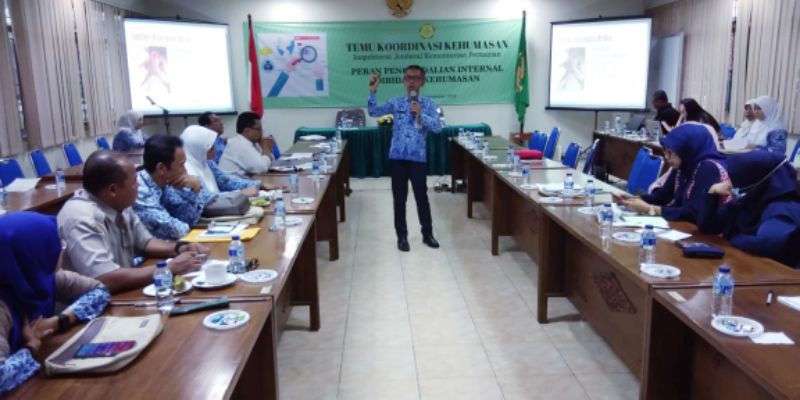 TANTANGAN HUMAS: Kabag Organisasi Kepegawaian, Hukum dan Humas Itjentan, Edi Puspito membuka Teko mewakili SesItjenTan Suprodjo Wibowo (Foto: Humas Itjentan/Irfan Arnando)
Bogor, Jabar (B2B) - Sejumlah pejabat fungsional dan pranata Humas di Kementerian Pertanian RI akan mengikuti Temu Koordinasi Kehumasan bertema ´Peran Pengendalian Internal dalam Bidang Kehumasan yang digelar oleh Inspektorat Jenderal Kementan (Itjentan) di Bogor siang ini, Kamis (29/11).
Sekretaris Itjentan Suprodjo Wibowo dijadwalkan membuka kegiatan tersebut untuk memberi pembekalan pada peserta yang akan mengikuti temu koordinasi hingga Jumat (30/11), dan diwakili oleh Kabag Organisasi Kepegawaian Hukum dan Humas Itjentan, Edi Puspito.
Kepala Subbagian Humas Itjentan, Eko Supriyanto mengatakan kegiatan Temu Koordinasi Kehumasan Kementan digelar untuk meningkatkan pemahaman tentang Kehumasan dan Informasi Publik dalam kaitan pengendalian internal yang menuntut kinerja maksimal dari insan-insan Kehumasan di Kementan.
Sejumlah pejabat Kehumasan dijadwalkan hadir sebagai pembicara di antaranya dari Biro Humas Kementerian Komunikasi dan Informasi (Kemenkominfo) Soekartono, dan Kepala Biro Humas dan Informasi Publik Kementan, Kuntoro Boga Andri.
Bogor of West Java (B2B) - A number of functional public relations officials at the Indonesian Agriculture Ministry will attend the Public Relations Coordination Meeting entitled titled ´The Role of Internal Control Public Relations´ held by the Inspectorate General of the Agriculture Ministry here on Thursday afternoon (November 29).
Secretary of the Inspectorate General Suprodjo Wibowo is scheduled to open the coordination meeting to give direction to participants.
The Head of Public Relations Subdivision, Eko Supriyanto said activities aimed at increasing understanding of public relations in terms of internal control.
A number of public relations officials will attend, including from the Presidential Office, Communication and Information Ministry, and the Agriculture Ministry.