Revisi Anggaran Jagung Rp1 Triliun, Mentan Alokasikan 1.000 Unit `Mobile Corn Dryer`
Indonesia will Provide 1,000 Units of Mobile Corn Dryer for Farmers
Reporter : Gusmiati Waris
Editor : Cahyani Harzi
Translator : Dhelia Gani

PUBLISHED: Jum'at, 03 Agustus 2018 , 16:33:00 WIB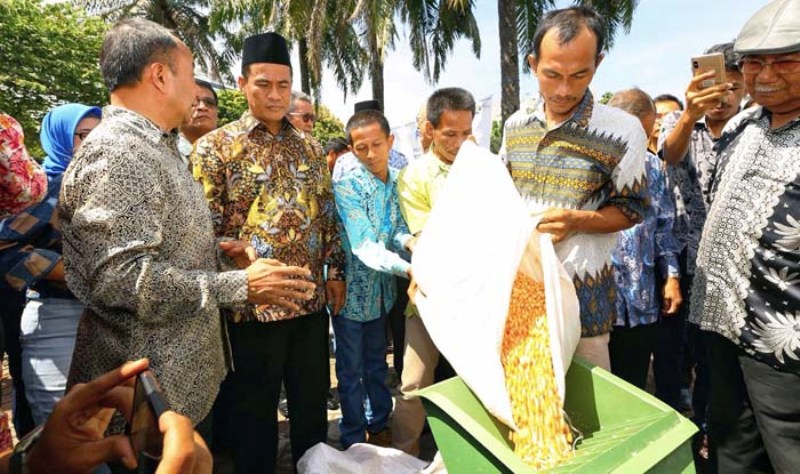 Mentan Andi Amran Sulaiman (batik kuning) menyaksikan uji coba mobile corn dryer di kantornya (Foto: istimewa)
Jakarta (B2B) - Kementerian Pertanian RI akan mengalokasikan 1.000 unit mobil pengering jagung (mobile corn dryer) ke sentra-sentra produksi, dengan merevisi anggaran Rp1 triliun untuk peningkatan produksi jagung 2018, langkah tersebut menurut Menteri Pertanian Andi Amran Sulaiman sebagai solusi pascapanen mengantisipasi kadar air tinggi pada musim hujan.

"Kami revisi anggaran Rp1 triliun untuk peningkatan produksi jagung di seluruh Indonesia. Nanti kami alokasikan seribu unit mobile corn dryer untuk para petani di sentra-sentra produksi jagung seperti Dompu di NTB dan Gorontalo," kata Mentan Amran Sulaiman di saat melepas mobile corn dryer di Jakarta, Jumat (3/8).

Data Kementan menyebutkan, selama lima tahun terakhir (2014-2018), diperkirakan produksi jagung nasional rata-rata tumbuh 12,32% per tahun. Per tahun, pertumbuhan produksi diikuti pertumbuhan luas panen 2014 - 2018 sekitar 11,13% dan pertumbuhan produktivitas 1,57%.

Badan Pusat Statistik (BPS) melansir angka ramalan II (Aram) produksi jagung 2017 mencapai 27,95 juta ton, meningkat 18,53% dibanding 2016 sebanyak 23,58 juta ton, sementara Kementerian Pertanian RI menargetkan produksi jagung 2018 mencapai 30 juta ton atau meningkat 7,34% dari 2017.

Mentan mengaku prihatin pada kesulitan petani jagung menghadapi musim hujan kerap merugi lantaran kadar air mempengaruhi harga jual jagung di tingkat petani, sehingga mobil pengering jagung menjadi solusi bagi petani di musim hujan.

"Inovasi ini merupakan sejarah baru bagi pertanian Indonesia. Selama ini jagung yang didatangkan ke pabrik pengering jagung tapi ke depan, mobil pengering jagung siap datang menjemput jagung di lokasi sentra produksi," kata Amran Sulaiman.

Sebagaimana diketahui, Pemerintah RI menerbitkan Peraturan Menteri Perdagangan No. 27/M-DAG/PER/5/2017 tentang Penetapan Harga Acuan Pembelian di Petani dan harga Acuan Penjualan di Konsumen.

Dalam Permendag ini harga jagung di tingkat petani dibedakan berdasarkan kadar air per kg yaitu 15% seharga Rp 3.150; 20% seharga Rp 3.050; 25% seharga Rp 2.850; 30% seharga Rp 2.750; dan 35% seharga Rp2.500, sedangkan harga acuan jagung di tingkat konsumen Rp4.000 per kg.
Jakarta (B2B) - Indonesian Agriculture Ministry will allocate 1,000 units of mobile corn dryer to production centers across the country by revising the IDR 1 trillion budget to increase 2018 corn production, it was said by Minister Andi Amran Sulaiman as the postharvest solutions anticipate high water levels during the rainy season.

"The ministry revised the IDR 1 trillion budget to increase corn production, we allocated a thousand mobile corn dryer units for corn farmers in West Nusa Tenggara and Gorontalo," said Minister Sulaiman here on Friday (August 8).

The ministry data states, the last five years (2014 - 2018) national corn production is estimated to grow an average of 12.32% per year. Per year, production growth followed by the addition of yield area 2014 - 2018 about 11.13% and productivity increased 1.57%.

Indonesian Statistics Agency or BPS announced the second forecast of maize production in 2017 reached 27.95 million tons, increased by 18.53% from 2016 as much as 23.58 million tons, while the Indonesian Agriculture Ministry targets 2018 maize production to reach 30 million tons, up 7.34 percent of 2017, according to senior official.

Minister Sulaiman admitted concern on the difficulty of corn farmers in the rainy season often losers because water levels affect the selling price of corn at the farm level, so the mobile corn dryer car is a solution for farmers in the rainy season.

"The innovation is new history for Indonesian agriculture, especially for corn farmers," Mr Sulaiman said.

Previously known, Indonesian government set up corn prices through trade ministerial regulation Number 27/M-DAG/PER/5/2017 on the reference price of purchases at farmers and the selling price to consumers.

The regulation of the trade minister stipulates the price of corn at the farm level refers to the water content per kg, ie 15% for 3,150 rupiah; 20% for Rp 3,050; 25% for 2,850 rupiah; 30% for 2,750 rupiah; and 35% for 2,500, while the reference price of maize at the consumer level is 4,000 rupiah per kg.