Diklat JFA Lampung, ItJenTan Dukung Transformasi Auditor 4.0
Indonesian Agriculture Ministry Supports Auditor Capabilities in Industrial Era 4.0
Editor : M. Achsan Atjo
Translator : Dhelia Gani

PUBLISHED: Sabtu, 22 Desember 2018 , 16:37:00 WIB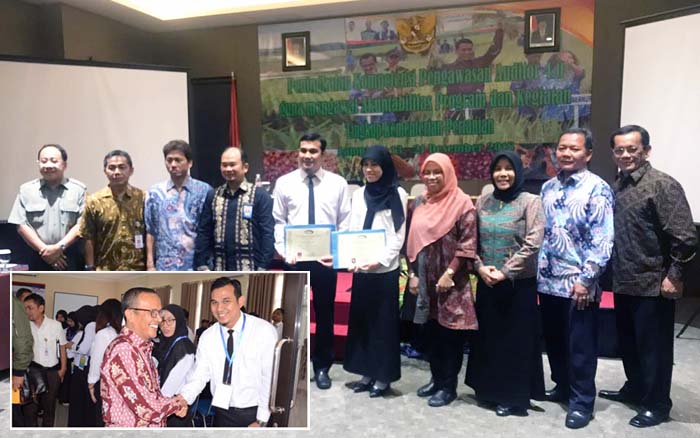 APIP PROFESIONAL: Peserta terbaik bersama Inspektur Investigasi, Sotarduga Hutabarat (kanan), Kepala BPKP Lampung, Kisyadi dan Kepala BPP Lampung, Dadan Sunarsa (ke-2 kiri) Irjentan Justan Siahaan (inset) Foto2: Humas ItJenTan)
Bandar Lampung, Lampung (B2B) - Inspektorat Jenderal Kementerian Pertanian RI (ItJenTan) mendukung pengembangan pejabat yang melaksanakan tugas pengawasan menjadi Aparat Pengawas Intern Pemerintah (APIP) di era industrialisasi 4.0, dan mampu menciptakan inovasi bermanfaat bagi mitra kerja untuk meningkatkan kinerja, pengendalian, menekan risiko kegiatan, dan mendukung terwujudnya ´lumbung pangan dunia 2045´.
"Sebagai generasi milenial, calon auditor ItJenTan harus menjadi katalisator untuk mewujudkan good government dan clean governance di kementerian, serta mampu mendeteksi secara dini berbagai upaya praktik korupsi," kata Irjentan, Justan Siahaan dalam arahannya yang dibacakan oleh Inspektur Investigasi ItJenTan, Sotarduga Hutabarat pada penutupan Diklat Sertifikasi Jabatan Fungsional Auditor (JFA) di Bandarlampung, Lampung, Kamis (20/12).
Justan S menambahkan informasi cepat berubah. Ilmu pengetahuan terus berkembang. Auditor ItJenTan harus mampu beradaptasi dengan cepat. Speed, sudden, dan surprise adalah tantangan bagi auditor 4.0.
"ItJenTan telah membangun sistem, mulai dari perencanaan pengawasan, aneka aplikasi online untuk mendukung kegiatan pengawasan sampai dengan pelaporan," kata Sotarduga H mengutip Justan S.
Diklat JFA digelar ItJenTan bekerjasama dengan Badan Pengawasan Keuangan dan Pembangunan (BPKP) Provinsi Lampung sejak 21 November 2018 di Balai Pelatihan Pertanian (BPP) Lampung, salah satu unit pelaksana teknis (UPT) dari Badan Penyuluhan dan Pengembangan SDM Pertanian (BPPSDMP) Kementan.
Sotarduga menambahkan, Diklat JFA wajib diikuti oleh pejabat yang melaksanakan tugas pengawasan, dan telah memenuhi syarat kompetensi sebagai auditor, yang diperoleh melalui program sertifikasi selama 30 hari.
"Diklat ini merupakan ketentuan wajib yang harus diikuti untuk menjamin profesionalitas pelaksanaan dan kualitas hasil audit," katanya mengutip Justan S. (Anggie)
Bandarlampung of Lampung (B2B) - Indonesia´s Inspectorate General of Agriculture Ministry or the ItJenTan must be support development of government internal supervision auditors or the APIP in the 4.0 industrial era, and capable of being innovators, prevent corruption, and support national agricultural development.
"As the millennial generation, prospective auditors must support good government and clean governance in the ministry, and early detection of corruption," said the Investigation Inspector, Sotarduga Hutabarat quote a speech of Inspector General, Justan Siahaan here on Thursday (December 20).
Mr Siahaan said information quickly changed. Science continues to evolve. ItJenTan Auditors must adapt quickly. Speed, sudden, and surprise are challenges for auditors 4.0.
"ItJenTan has built a system starting from supervision planning, various online applications to support surveillance activities until reporting," Mr Hutabarat quoted Mr Siahaan.
Training of Auditor Functional Position Certification or the Diklat JFA It was held by ItJenTan in collaboration with the Lampung´s Financial and Development Supervisory Agency since November 21, 2018 at the Lampung Agricultural Extension Center
Mr Hutabarat said the JFA training must be attended by officials who carry out supervisory duties, and has fulfilled the competency requirements as an auditor through the certification program for 30 days.
"Training must be followed to ensure performance, professionalism and quality of audit results," he cited Mr Siahaan.