Panen Jagung 5 Ribu Ha, Serentak 10 Kecamatan 7 Kabupaten di Jatim
Indonesian Corn Production has Increased Significantly
Editor : M. Achsan Atjo
Translator : Dhelia Gani

PUBLISHED: Sabtu, 10 November 2018 , 16:41:00 WIB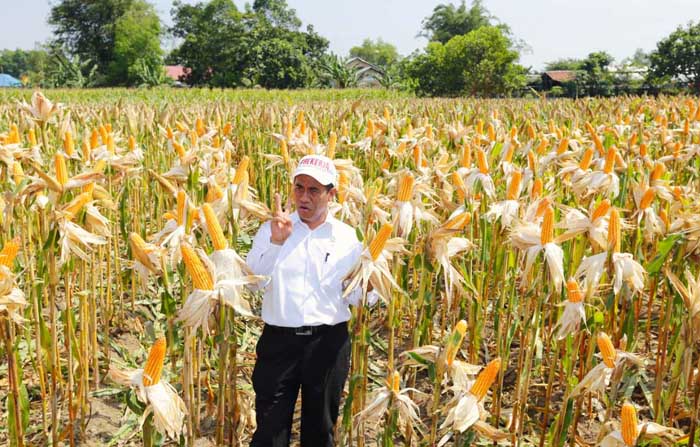 LAHAN JAGUNG: Mentan Andi Amran Sulaiman terus mendorong pemerintah daerah menanam jagung untuk mencapai swasembada jagung (Foto: Humas Kementan)
Jakarta (B2B) - 10 kecamatan pada tujuh kabupaten di Provinsi Jawa Timur menggelar panen raya jagung serentak seluas 5.000 ha, sementara luas tanam jagung per September 2018 mencapai 5,86 juta ha di seluruh Indonesia, dan produksi jagung diperkirakan 25,97 juta ton hingga Oktober 2018.
"Inshaa Allah dengan semangat petani untuk menanam jagung maka target produksi 30,05 juta ton jagung untuk tahun ini bisa tercapai," kata Ketua Asosiasi Petani Jagung Indonesia (APJI) Sholahuddin melalui pernyataan tertulis.
Ketujuh kabupaten yang panen jagung 5.000 ha adalah Tuban, Lamongan, Lumajang, Jember, Kediri, Mojokerto, dan Pasuruan. Luas panen terbesar di Kecamatan Jenggawah (Jember) seluas 2.901 ha dan Kecamatan Kraton (Pasuruan) seluas 1.496 ha.
"Gelaran panen jagung secara serentak dapat menjadi bukti petani kita masih bisa mencukupi kebutuhan jagung saat ini," kata Sekretaris Direktorat Jenderal Tanaman Pangan di Kementerian Pertanian RI, Maman Suherman melalui pernyataan tertulis.
Dalam kurun waktu empat tahun, produksi jagung meningkat signifikan. Produksi jagung 2014 hanya 19 juta ton meningkat ke 19,6 juta ton pada 2015, dan 23,6 juta ton pada 2016 lalu melonjak ke 28,9 juta ton pada 2017.
Jakarta (B2B) - 10 subdistricts of seven districts in East Java province held a simultaneous corn harvest of 5,000 hectares while the corn planting area in September 2018 reached 5.86 million hectares across the country, and corn production is estimated 25.97 million tons per October 2018.
"God willing, with the spirit of farmers to grow corn, the production target of 30.05 million tons of corn this year will be realized," said Chairman of Indonesian Corn Farmers Association or APJI Sholahuddin through a written statement.
The seven districts that corn harvest are Tuban, Lamongan, Lumajang, Jember, Kediri, Mojokerto, and Pasuruan. The largest corn harvest area in Jenggawah subdistrict (Jember) 2,901 hectares and Kraton subdistrict (Pasuruan) 1,496 hectares.
"Simultaneous harvest of corn is proof that our farmers can meet the needs of corn," said Secretary of Directorate General of Food Crops at the Indonesian f Agriculture Ministry, Maman Suherman.
In four years, Indonesia´s corn production increased significantly. 2014 production only 19 million tons increased to 19.6 million tons in 2015, and 23.6 million tons in 2016 soared to 28.9 million tons in 2017.