GoW@s! Make It Happen, ItJenTan Luncurkan Sistem Pengawasan Online
Indonesian Agriculture Ministry Launched an Online-based Audit System
Editor : M. Achsan Atjo
Translator : Dhelia Gani

PUBLISHED: Sabtu, 02 Februari 2019 , 16:52:00 WIB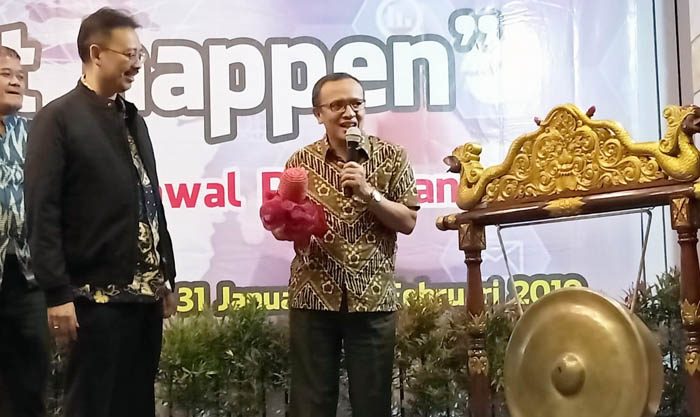 AUDITOR 4.0: Irjentan Justan Siahaaan (kanan) didampingi SesItJenTan Suprodjo Wibowo (kiri) meluncurkan aplikasi online GoW@s! Make It Happen disaksikan Sekjen Kementan, Syukur Iwantoro (Foto: Humas ItJenTan/Irfan)
Bogor, Jabar (B2B) - Inspektorat Jenderal Kementerian Pertanian RI disingkat ItJenTan mengembangkan sistem pengawasan berbasis online, GoW@s! Make It Happen yang mencakup tiga aplikasi: Wistleblowing's System, Sigap Protani dan e-Audit, sebagai pengejawantahan roadmap dan strategi ´Making Indonesia 4.0´ yang diluncurkan Presiden RI Joko Widodo belum lama ini.

Aplikasi GoW@s! Make It Happen diluncurkan oleh Inspektur Jenderal ItJenTan, Justan Siahaan di Bogor, Kamis (31/1) didampingi oleh Sekjen Kementan, Syukur Iwantoro, dan disaksikan oleh sejumlah pejabat eselon dua dan tiga maupun para pegawai di lingkup ItJenTan.

"ItJenTan berkomitmen penuh melakukan revolusi di bidang pengawasan dengan membangun sistem pengawasan berbasis aplikasi online. Langkah tersebut sebagai jawaban atas tantangan perubahan global yang berlangsung sangat cepat di era industrialisasi 4.0," kata Irjentan Justan S dalam sambutannya.

Menurutnya, aplikasi GoW@s! Make It Happen sejalan dengan strategi ´Making Indonesia 4.0´ sebagai peta jalan Indonesia untuk memberikan arah bagi pergerakan industri nasional di masa depan yang diluncurkan oleh Presiden Jokowi pada kegiatan Regional Conference on Industrial Development (RCID) di Bali, awal November 2018.

Konsekuensi dari industrialisasi 4.0 adalah memposisikan proses manufaktur sebagai hasil dari penggunaan internet, yang memungkinkan terjadinya komunikasi antarmesin serta antarmanusia dengan mesin secara realtime, yang akan menciptakan smart products dan smart services.
Tampak hadir Sekretaris ItJenTan, Suprodjo Wibowo; Inspektur I, Susanto MM; Inspektur II, Tin Latifah; Inspektur III Bambang Pamuji; Inspektur IV, IGMN Kuswandana; dan Inspektur Investigasi, Sotarduga Hutabarat. Hadir pula Kabag Organisasi, Kepegawaian, Hukum dan Humas (OKKH) Edi Puspito Nagara dan Kasubbag Humas, Eko Supriyanto.

Auditor 4.0
Justan S mengingatkan bahwa semua sektor di era RI 4.0 dituntut untuk mengikuti perubahan dengan cepat, tidak terkecuali ItJenTan dengan menyiapkan auditor 4.0. Gejala transformasi RI 4.0 sudah terjadi di tengah kita saat ini, misal bergesernya pola berbelanja konvensional menjadi model bisnis market place dengan maraknya belanja online melalui internet.

"Transportasi konvensional mulai tergeser menjadi moda online, untuk pesan taksi atau ojek cukup menggunakan smartphone Android," katanya.

Bagaimana dengan auditor ItJenTan ke depan? "Ya harus mengikuti perkembangan teknologi dan tuntutan zaman. Sudah selayaknya, kita mencerdaskan diri agar mampu berkompetisi di tengah kemajuan teknologi," katanya.

Irjentan Justan S tidak menampik tantangan Sistem Pengendalian Intern Pemerintah atau SPIP ke depan makin berat lantaran adanya peraturan baru, perubahan model bisnis, strategi baru, ancaman cyber security, privasi, tantangan keuangan dan perkembangan teknologi.

"Kementan melalui ItJen membentuk auditor 4.0 yang harus faham pertanian dan teknologi informasi. Auditor harus belajar pertanian, bukan cuma faham akuntansi. Auditor ke depan harus faham keduanya sesuai tupoksinya sebagai auditor di ItJenTan," katanya. (Ri2n)
Bogor of West Java (B2B) - Indonesia´s Inspectorate General of the Agriculture Ministry or the ItJenTan develops an online-based surveillance system, GoW@s! Make It Happen includes three applications: Wistleblowing´s System, Sigap Protani and e-Audit, to address the ´Making Indonesia 4.0´ roadmap and strategy launched recently by Indonesian President Joko Widodo.

The GoW@s! Make It Happen online application was launched by the Inspector General of ItJenTan, Justan Siahaan here on Thursday (January 31) accompanied by the ministry´s Secretary General Syukur Iwantoro.

"The ItJenTan is committed to developing an online application-based surveillance system in response to the challenges of global change in industrialization era 4.0," Siahaan said.

According to him, The GoW@s! Make It Happen online application in line with strategy of the ´Making Indonesia 4.0´ as an Indonesian road map as the direction of national industry in the future, which was launched by President Widodo at the Regional Conference on Industrial Development or the RCID in Bali, early November 2018.

The consequence of industrialization 4.0 is to position the manufacturing process in line with online applications, which allows real-time communication between machines and between humans and machines, who will create smart products and smart services.

Auditor 4.0
Siahaan said all sectors in the industrial revolution era 4.0 are required to follow changes quickly, including ItJenTan by preparing auditors 4.0. This phenomenon has occurred in our midst today, for example the shifting of conventional shopping patterns into a market place business model with the rise of online shopping through the internet.

"Conventional transportation began to shift into online mode, to order taxi by Android smartphone," he said.

What about the auditor in the future? "Yeahh, you have to keep up with technology. As appropriate, we educate ourselves to compete."

He acknowledged the severe challenges of auditor due to new regulations, changes in business models, new strategies, cyber security threats, privacy, financial challenges and technological developments.

"The ministry through the inspectorate general prepare the 4.0 Auditor who must understand agriculture and information technology. The auditor must learn agriculture, not just accounting. The future auditor must understand both according to his duties at the ministry," Siahaan said.