88 Ribu Hektar, Prediksi Luas Panen Jagung Jateng Hingga Desember 2018
Indonesian Govt Estimates the Corn Harvest in Central Java until the End of 2018
Reporter : Gusmiati Waris
Editor : Cahyani Harzi
Translator : Dhelia Gani

PUBLISHED: Rabu, 17 Oktober 2018 , 17:01:00 WIB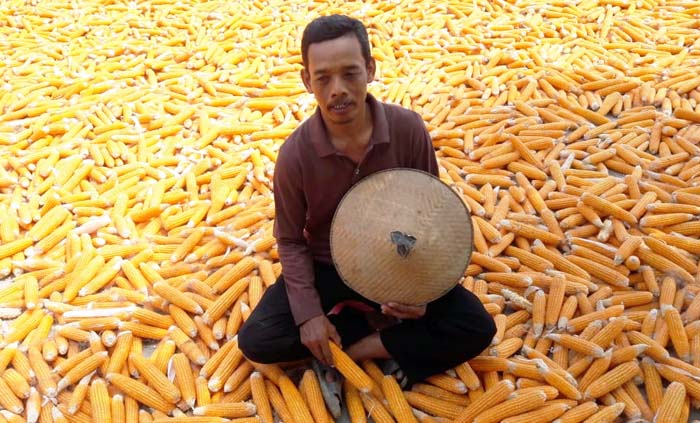 PETANI JAGUNG: Rasidi, petani jagung dari Kabupaten Grobogan Jateng beristirahat usai panen, yang mengaku puas dengan hasil panen jagung karena harga jualnya dinilai menguntungkan (Foto: istimewa)
Semarang, Jateng (B2B) - Kementerian Pertanian RI memperkirakan hingga Desember 2018 terdapat 88 ribu hektar lahan jagung yang sudah mulai dan akan panen pada enam kabupaten di Provinsi Jawa Tengah yakni Grobogan, Blora, Klaten, Wonosobo, Jepara dan Kendal.
"Panen jagung masih ditemui pada Oktober hingga Desember 2018, namun volumenya lebih rendah daripada bulan-bulan sebelumnya, karena hanya wilayah-wilayah tertentu yang dapat menanam jagung di musim kemarau," kata Kepala Balai Pengkajian Teknologi Pertanian (BPTP) Jateng, Harwanto pada Senin (15/10).
Menurutnya, puncak panen jagung di Jateng umumnya pada Januari yang merupakan hasil tanam pada Oktober. Jagung biasanya ditanam di lahan tadah hujan dan lahan kering karena tersedia cukup air.
Secara keseluruhan perkiraan luas panen jagung di Jateng pada 2018 mencapai 590.285 ha pada 29 kabupaten, namun waktu tanamnya berbeda, karena menyesuaikan kondisi iklim, tipe lahan dan sosiokultur masyarakat setempat.
"Karena itu, hampir setiap bulan ada panen jagung di Jateng yang volumenya fluktuatif," kata Harwanto.
Badan Pusat Statistik (BPS) menyatakan produksi jagung nasional pada tahun 2017 mencapai 28,9 juta ton, dan 12,3% dipasok dari Jateng.
Tidak semua sentra produksi jagung di Jateng menanam di musim hujan atau sebaliknya. Tiga kabupaten yakni Wonogiri, Grobogan dan Blora lebih memilih menanam pada musim hujan dan hanya sebagian di musim kemarau. Sementara Klaten dan Jepara lebih banyak ditanam saat kemarau ketimbang musim hujan. Kabupaten Wonosobo, walaupun bukan sentra utama namun relatif konstan sepanjang tahun tersedia jagung.
Semarang of Central Java (B2B) - Indonesian Agriculture Agriculture estimates corn harvest will last until 2018, an estimated 88 thousand hectares of corn land will be harvested until December 2018 in six districts of Central Java province: Grobogan, Blora, Klaten, Wonosobo, Jepara and Kendal.
"Corn harvest is still found in October to December 2018, but the volume is lower than in previous months, because only certain regions can plant corn in the dry season," said Director of the Central Java´s Agricultural Technology Assessment Center, Harwanto here on Monday (October 15).
According to him, the peak of corn harvest in Central Java was generally in January which was the result of planting in October. Corn is usually planted in rainfed land and dry land because there is enough water.
Overall estimates of corn harvest area in Central Java in 2018 reached 590,285 ha in 29 districts, but the planting time is different, because it adjusts the climatic conditions, the type of land and the socioculture of the local community.
"Therefore, almost every month there is a corn harvest in Central Java that has a fluctuating volume," said Harwanto, who only one name, like many Indonesians.
The Central Statistics Agency or the BPS said that national corn production in 2017 reached 28.9 million tons, and 12.3% was supplied from Central Java province.
Not all production centers in Central Java plant corn in the rainy season or vice versa. Three districts namely Wonogiri, Grobogan and Blora chose to plant during the rainy season and some during the dry season. While Klaten and Jepara are more during the dry season than the rainy season. Wonosobo district, although not the main production center but relatively constant throughout the year.