Bantuan Infrastruktur dan Alsintan dari Kementan Dukung Pertanian Takalar
Indonesian Agriculture Ministry Supports Agricultural Development of Takalar
Editor : M. Achsan Atjo
Translator : Dhelia Gani

PUBLISHED: Selasa, 16 April 2019 , 17:12:00 WIB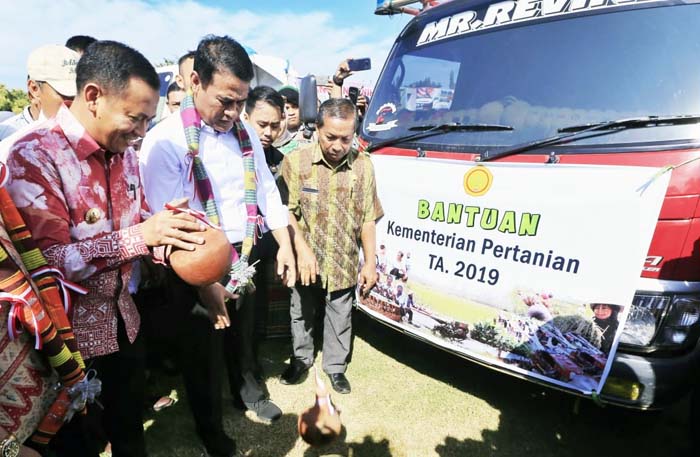 BANTUAN Rp33 MILIAR: Bupati Takalar Syamsari Kitta [batik merah] menerima bantuan Alsintan, infrastruktur dan pertanian dari Mentan Amran Sulaiman [kemeja putih] Foto: Humas Kementan
Takalar, Sulsel [B2B] - Kabupaten Takalar di Provinsi Sulawesi Selatan siap mewujudkan pengembangan saluran irigasi, jalan usaha tani, dan pemanfaatan alat mesin pertanian [Alsintan] dari bantuan Direktorat Jenderal Prasarana dan Sarana Pertanian - Kementerian Pertanian RI [Ditjen PSP] yang diserahkan oleh Menteri Pertanian RI Andi Amran Sulaiman di Takalar, pekan lalu, plus 165 ribu ekor ayam berikut kandang, vaksin dan pakan juga bibit tanaman pangan dan perkebunan, total jumlahnya Rp33 miliar.
Bupati Takalar Syamsari Kitta yang merupakan kader dari Partai Keadilan Sejahtera (PKS) mengapresiasi berbagai program dan bantuan di era Joko Widodo - Jusuf Kalla khususnya sektor pertanian, seraya mendoakan Presiden Jokowi agar terpilih kembali menjadi Presiden RI 2019 - 2024.
"Bantuan infrastruktur pertanian, Alsintan dari Kementan sejak 2015 sudah dirasakan petani. Misalnya, jalan usaha tani sudah tidak becek lagi. Ini bukti nyata pemerintah pusat sangat memperhatikan kebutuhan petani," kata Bupati Syamsari Kitta pada pertemuan Apresiasi dan Sinkronisasi Program Kementan di Alun-Alun Kabupaten Takalar, Sulsel, Jumat pekan lalu [12/4].
Dia mengakui bahwa warga Takalar menantikan kedatangan Mentan Amran Sulaiman yang terus mendukung petani Takalar dalam beberapa tahun terakhir. Hari ini pun, beliau kembali memberikan bantuan Alsintan dan pertanian Rp33 miliar."
Mentan Amran Sulaiman mengatakan bantuan pertanian pada era Jokowi sejak 2014 - 2019 untuk Sulsel mencapai Rp15,7 triliun terbagi atas Rp375,3 miliar untuk Takalar, Gowa Rp 780,2 miliar, Jeneponto Rp 455,7 miliar, Bantaeng Rp 249,8 miliar, Bulukumba Rp 509,3 miliar, Sinjai Rp 335,8 miliar, dan Kabupaten Selayar Rp 440,3 miliar.
"Bantuan hari ini untuk Takalar mencapai Rp33 miliar, berupa ayam 165 ribu ekor, gratis kandang, vaksin dan pakan selama 6 bulan. Bibit kelapa 5.000 batang, kambing, sapi, benih sayuran, bibit mangga, benih padi, jagung, dan alat mesin pertanian. Bantuan ini diberikan Presiden Jokowi kepada petani. Bantuan yang kami bawa adalah terbanyak sepanjang sejarah," kata Mentan.
Takalar of South Sulawesi [B2B] - Takalar Regency in South Sulawesi province is ready to realize the development of irrigation, farming roads, and utilization of agricultural machinery from the Directorate General of Agricultural Infrastructure and Facilities at the Indonesian Ministry of Agriculture, submitted by Agriculture Minister Andi Amran Sulaiman here last week, plus 165 thousand chickens equipped with cages, vaccines and poultry feed and seeds of food crops and plantations the total is IDR33 billion.
Regent Takalar Syamsari Kitta appreciated various programs and assistance of Indonesian President Joko Widodo especially for the agricultural sector, while praying for President Widodo re-elected as President of the period 2019 to 2024.
"Agricultural infrastructure and agricultural machinery assistance has been received by farmers since 2015. For example, the road to farming is no longer muddy.This is proof that the central government is very concerned about the needs of farmers," said Regent Syamsari Kitta here on Friday last week [April 12].
He added that the Takalar residents welcomed Minister Sulaiman's working visit which contributed to the Takalar farmers in recent years. "Even today, Minister Sulaiman returned to provide agricultural assistance worth IDR33 billion."
Minister Sulaiman said that agricultural assistance during the Joko Widodo administration of 2014 to 2019 for the South Sulawesi province reached IDR15.7 trillion divided into IDR375.3 billion for Takalar, Gowa IDR780.2 billion, Jeneponto IDR455.7 billion, Bantaeng IDR249.8 billion, Bulukumba IDR509.3 billion, Sinjai IDR335.8 billion, and Selayar IDR440.3 billion.