Disiplin dan Kinerja, Badan SDM Kementan Sosialisasi Aplikasi SikapTegas
Indonesian Govt Anticipate Covid-19 by Weaker Work Systems
Editor : M. Achsan Atjo
Translator : Dhelia Gani

PUBLISHED: Sabtu, 10 Oktober 2020 , 17:27:00 WIB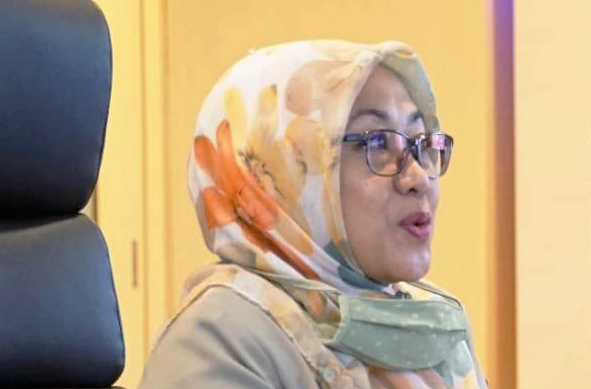 DIGITALISASI PERTANIAN: Sekretaris BPPSDMP Kementan, Siti Munifah mengatakan dengan aplikasi SikapTegas, kinerja pegawai dan organisasi menjadi lebih terukur dan terarah [Foto: BPPSDMP]
Jakarta [B2B] - Kementerian Pertanian RI khususnya Badan Penyuluhan dan Pengembangan SDM (BPPSDMP) mensosialisasikan aplikasi online SikapTegas, untuk melakukan evaluasi dan pemantauan kinerja pegawai di jajaran Badan SDM Kementan.
Aplikasi SikapTegas singkatan dari Sistem Informasi Kinerja Pegawai untuk Mendukung Kerja Organisasi diakses melalui browser Google Chrome dan atau Mozilla untuk mengoperasikannya dari komputer desktop atau laptop. Ketik alamat laman pada address bar browser di https://223.25.97.99/sikap_tegas/ kemudian masuk pada tombol log in.
Sekretaris BPPSDMP Kementan, Siti Munifah mengatakan dengan aplikasi SikapTegas, kinerja pegawai dan organisasi menjadi lebih terukur dan terarah.
"Ada fitur-fitur untuk mengetahui detail kinerja pegawai dan organisasi. Ada perjanjian kerja, sasaran program, indikator kinerja, rencana aksi dan capaian kinerja. Lengkap dengan buktinya," kata Siti Munifah melalui keterangan tertulis dari BPPSDMP pada Jumat [9/10].
Menurutnya, dengan aplikasi online SikapTegas maka BPPSDMP dapat mengetahui target dan sejauh mana realisasi capaian tersebut, sehingga mempermudah untuk melakukan evaluasi dan pemantauan.
Sementara Budi Prasetyo dari Badan Tenaga Nuklir Nasional [Batan] menguraikan perihal teknis penggunaan aplikasi SikapTegas setelah log in, harus menggunakan username sesuai unit kerja masing-masing di BPPSDMP.
Setelah itu, input perjanjian kerja berdasarkan unit kerja masing-masing serta tambah sasaran program.
"Masukkan pula indikator kinerja yang bisa diubah dan dihapus, sesuai kebutuhan. Pilih rencana aksi unit eselon satu serta input target rencana aksi," ungkap Budi.
Tidak kalah penting adalah input capaian kinerja serta repositori bukti kerja, sehingga peningkatan kinerja pegawai dan organisasi segera diketahui, lengkap dengan capaian-capaiannya.
Langkah BPPSDMP Kementan sejalan dengan instruksi dan arahan Menteri Pertanian RI Syahrul Yasin Limpo tentang pemanfaatan aplikasi online SikapTegas untuk mendukung kinerja jajaran BPPSDMP memaksimalkan kinerja organisasi secara keseluruhan di Kementan.
"Pandemi Covid-19 mendorong proses digitalisasi kian cepat pada semua sektor termasuk pertanian," kata Mentan pada Kamis [8/10].
Hal senada dikemukakan Kepala BPPSDMP Dedi Nursyamsi bahwa eranya sudah berubah dengan menghadirkan sejumlah kegiatan dan aplikasi yang mendukung kinerja pegawai dan organisasi, salah satunya dengan aplikasi Sikap Tegas.
"Kita sudah memasuki era pertanian 4.0, di mana digital menjadi pegangan semua orang, termasuk pertanian. Kita mengikuti perkembangan tersebut " kata Dedi Nursyamsi. [Cha]
Jakarta [B2B] - Indonesia´s Agriculture Ministry is in intensive care after testing positive for the novel coronavirus, as civil servants in head office and across the country were ordered to close over the health threat. The World Health Organization has said it is particularly concerned about high-risk nations with weaker health systems, which who may lack the facilities to identify cases, according to senior official of the ministry.