Cegah Gagal Panen, Itjentan Apresiasi Petani Lampung Tangkap 37.802 Tikus Sawah
Indonesia`s Lampung Farmers Capture 37,802 Rats of Rice Field Attackers
Editor : M. Achsan Atjo
Translator : Dhelia Gani

PUBLISHED: Kamis, 13 September 2018 , 17:34:00 WIB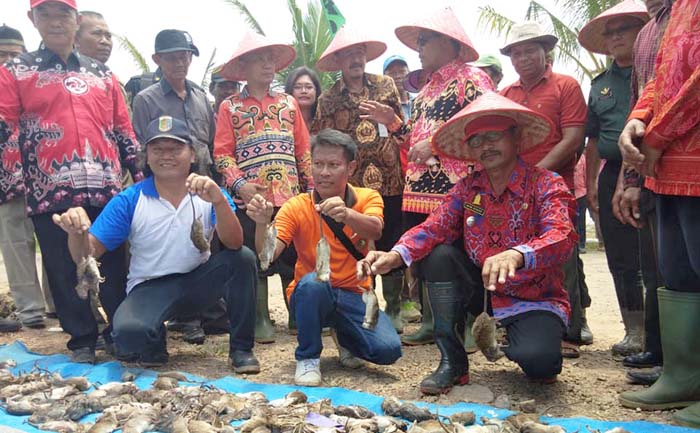 GROPYOKAN TIKUS LAMPUNG: Inspektur I Itjentan, Susanto MM (berdiri belakang ke-4 kiri) berbincang dengan Wakil Bupati H Loekman Djoyosoemarto di Lampung Tengah (Foto: Humas Itjentan/Irfan)
Lampung Tengah, Lampung (B2B) - Sekitar 37.802 tikus sawah berhasil ditangkap oleh para petani di seluruh Kecamatan Seputih Raman pada lahan seluas 5.599 hektar, belum lama ini, yang diapresiasi oleh Inspektur I Itjen Kementerian Pertanian RI Susanto MM sebagai langkah tepat untuk mencegah risiko gagal panen pada musim tanam tiga (MT III 2018) di Kabupaten Lampung Tengah, Provinsi Lampung.
Kegiatan menangkap tikus sawah yang disebut ´gropyokan´ dilaksanakan serentak sejak pagi hari oleh petani di 14 kampung di seluruh Kecamatan Seputih Raman didukung penyuluh pertanian, pengamat hama, dan bintara pembina desa (Babinsa) dari Kodim 0411/Lampung Tengah.
Susanto sebagai PJ Upsus Lampung Tengah menegaskan bahwa Kementerian Pertanian RI akan terus memberikan dukungan terkait upaya peningkatan produksi padi melalui program luas tambah tanam (LTT) mulai dari proses tanam, pemeliharaan sampai panen akan dikawal agar hasil yang diperoleh sesuai dengan keinginan petani.
"Kementan akan terus mendukung program petani meningkatkan produktivitas padi," kata Susanto yang berada di Kampung Rama Dewa.
Camat Seputih Raman, I Nyoman Gunadi mengatakan bahwa gropyokan diharapkan dapat menghilangkan risiko gagal panen pada MT III 2018.
Aksi gropyokan di Kampung Rama Dewa berlangsung meriah, banyaknya tikus yang tertangkap menandakan populasi tikus di areal persawahan dapat menjadi ancaman apabila tidak diantisipasi secara dini.
"Sekitar 50 kg belerang dibakar dengan tujuh tabung gas elpiji ukuran tiga kg berhasil ditangkap 950 ekor tikus," kata Ketua Poktan Mekar Sari, Made Sudiasa.
Hingga akhir kegiatan pada pukul 11.30 Wib, petani berhasil menangkap 37.802 ekor tikus. ""Kami sangat yakin apabila pemberantasan tikus dilaksanakan bersama secara kontinyu maka hama tikus dapat dikendalikan," kata Ketua Poktan Dewi Sri, Nyoman Harita Parades.
Susanto menambahkan tikus sawah merupakan salah satu hama tanaman padi yang mengakibatkan kerugian signifikan bagi pertanaman padi, sehingga harus dilakukan antisipasi serangan tikus menjelang musim tanam. (Cah)
Central Lampung of Lampung (B2B) - At least 37,802 rice rats were captured by Lampung farmers in Seputih Raman subdistrict on an area of 5,599 hectares, which was appreciated by Susanto MM Inspector I in the Inspectorate General of the Indonesian Agriculture Ministry as the right step to prevent the failure of third rice planting season in Central Lampung subdistrict of Lampung province.
Activity of catching rice rats called ´gropyokan´ took place simultaneously from early morning by farmers in 14 villages across the subdistrict was supported by agricultural extension agents, pest observers, and non-commissioned village supervisors.
Susanto as the Person in Charge of Central Lampung´s Increase Food Production or the PJ Upsus confirmed the Indonesian Agriculture Ministry will support increased rice production through rice planting extensification programs.
"The ministry will continue to support farmers´ programs to increase rice productivity," said Susanto who was in Rama Dewa village.
Raman Seputih District Head, I Nyoman Gunadi said that the gropyokan is expected to eliminate the risk of crop failure in MT III 2018.
The eradication of the rat pest in the village of Rama Dewa lasted lively, tens of thousands of rats caught in the rice field rat population indicates can be a threat if they are not anticipated early.
"About 50 kg of sulfur was burned to catch 950 rats," said head of Mekar Sari group farmer, Made Sudiasa.
Until 11:30 a.m., local farmers caught 37,802 rats. "We believe that eradication of rats is carried out so the rat pest can be overcome," said the Head of Dewi Sri farmer group, Nyoman Harita Parades.
Susanto added that rice field mice were one of the rice pest which caused significant losses for rice cultivation, so that the rats had to anticipate before the planting season.