Jagung Banyuwangi, Ditjen PSP Kementan Dorong Korporasi Petani
Indonesian Govt Encourages the Development of Farmers` Corporations
Reporter : Gusmiati Waris
Editor : Cahyani Harzi
Translator : Dhelia Gani

PUBLISHED: Senin, 04 Maret 2019 , 17:03:00 WIB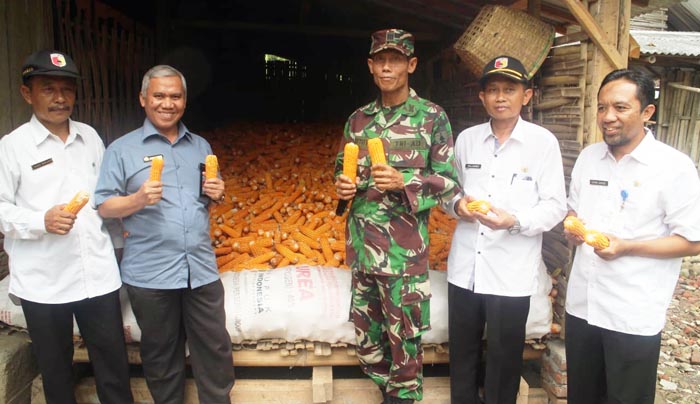 SKALA EKONOMI: Direktur Irigasi Pertanian Ditjen PSP Kementan, Rahmanto di depan lumbung jagung milik petani Desa Barurejo, Kecamatan Siliragung di Kabupaten Banyuwangi, Jatim (Foto: Humas Ditjen PSP)
Banyuwangi, Jatim (B2B) - Kementerian Pertanian RI terus mendorong pengembangan korporasi oleh petani apabila usaha taninya memenuhi skala ekonomi, seperti didapati oleh Direktur Irigasi Pertanian Direktorat Jenderal Prasarana dan Sarana Pertanian (Ditjen PSP) Rahmanto saat panen jagung di Kabupaten Banyuwangi, Provinsi Jawa Timur pada lahan seluas 2.000 hektar di Desa Barurejo, Kecamatan Siliragung.
"Petani jagung Barurejo sudah selayaknya membentuk korporasi petani, karena luas hamparan di sini sudah mencapai dua ribu hektar sehingga sudah mencapai skala ekonomi. Korporasi petani terus diupayakan pemerintah agar petani punya kekuatan tawar yang baik, termasuk harga jual hasil pertanian bisa ditentukan sendiri oleh petani," kata Rahmanto di Banyuwangi, belum lama ini.
Menurutnya, korporasi petani akan memperkuat kelembagaan petani untuk mengakses informasi, inovasi teknologi, peningkatan prasarana dan sarana, akses permodalan, proses pasca panen, dan pemasaran produk pertanian dengan harga yang menguntungkan petani.
"Kalau harga tidak cocok, ya tahan dulu atau simpan di gudang atau dikembangkan menjadi produk olahan," kata Rahmanto.
Dia pun merujuk pada keberhasilan petani jagung yang tergabung dalam Lembaga Masyarakat Desa Hutan (LMDH) di Desa Gunung Kencana, Kabupaten Lebak, Provinsi Banten yang dipilih oleh Kementerian Pertanian RI sebagai pilot project pengembangan jagung berbasis korporasi petani, dengan potensi lahan 1.025 hektar.
Dia menambahkan, korporasi petani akan lebih menjalin kemitraan dengan Perum Badan Urusan Logistik (Bulog), industri pakan ternak, asosiasi bisnis pertanian, dan para pemangku kepentingan, "kemitraan tersebut akan menjaga stabilitas harga jagung serta menjaga animo petani untuk menanam jagung sebagai tanaman monokultur atau tumpangsari."
Banyuwangi of East Java (B2B) - Indonesian Agriculture Ministry continues to encourage corporate development by farmers if it meets the economies of scale, as found by Director of Agricultural Irrigation at the ministry´s Directorate General of Agricultural Infrastructure and Facilities, Rahmanto while the corn harvest in Banyuwangi district of East Java Province on on 2,000 hectares of land in Barurejo village of Siliragung district.
"Banyuwangi´s Barurejo corn farmers should have established the farmers´ corporation, because the area of corn here has reached two thousand hectares so that it has reached economies of scale," Rahmanto told the press here.
According to him, farmers´ corporations will strengthen farmer institutions to access information, technological innovation, improve infrastructure and facilities, access business capital, post-harvest processes, and marketing agricultural products at prices that benefit farmers.
"If the price doesn´t match, the corn is retained or stored in the warehouse or develop it into processed products," Rahmanto said.
He also referred to the success of corn farmers from the Forest Village Society Institute or the LMDH in Lebak district of Banten province was chosen by the Agriculture Ministry as the pilot project for developing corn-based farmers´ corporations, potential area of 1,025 hectares.
He added, farmers´ corporations will open opportunities for partnerships with Indonesian Logistics Agency or the Bulog, animal feed industry, agricultural business associations, and stakeholders, the partnership will maintain the stability of corn prices and maintaining the enthusiasm of farmers to planting corn as monoculture or intercropping plant."