Realisasi 33,70% per 12 April, Kementan Sanggah Ada Kelangkaan Pupuk
Indonesian Govt Oversees the Distribution of Subsidized Fertilizer for Farmers
Editor : M. Achsan Atjo
Translator : Dhelia Gani

PUBLISHED: Kamis, 16 April 2020 , 17:46:00 WIB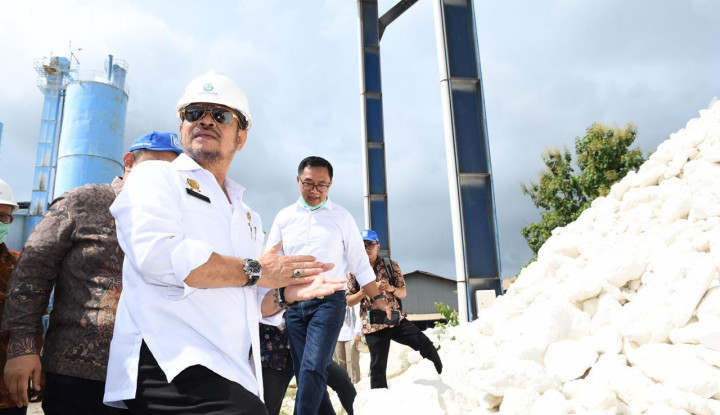 INDUSTRI PUPUK: Mentan Syahrul Yasin Limpo memantau ketersediaan pupuk bersubsidi di industri [Foto: Humas Ditjen PSP Kementan]
Jakarta [B2B] - Kementerian Pertanian RI menyanggah adanya isu kelangkaan pupuk bersubsidi, karena ketersediaan lebih dari cukup mengingat realisasi penyaluran hingga 12 April 2020 mencapai 2,67 juta ton atau 33,70% dari alokasi 7,9 juta ton untuk 2020.
Tudingan tentang kelangkaan pupuk bersubsidi dijawab oleh Menteri Pertanian RI Syahrul Yasin Limpo [SYL] bahwa "kalau ada kelangkaan pupuk sebutkan dimana? Intinya, pupuk subsidi cukup tersedia di lapangan, realisasi sudah 33,70%."
Mentan menegaskan hingga kini tidak ada pengurangan pupuk bersubsidi, karena pemerintah telah mengatur alokasi pupuk sesuai Elektronik Rencana Definitif Kebutuhan Kelompok [e-RDKK].
"Kalau ada kelangkaan, pemerintah siap intervensi. Tapi, kasih dulu yang sudah ada, bagikan sekarang. Meskipun saat ini harus melalui prosedur safety terkait pandemi Covid-19, penyaluran pupuk bersubsidi tetap terus dilakukan. Apalagi saat ini menjelang masuk musim tanam," kata Mentan SYL di Jakarta, Rabu [15/4].
Mentan SYL mengungkapkan, dalam penyalurannya tetap akan berbasis e-RDKK yang sudah ditentukan alokasinya. Saat ini, stok pupuk yang tersedia mencapai 1,44 juta ton. Stok tersebut perkiraan cukup untuk memenuhi kebutuhan pupuk hingga bulan Juni.
"Kesediaan pupuk dipastikan ada, apalagi ini masih bulan April. Stok pupuk diperkirakan aman hingga bulan Juni. Adanya isu kelangkaan pupuk bersubsidi itu tidak benar," tegas Mentan.
Sementara Direktur Jenderal Prasarana dan Sarana Pertanian [PSP] Kementan Sarwo Edhy menambahkan bahwa memasuki masa tanam April danMei 2020, PT Pupuk Indonesia [Persero] telah menyiapkan stok pupuk subsidi di tingkat distributor dan kios saat ini berdasarkan verifikasi lapangan masih tersedia 1,44 juta ton terdiri atas 745.337 ton urea, 374.232 ton NPK, 115.992 ton SP-36,s 137.390 ZA dan 74.725 ton organik.
"Penggunaan pupuk bersubsidi harus tepat sasaran. Ruang lingkup penerapannya luas. Sekarang yang penting itu distribusinya harus optimal dan sampai ke tangan petani yang berhak. Semua pemangku kepentingan harus ikut mengawasi sekaligus mengawal," kata Sarwo Edhy.
"Agar semakin efisien, distribusi penyaluran pupuk bersubsidi harus didukung data akurat berbasis NIK," tambah Sarwo Edhy.
Untuk mengamankan penyaluran pupuk bersubsidi tepat sasaran, Sarwo Edhy mengimbau petani untuk bergabung dengan kelompok tani [Poktan]. Dengan demikian, akses mereka untuk memperoleh pupuk subsidi bisa lebih mudah. Sebab, pupuk bersubsidi hanya dapat diakses oleh petani yang tergabung dalam kelompok tani, lahannya ada, punya NIK dan menyusun RDKK.
Jakarta [B2B] - Indonesian Agriculture Ministry continues to control distribution of subsidized fertilizers to target them due to the long distribution chain, dualism of prices, scarcity of products, mixing of non-subsidized and subsidized fertilizers, weakness of supervision, and counterfeiting of quota fertilizers to improve the distribution of subsidized fertilizer through Definitive Plans for Group Needs by online [e-RDKK] and Farmer Cards.