10.437 Unit, Realisasi Alat Tanam Jagung 2018 dari Ditjen PSP
Indonesian Govt Supports Agricultural Machinery for Corn Farmers
Editor : M. Achsan Atjo
Translator : Dhelia Gani

PUBLISHED: Minggu, 17 Februari 2019 , 18:01:00 WIB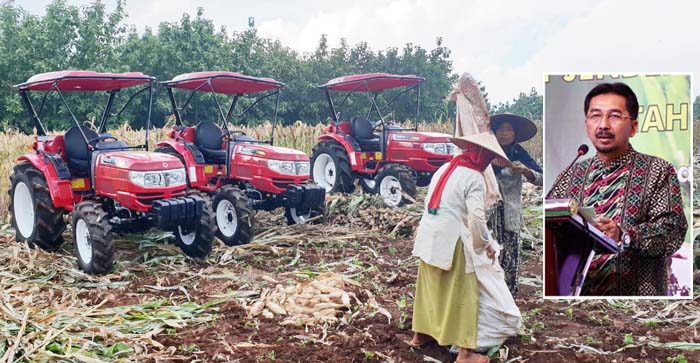 ALSINTAN JAGUNG: Ditjen PSP mendukung pengadaan Alsintan untuk petani jagung di seluruh Indonesia, Dirjen PSP Sarwo Edhy (inset) Foto2: Humas Ditjen PSP
Jakarta (B2B) - Sukses panen jagung di seluruh Indonesia tak lepas dari kerjasama dan dukungan para pemangku kepentingan, khususnya Ditjen Prasarana dan Sarana Pertanian - Kementerian Pertanian RI (Ditjen PSP) dalam pengadaan alat mesin pertanian (Alsintan), yang terealisasi hingga 10.437 unit sepanjang 2018 senilai Rp38,4 miliar berupa corn planter dorong dan corn planter implement.
"Produksi jagung harus kita tingkatkan ke depan. Kami akan terus membantu para petani untuk mewujudkan hal tersebut. Saya juga mengharapkan para petani tetap semangat melakukan usaha tani dengan memproduksi pangan lokal, serta mencintai produk dalam negeri," kata Dirjen PSP Sarwo Edhy.
Menurutnya, sudah menjadi kewajiban Ditjen PSP mendukung target swasembada jagung yang dicanangkan Mentan Amran Sulaiman.
"Ditjen PSP mengemban visi dan misi sebagai institusi pendukung direktorat jenderal komoditas, khusus jagung maka Ditjen PSP mendukung Ditjen Tanaman Pangan meningkatkan produksi jagung," kata Sarwo Edhy.
Komitmen tersebut menyikapi melimpahnya produksi jagung di seluruh Indonesia menjelang panen raya, khususnya pada tujuh kabupaten di Provinsi Jawa Timur yakni Tuban, Lamongan, Lumajang, Jember, Kediri, Mojokerto, dan Pasuruan.
Sentra jagung Jawa Timur mulai memetik hasil panen jagung, hal itu mendorong Menteri Pertanian RI Andi Amran Sulaiman menyemangati petani jagung, khususnya di Kabupaten Tuban melalui kunjungan kerja di Desa Talun, Kecamatan Montong.
"Saya senang lihat para petani tersenyum dengan hasil panennya. Di sini kami memang untuk melayani, jadi kami datang tidak dengan tangan kosong," kata Mentan Amran Sulaiman.
Pada Februari ini, Desa Talun, kecamatan Montong memanen sekitar 10.000 hektar lahan jagung. Sedangkan untuk Kabupaten Tuban keseluruhan memanen lebih dari 50.000 ribu hektar lahan jagung.
Tuban merupakan salah satu sentra pertanaman jagung di Jawa Timur. Dengan tibanya masa panen jagung ini, Menteri Amran Sulaiman berharap para petani dapat mensuplai kebutuhan jagung peternak baik yang berada di wilayah Tuban, maupun kabupaten lainnya.
Jakarta (B2B) - The success of Indonesia´s corn harvest across the country is result of collaboration and support of stakeholders, especially the Directorate General of Agricultural Infrastructure and Facilities at the Agriculture Ministry or the Ditjen PSP support the procurement of agricultural machinery, the realization of 2018 reached 10,437 units of IDR 38.4 billion for manual corn planters and corn plant implement.
"Corn production must continue to increase. "We will continue to help corn farmers, I hope the farmers remain enthusiastic to increase corn yields," said Director General of Agricultural Infrastructure and Facilities, Sarwo Edhy through a written statement.
According to him, it has become the duty of his office to support the corn self-sufficiency target launched by Minister Sulaiman.
"The Ditjen PSP carries the vision and mission as a supporting institution for commodity directorates general, specifically for corn production, we support the Directorate General of Food Crops," Edhy said.
The commitment addresses the abundance of corn production across the country ahead of the corn harvest, especially in seven districts in East Java province namely Tuban, Lamongan, Lumajang, Jember, Kediri, Mojokerto, and Pasuruan.
The national corn production center in East Java starts harvesting corn, Agriculture Minister Andi Amran Sulaiman also encouraged corn farmers, especially in Tuban district during working visits in Talun village of Montong subdistrict.
"I am happy to saw farmers happy because of the corn harvest. Here we are indeed to serve, we came to bring agricultural machinery to corn farmers," said Minister Sulaiman.
The area of corn harvest in Talun village, Montong sub-district is around 10,000 hectares, while in all Tuban districts it reaches 50,000 hectares.
Tuban is one of corn production centers in East Java province. Minister Sulaiman hopes that corn farmers can support animal feed needs in Tuban and other districts across the province.