Mentan SYL Tegas Lawan Upaya Alih Fungsi Lahan Pertanian
Indonesian Govt will Maintain the Function of Agricultural Land
Editor : M. Achsan Atjo
Translator : Dhelia Gani

PUBLISHED: Minggu, 17 November 2019 , 01:08:00 WIB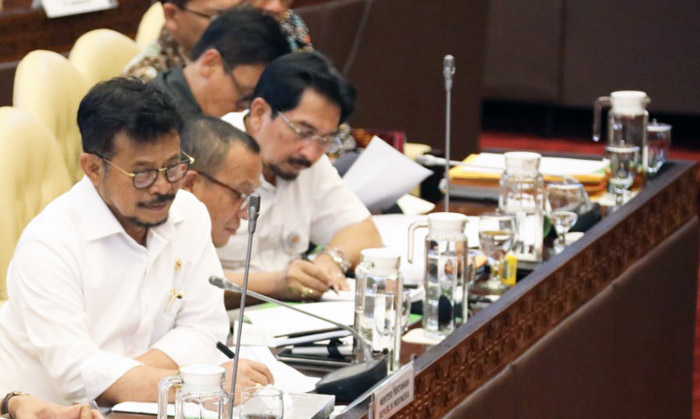 Mentan SYL pada Raker dengan Komisi IV DPR didampingi Irjentan Justan R Siahaan dan Dirjen PSP Kementan, Sarwo Edhy [kanan] Foto: Biro Humas Kementan
Jakarta [B2B] - Menteri Pertanian RI Syahrul Yasin Limpo [SYL] menyatakan secara tegas untuk melawan usaha alih fungsi lahan pertanian untuk kepentingan lain. Perlawanan konversi lahan agar dilakukan melalui sinergi pusat dengan pemerintah yang bertindak proaktif menjaga kepentingan lahan untuk pertanian.
"Alih fungsi lahan pertanian untuk kepentingan lainnya akan berdampak negatif terhadap ketahanan pangan Indonesia, juga mendorong kesejahteraan petani menurun," kata Mentan SYL di Jakarta, Minggu [17/11].
Sebagaimana diketahui, Peraturan Presiden [Perpres] No 59/2019 tentang Pengendalian Alih Fungsi Lahan Sawah menguraikan tentang pentingnya perlindungan lahan pertanian di daerah sebagai lahan abadi yang tidak boleh beralih fungsi untuk kepentingan apa pun.
Dalam upaya pengendalian alih fungsi lahan, menurut SYL, Kementan melakukan mengawalan verifikasi serta sinkronisasi lahan sawah dan penetapan peta lahan sawah yang dilindungi.
Kementan juga terlibat pengawalan integrasi lahan sawah yang dilindungi untuk ditetapkan menjadi Lahan Pertanian dan Pangan Berkelanjutan (LP2B) di dalam Perda RTRW provinsi/kabupaten/kota. Dengan demikian UU Perlindungan Lahan Pertanian Pangan Berkelanjutan No 41/2009, dan Perpres No 59/2019 dan peraturan turunannya dapat dilaksanakan lebih optimal.
Mentan SYL pun meminta jajarannya lebih semangat dan membuat target pencapaian, seraya melakukan evaluasi pada 16 Maret 2020.
"Jangan sembunyi dari masalah, supaya bisa diselesaikan masalahnya. Berpijaklah pada aturan dan ketentuan. Jaga akuntabilitas kinerja, karena Anda dibayar negara. Keberhasilan berasal dari bawah bukan dari atas. Mari kita temukan harapan dan kebutuhan bersama," kata SYL.
Diketahui, masalah pengendalian lahan pertanian berada di dalam domain Direktorat Jenderal Prasarana dan Sarana Pertanian (PSP) Kementan. Dirjen PSP Sarwo Edhy mengaku siap melaksanakan semua arahan Menteri Pertanian. [Sur]
Jakarta [B2B] - The Indonesian government is trying to prevent the conversion of agricultural land into non-agriculture by providing incentives to landowners such as agricultural machinery as well as subsidized seeds and fertilizers, according to Indonesian Agriculture Minister Andi Amran Sulaiman.