Rp920,6 Miliar atau 25.410 unit Bantuan Alsintan untuk Sulsel pada 2015 - 2018
IDR 920.6 Billion of Agricultural Machinery Assistance for South Sulawesi
Editor : M. Achsan Atjo
Translator : Dhelia Gani

PUBLISHED: Selasa, 16 April 2019 , 18:37:00 WIB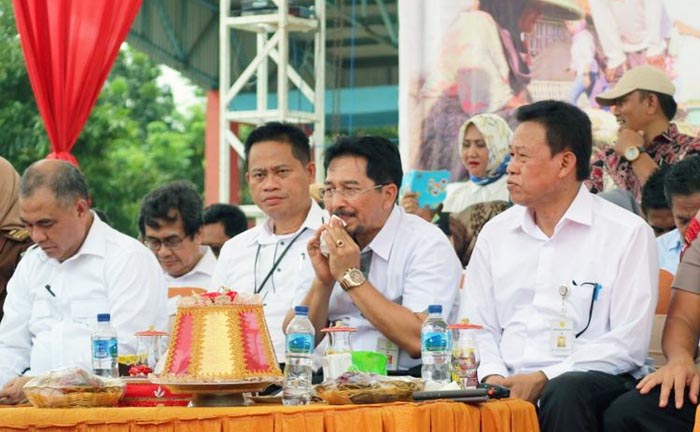 ALSINTAN UNTUK TAKALAR: Dirjen PSP Kementan Sarwo Edhy [ke-2 kiri] dan Kepala BPPSDMP Kementan, Momon Rusmono pada kunjungan kerja Mentan Amran Sulaiman di Takalar, Sulsel [Foto: istimewa]
Takalar, Sulsel [B2B] - Kementerian Pertanian pada 2015 - 2018 memberikan bantuan alat mesin pertanian [Alsintan] sebanyak 25.410 unit senilai Rp920,6 miliar untuk Provinsi Sulawesi Selatan, sementara untuk Kabupaten Takalar mencapai 1.986 unit senilai Rp49 miliar.
Dukungan Kementan di bawah koordinasi dan kendali Direktorat Jenderal Prasarana dan Sarana Pertanian [Ditjen PSP] berhasil mendukung peningkatan produksi pangan strategis khususnya padi di Sulsel, dengan luas panen 1,14 juta hektar pada 2018 menghasilkan padi sebanyak 5,74 juta ton gabah kering giling [GKG] atau setara 3,26 juta ton beras seperti dilansir Badan Pusat Statistik [BPS].
"Berbagai fasilitas yang telah diberikan kepada para petani melalui kelompok tani, hendaknya bisa dirawat dengan baik. Jangan sampai bantuan tersebut menjadi sia-sia. Karena (kalau begitu) yang rugi bukan hanya para petani, melainkan juga bangsa Indonesia," kata Dirjen PSP Kementan, Sarwo Edhy kepada pers di sela kunjungan kerja Mentan Amran Sulaiman di Takalar, Jumat pekan lalu [12/4].
Dirjen PSP menambahkan, peran alsintan dalam pengembangan pertanian bukan sebatas proses budidaya dan pascapanen, tapi juga bagi upaya pengembangan proses hasil panen menjadi aneka produk pangan tambahan.
"Alsintan menjadi pemicu transformasi teknologi kepada petani menuju pertanian yang lebih modern, efektif, dan ramah lingkungan. Teknologi mekanisasi tersebut harus mencakup dari hulu sampai hilir untuk meningkatkan produksi dan kesejahteraan petani," kata Sarwo Edhy.
Sebagaimana diketahui, Alsintan mendukung pemecahan masalah kekurangan tenaga kerja yang dibutuhkan dalam usahatani, baik on-farm dan off-farm, menekan ongkos produksi, menekan kehilangan hasil menuju efisiensi usahatani sehingga meningkatkan pendapatan petani.
Dirjen PSP mengharapkan petani dan kelompok tani dapat merawat Alsintan yang diberikan gratis oleh pemerintah dan memanfaatkan seoptimal mungkin sesuai dengan kebutuhan petani meningkatkan produksi pertanian.
Takalar of South Sulawesi [B2B] - Indonesian Agriculture Ministry in 2015 - 2018 provided 25,410 units of free agricultural machinery worth IDR920.6 billion for South Sulawesi province, while for Takalar district reached 1,986 units worth IDR 49 billion.
The ministry support under coordination and control of the Directorate General of Agricultural Infrastructure and Facilities [Ditjen PSP] increase food production especially rice in South Sulawesi, Harvest area of 1.14 million hectares in 2018 produces rice as much as 5.74 million tons of milled dry grain or equivalent to 3.26 million tons of rice as reported by the Central Statistics Agency (BPS).
"The central government assistance to support provincial and district agriculture to farmers through farmer groups should be treated properly," Director General of PSP Sarwo Edhy told the press here on Friday last week [April 12].
He said agricultural machinery has an important role in supporting agricultural development starting from tillage, planting, harvesting, and postharvest.
"Agricultural machinery is the entrance to modern, effective and environmentally friendly mechanization of agriculture," DG Edhy said.