Program Serasi Meningkatkan Indeks Pertanaman dan Provitas Padi
Indonesian Govt to Develop Borneo`s Swamp Land into Rice Production Centers
Editor : M. Achsan Atjo
Translator : Dhelia Gani

PUBLISHED: Jum'at, 16 Agustus 2019 , 18:45:00 WIB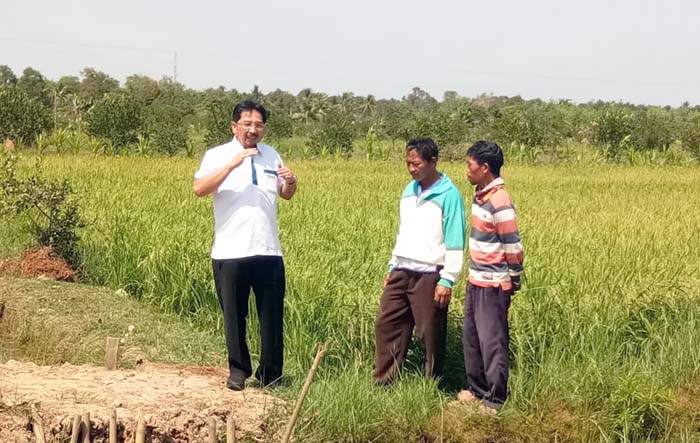 KEGIATAN 2019: Dirjen PSP Kementan, Sarwo Edhy [kemeja putih] berbincang dengan petani Barito Kuala, Kalsel [Foto: Humas Ditjen PSP]
Barito Kuala, Kalsel [B2B] - Kunjungan kerja ke Kabupaten Barito Kuala di Provinsi Kalimantan Selatan, Direktur Jenderal Prasarana dan Sarana Pertanian [PSP Kementan] Sarwo Edhy mengingatkan tentang tujuan Program ´Selamatkan Rawa Sejahterakan Petani´ disingkat #Serasi sebagai strategi penyediaan pangan melalui optimalisasi pemanfaatan potensi lahan rawa yang tersedia.
"Kedatangan kami untuk melihat lebih dekat progres kegiatan dan pemanfaatan lahan pasca pelaksanaan konstruksi tata kelola air rawa," kata Sarwo Edhy di Barito Kuala, Kalsel pada Kamis [15/8].
Menurutnya, prioritas kegiatan 2019 di Provinsi Sumatera Selatan, Kalimantan Selatan dan Sulawesi Selatan. Sedangkan untuk tahun 2020 direncanakan akan diperluas pada beberapa provinsi lainnya yang memiliki potensi pengelolaan lahan rawa untuk peningkatan indeks pertanaman [IP] dan produktivitas padi.
Purwanto selaku Ketua Gapoktan Kolam Kiri Dalam 1 sangat bersyukur dan berterima kasih kepada Kementerian Pertanian terhadap Program #Serasi 2019. Hal ini diungkapkan pada areal 300 hektar telah dilakukan perbaikan infrastruktur tata kelola air pada jaringan tersier dan kuarter.
"Program Serasi ini benar-benar memberikan manfaat dalam peningkatan produksi di lahan yang kami garap," kata Purwanto.
Saat ini sebagian petaninya melakukan pertanaman ketiga [IP 300] dengan penggunaan benih unggul varietas Inpara 2, pada tahun sebelumnya pertanaman hanya dilakukan satu kali [IP 100] dan/atau dua kali [IP 200] karena keterbatasan suplai air dari jaringan sekunder. Prakiraan produksi yang dihasilkan berkisar 4,5-5 ton per hektar dari semula 2,5 - 3 ton per hektar.
Kepala Dinas Pertanian Tanaman Pangan dan Hortikultura Kabupaten Barito Kuala, Murniati menyatakan Program #Serasi sangat membantu petani di wilayah Barito Kuala, dimana pada saat musim kemarau sangat kekurangan air dan pada musim hujan terjadi kebanjiran.
"Normalisasi saluran, adanya saluran konektivitas dan penyediaan gorong-gorong telah mengatasi kendala air sehingga Petani dapat melakukan budidaya padi melalui peningkatan IP dan provitas," kata Muniarti. [Sur]
Barito Kuala of South Borneo [B2B] - Optimizing swamp land in Barito Kuala district, South Kalimantan province is expected to realize the Indonesian government´s target as one of the national rice barns across the country. Indonesian Agriculture Ministry deploy dozens of excavators to support irrigation development.