Rp4,9 Triliun, Anggaran Ditjen PSP Terbesar ke-2 di Kementerian Pertanian RI
IDR 4.9 Trillion of Indonesia`s Agricultural Infrastructure Development Budget for 2019
Editor : M. Achsan Atjo
Translator : Dhelia Gani

PUBLISHED: Kamis, 24 Januari 2019 , 18:53:00 WIB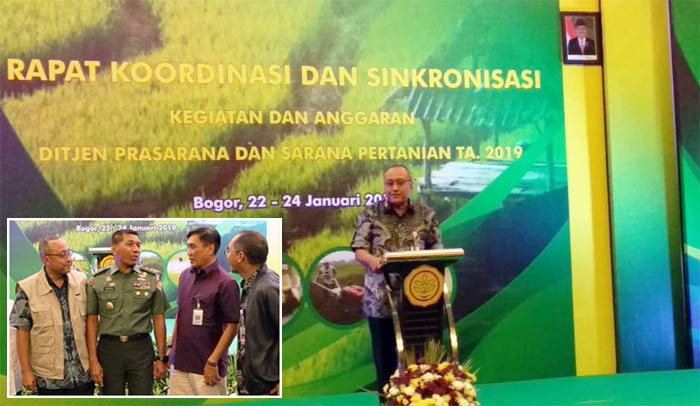 SELURUH INDONESIA: Lebih seratus kepala dinas pertanian provinsi/kabupaten/kota hadiri Rakornis Ditjen PSP yang dibuka Dirjen Pending DP dan dihadiri Aster Kasad Mayjen Supartodi dan Sesditjen Mulyadi Hendiawan
Bogor, Jabar (B2B) - Anggaran Kementerian Pertanian RI untuk 2019 mencapai Rp21,067 triliun, Direktorat Jenderal Prasarana dan Sarana Pertanian - Ditjen PSP mendapat alokasi Rp4,927 triliun, sebagai terbesar kedua di Kementan setelah Ditjen Tanaman Pangan. Sementara capaian kinerja Ditjen PSP untuk tahun anggaran 2018 mencapai 87,74% atau Rp5,119 triliun dari total pagu anggaran sebesar Rp5,834 triliun.
Dirjen PSP Kementan, Pending Dadih Permana mengatakan proporsi besaran anggaran yang dialokasikan kepada Ditjen PSP menunjukkan bahwa program penyediaan dan pengembangan prasarana dan sarana pertanian masih menjadi prioritas utama pembangunan pertanian nasional.
"Secara khusus saya ingin memastikan dan meminta semua pihak bekerja sungguh-sungguh agar anggaran yang sudah dialokasikan dapat segera diserap. Kegiatan lapangan dapat segera dieksekusi. Kita harus bekerja keras dan terus-menerus meningkatkan kinerja, sehingga harapan dan target yang sudah ditetapkan dapat dicapai tepat waktu," kata Pending DP dalam arahannya pada ´rapat koordinasi dan sinkronisasi kegiatan dan anggaran Ditjen PSP 2019 di Bogor, Rabu (23/1).
Menurutnya, berdasarkan data Online Monitoring Sistem Perbendaharaan dan Anggaran Negara disingkat OM SPAN per 14 Januari 2019, sisa anggaran yang tidak terserap atau sisa mati mencapai Rp715,34 miliar, sekitar 12,26%.
Apabila disandingkan dengan realisasi pada 11 unit eselon satu di lingkup Kementan, maka realisasi anggaran Ditjen PSP berada pada peringkat ke-10. Kendati begitu, Kementan tetap memberikan apresiasi kepada para stakeholder terutama dinas lingkup pertanian di daerah yang bekerja keras untuk mewujudkan swasembada pangan di Indonesia.
"Harapan kami kinerja ini akan meningkat dan jauh lebih baik lagi pada 2019," kata Dirjen Pending, yang akrab disapa Pak Dadih yang akrab disapa Pak Dadih pada Rakornis yang dihadiri kepala dinas pertanian tingkat provinsi/kabupaten/kota dari seluruh Indonesia.
Bogor of West Java (B2B) - The state budget of Agriculture Ministry of 2019 reaches IDR21,067 trillion, while the Directorate General of Agricultural Infrastructure and Facilities or the Ditjen PSP got the state budget allocation of IDR4.927 trillion, or ranked second under the Directorate General of Food Crops. While the performance of 2018 budget reaches 87.74% or IDR 5,119 trillion of the total budget ceiling of IDR 5,834 trillion, according to the ministry´s senior official.
Director General of PSP Pending Dadih Permana said said the state budget shows that agricultural infrastructure development programs are still the main priority of Indonesia´s agricultural development.
"In particular, I want to ensure and ask all parties to work seriously so that the state budget allocation can be used as well as possible to developing Indonesian agriculture," said Permana in his direction at ´coordination and synchronization meetings´ here on Wednesday (January 23).
According to him, based on Online data Monitoring of Treasury and Budget Systems at the Indonesian Finance Ministry of Finance or the OM SPAN per January 14, 2019, the rest of unused state budget reached IDR 715.34 billion, around 12.26%.
Compared to realization of 11 directorates general at the Indonesian Agriculture Ministry so the realization of Ditjen is ranked 10th. However, the ministry appreciates stakeholders, especially the agricultural service offices across the country for achieving food self-sufficiency.
"Our hope for future performance will be better in 2019," said Permana who was familiarly called Mr Dadih.