Kementan: 221.875 Ekor Ayam Peternak Mandiri Dibeli 10 Perusahaan Mitra
Indonesian Allocates 10.45 million Chickens/Ducks to to Poor Households
Reporter : Gusmiati Waris
Editor : Cahyani Harzi
Translator : Dhelia Gani

PUBLISHED: Senin, 27 April 2020 , 19:22:00 WIB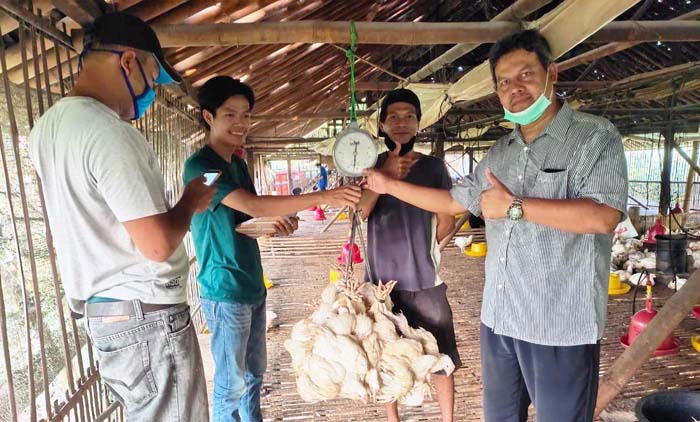 REALISASI KOMITMEN: Ditjen PKH Kementan akan terus mengingatkan perusahaan-perusahaan mitra, untuk terus membeli livebird dari peternak mandiri [Foto: Humas Ditjen PKH Kementan]
Jakarta [B2B] - Sekitar 221.875 ekor ayam dari peternak mandiri di lima provinsi telah dibeli oleh 10 perusahaan, setelah disepakatinya komitmen pembelian ayam ras peternak mandiri oleh 22 perusahaan mitra peternakan pada 21 April 2020. Realisasi penjualan tersebut mencapai 5,39% dari 4.119.000 ekor yang ditargetkan Kementerian Pertanian RI.
Dirjen Peternakan dan Kesehatan Hewan - Kementerian Pertanian RI [PKH] I Ketut Diarmita mengatakan bahwa langkah fasilitasi Kementan ini dilakukan sambil menunggu implementasi penugasan penyerapan ayam ras [livebird] peternak mandiri oleh BUMN.
"Sampai hari ini, 10 perusahaan telah melakukan pembelian livebird. Hasilnya mencapai 5,39 persen dari target 4.119.000 ekor," kata Dirjen I Ketut Diarmita di Jakarta, Senin [27/4].
Dia menambahkan, Ditjen PKH Kementan akan terus mengingatkan perusahaan-perusahaan mitra, untuk terus membeli livebird dari peternak mandiri, sementara perusahaan mitra yang belum melaksanakan komitmennya, diharapkan segera merealisasikan komitmen tersebut.
"Proses pembelian livebird ini dipantau setiap hari oleh Tim Ditjen PKH, di bawah komando Direktur Perbibitan dan Produksi Ternak, Sugiono. Jadi saya minta agar semua mitra melaksanakan komitmen yang telah disepakati, agar mengurangi tekanan rendahnya harga livebird," kata Ketut Diarmita.
Dia mengimbau perusahaan pembibitan ayam ras dan perusahaan pakan ternak yang telah melakukan pembelian livebird untuk memaksimalkan penyerapan livebird yang belum mencapai 15% dari komitmen penyerapan.
Berdasarkan laporan terakhir, data penyerapan livebird berbagai mitra yakni Charoen Pokphand Indonesia sebanyak 66.720 ekor, Japfa Comfeed Indonesia [16.233], Karya Indah Pertiwi [21.600], Expravet [15.232], Ayam Manggis [3.360], Super Unggas Jaya [2.500], De Heus [90.339], Intertama Trikencana Bersinar [700], Wonokoyo Jaya Corp. [3.031] dan Patriot Intan Abadi [2.160].
Data penyerapan livebird oleh mitra tersebut tersebar di Provinsi Jawa Barat sebanyak 134.342 ekor, Jawa Tengah [65.125], Jawa Timur [4.567], DI Yogyakarta [2.369] dan Sumatera Utara [15.232]. Adapun Banten masih dalam proses pelaksanaan.
Jakarta [B2B] - Indonesian government targets distribution of 10.45 million chickens/ducks to 209,127 poor households [RTMP] carried out by 14 work units implementing activities in 2,366 villages of 206 sub-districts in 57 districts/cities in 12 provinces from the results of verification until August 27, 2019, according to the senior official of Indonesian agriculture ministry.