Antisipasi Kemarau, Dirjen PSP Ajak Petani Asuransikan Sawah sebelum Tanam Padi
Indonesian Govt Invites Rice Farmers to Insure Their Fields
Editor : M. Achsan Atjo
Translator : Dhelia Gani

PUBLISHED: Selasa, 02 Juli 2019 , 19:03:00 WIB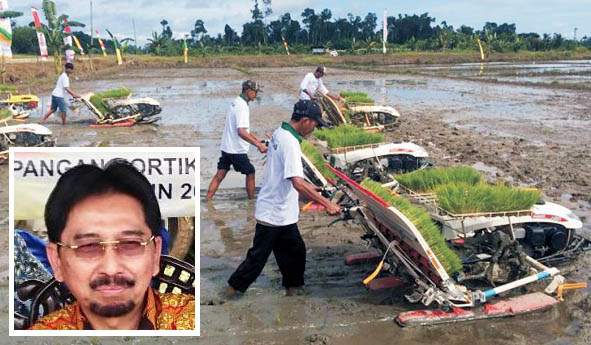 TANAM PADI: Petani menanam padi dengan alat rice transplanter dan Dirjen PSP Kementan, Sarwo Edhy [inset] Foto2: Humas Ditjen PSP Kementan
Jakarta [B2B] - Kementerian Pertanian RI mengajak para petani padi untuk mengasuransikan sawahnya sebelum menanam padi, dengan memanfaatkan Asuransi Usaha Tani Padi [AUTP] untuk mengantisipasi kerugian akibat musim kering.
Ajakan tersebut dilontarkan oleh Sarwo Edhy, Direktur Jenderal Pertanian Prasarana dan Sarana Pertanian - Kementerian Pertanian [Dirjen PSP Kementan] agar petani padi memanfaatkan AUTP dengan besar ganti rugi Rp6 juta per hektar per musim tanam (MT), masa pertanggungan selama empat bulan hingga masa panen.
"Premi asuransi sebesar Rp180 ribu per hektar per MT, pemerintah memberi subsidi Rp144.000 dan petani hanya dibebani premi Rp36.000," kata Sarwo Edhy di Jakarta, Sabtu [29/6].
Menurutnya, dengan membayar premi Rp 36 ribu per hektar per musim, petani yang sawahnya terkena bencana banjir dan serangan organisme pengganggu tumbuhan [OPT] dapat klaim [ganti] Rp6 juta per hektar, apabila mengalami gagal panen akibat kekeringan.
"Besar premi AUTP ini relatif sangat murah hanya Rp36 ribu per hektar per musim tanam. Manfaatnya sangat besar bagi petani, terutama di musim kemarau seperti saat ini," katanya.
Sarwo Edhy menganjurkan sebelum mulai menanam padi, sebaiknya daftarkan asuransi AUTP dahulu. "Preminya tidak mahal, karena disubsidi oleh pemerintah. Petani yang sawahnya kekeringan dapat ganti Rp 6 juta per hektare."
Sebagaimana diketahui dari hasil pemantauan Badan Meteorologi, Klimatologi, dan Geofisika (BMKG), curah hujan hingga 20 Juni 2019 dan prakiraan peluang curah hujan sangat rendah [< 20 milimeter per 10 hari], telah terjadi hari tanpa hujan (HTH) berturutan pada beberapa wilayah yang berdampak pada potensi kekeringan meteorologis [iklim] dengan status ´Siaga hingga Awas´ di beberapa daerah. [Sur]
Jakarta [B2B] - Indonesian Agriculture Ministry invites rice farmers to insure their fields before planting rice, by utilizing Rice Farm Business Insurance [AUTP] to anticipate losses due to the dry season.
It was stated by the ministry´s Director General of Agriculture Agricultural Infrastructure and Facilities, Sarwo Edhy to get compensation of IDR 6 million per hectare per planting season with a coverage period of four months until the rice harvest.