Pengembangan Polbangtan, RI Jajaki Kerjasama dengan Jepang
ndonesia Asks Japan Support Development of Agricultural Vocational Education
Editor : M. Achsan Atjo
Translator : Dhelia Gani

PUBLISHED: Kamis, 08 November 2018 , 19:49:00 WIB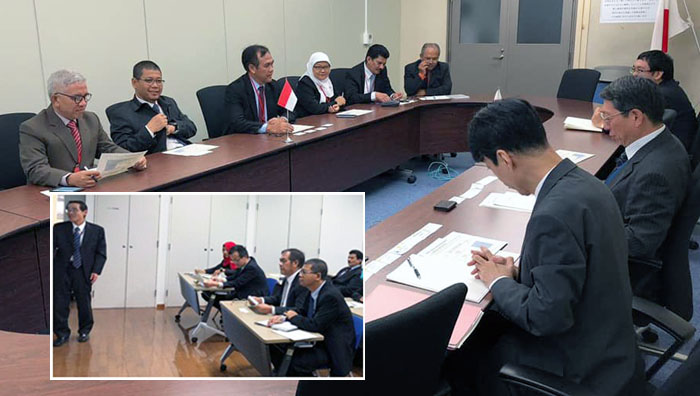 VOKASIONAL PERTANIAN: Sekretaris BPPSDMP, Andriko NS dan SAM Mekanisasi, Sam Herodian serius menyimak paparan tim pakar Jepang (inset bawah) dan pertemuan bilateral dengan Direktur MAFF Mr Hiranaka (Foto2: Humas BPPSDMP)
Tokyo, Jepang (B2B) - Kementerian Pertanian RI menjajaki kerjasama bilateral dengan Pemerintah Jepang, untuk mengadopsi keunggulan pendidikan vokasi dengan industri pertanian dan makanan Jepang menjadi input bagi pengembangan pendidikan vokasi pertanian di Politeknik Pembangunan Pertanian (Polbangtan) setelah diluncurkan Menteri Pertanian RI Andi Amran Sulaiman pada pertengahan September 2018.
"Kunjungan ke Jepang akhir Oktober 2018 sesuai instruksi Mentan Amran Sulaiman setelah peluncuran Polbangtan di Bogor, untuk studi banding ke negara lain dengan sistem pendidikan vokasi pertanian yang maju seperti Jepang, untuk menjadi standar pengembangan Polbangtan ke depan," kata Sekretaris Badan Penyuluhan dan Pengembangan SDM Pertanian (BPPSDMP) Kementan, Andriko Noto Susanto melalui pernyataan tertulis.
Menurut Andriko NS, delegasi Kementan bertemu Takahashi Hiranaka, salah satu direktur di Kementerian Pertanian, Perikanan dan Kehutanan Jepang disingkat MAFF didampingi Deputi Direktur Kerjasama MAFF, Mototaka Nishimura, Senin siang (29/10) pada hari pertama kunjungan kerja di Jepang, yang berlangsung hingga 31 Oktober 2018.
Selain Andriko NS turut hadir Staf Ahli Menteri bidang Mekanisasi, Sam Herodian; Kepala Biro Organisasi dan Kepegawaian Sekjen Kementan Abdul Halim dan Kepala Bidang Program dan Kerjasama di Pusdiktan BPPSDMP, Siswoyo.
"Pada pertemuan dengan pimpinan MAFF, Kementan mengharapkan Jepang dapat mengirimkan tenaga ahli mengenai vokasional pertanian di 10 kampus Polbangtan. Kementan juga tertarik pada Smart Agriculture untuk mengatasi tantangan masa depan pertanian, khususnya tentang tenaga kerja pertanian," kata Andriko NS, yang juga menjabat Pelaksana Tugas (Plt) Kepala Pusat Pendidikan Pertanian (Pusdiktan).
Menurutnya, Jepang sedang menyusun rencana strategis pengembangan teknologi dinamai Smart Agriculture dan penumbuhan wirausaha muda pertanian, seperti halnya Indonesia, untuk regenerasi petani dan penumbuhan wirausaha muda pertanian.
Tokyo of Japan (B2B) - Indonesian Agriculture Ministry explores bilateral cooperation with the Japanese Government to adopt Japanese vocational education became an input for development of vocational education in the Agricultural Development Polytechnic in Indonesia or the Polbangtan after being launched in Bogor in mid-September 2018.
"Working visit to Japan at the end of October 2018 according to Agriculture Minister Amran Sulaiman´s instructions after the launch of Polbangtan in Bogor, for comparative studies to other countries with advanced agricultural vocational education systems such as Japan," said Secretary of Directorate General of Agricultural HR Development or the BPPSDMP, Andriko Noto Susanto through a written statement.
According to Mr. Susanto the Indonesian delegation met Takahashi Hiranaka, one of the directors at the Japan Agricultural, Fisheries and Forestry or the MAFF was accompanied by MAFF Deputy Director of Cooperation, Mototaka Nishimura, (November 29) on the first day of a working visit in Japan, which lasted until 31 October 2018.
Besides him, also attended Expert Staff of the Minister of Agriculture Mechanization, Sam Herodian; and senior ministry officials, Abdul Halim and Siswoyo.
"At the meeting with the senior officials of MAFF, Indonesia expected Japan to send agricultural vocational experts to Pobangtan, Indonesia interested in Smart Agriculture to address the future challenges of agriculture, especially agricultural labor," said Mr Susanto who also served as Acting of Director of Center for Agricultural Education.
According to him, Japan is preparing a strategic plan for technology development named Smart Agriculture and develop young agricultural entrepreneurship, as in Indonesia, to regenerate farmers and job creators in the agricultural sector.