Tanaman Sela, Direktur Ditjen PSP Panen Jagung di Hutan Sengon Lumajang
Indonesian Farmers Plant Corn in Industrial Plantations as Intercropping
Reporter : Gusmiati Waris
Editor : Cahyani Harzi
Translator : Dhelia Gani

PUBLISHED: Sabtu, 02 Maret 2019 , 20:14:00 WIB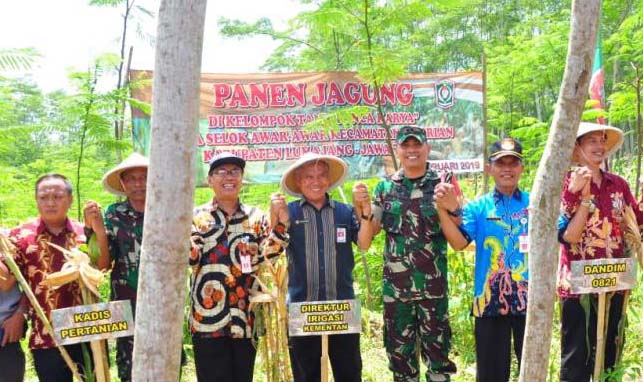 HARAPAN BARU: Direktur Irigasi Pertanian Ditjen PSP, Rahmanto (ke-4 kiri), Kadistan Imam Suryadi, dan Dandim 0821 Lumajang Letkol Inf Ahmad Fauzi (ke-3 kanan) panen jagung di lahan sengon (Foto: istimewa)
Lumajang, Jatim (B2B) - Kabar baik tentang produksi jagung menjadi ´oleh-oleh´ dari kunjungan kerja Direktur Irigasi Pertanian Ditjen PSP Kementan, Rahmanto di Kabupaten Lumajang, Provinsi Jawa Timur, Kamis (28/2) setelah panen jagung di sela tanaman pohon sengon sebagai harapan baru peningkatan produksi jagung Indonesia.
Potensi luas tanam jagung di hutan sengon Lumajang sekitar 57 hektar, sementara luas panen jagung 2018 mencapai 25.168 hektar, dan tahun ini ditargetkan mencapai 27.643 hektar.
Direktur Rahmanto meminta petani jagung Lumajang memanfaatkan potensi lahan kering untuk ditanami jagung, seperti halnya lahan sengon di Desa Selok Awar-Awar, Kecamatan Pasirian, Lumajang, yang saat ini petaninya semangat bertanam jagung di sela lahan yang ditanami pohon sengon.
"Saya mengapresiasi upaya petani yang menanam jagung sebagai tanaman sela pohon sengon. Kami harapkan petani Lumajang mengoptimalkan pertanaman jagung di lahan kering, agar tidak ada lahan pertanian yang terbengkalai tapi tetap produktif dan bermanfaat menunjang ketahanan pangan," kata Rahmanto yang juga Penanggung Jawab Upsus Pajale Kabupaten Lumajang.
Kepala Dinas Pertanian Kabupaten Lumajang, Imam Suryadi mengatakan penanaman jagung tumpang sari di sela tanaman sengon tengah digencarkan, Februari lalu luas panen mencapai 2.345 hektar tapi spot-spot tersebar. Luasan panen tersebut hanya di tanah marginal, kering dan tanaman sela, sedangkan untuk panen raya sendiri terjadi di lahan sawah hamparan pada September-Oktober.
"Meskipun menjadi tanaman sela, produktivitas jagung tinggi sekitar 5,5 sampai enam ton per hektar pipilan kering. Sementara di Desa Selok Awar-Awar ada 41 hektar yang dikelola oleh enam kelompok tani," kata Imam Suryadi.
Menurutnya, petani Kabupaten Lumajang memang terbiasa menanam sela pohon sengon dengan berbagai tanaman seperti jagung, cabai, ketela pohon bahkan rumput gajah di saat pohon sengon berusia di bawah umur dua tahun.
"Karena tutupan daunnya usia satu hingga dua tahun masih memungkinkan untuk tanaman lain tumbuh baik," kata Imam. (Sur)
Lumajang of East Java (B2B) - The new hope of increasing Indonesia´s corn production comes from Lumajang district such as in Selok Awar-Awar village, Pasirian subdistrict, and now local farmers are eager to plant corn between sengon trees. The good news was revealed of the working visit of Director of Agricultural Irrigation of Directorate General of Agricultural Infrastructure and Facilities at the Agriculture Ministry.
The potential for corn planting area in Lumajang sengon forest is around 57 hectares, while the harvested area of 2018 reached 25,168 hectares, and this year it targeted 27,643 hectares.
Director Rahmanto asked Lumajang corn farmers to use the potential of dry land to grow corn, such as sengon forest in Selok Awar-Awar village, Pasirian sub-district, which is currently a farmer whose enthusiasm is planting corn in the sengon forest.
"I appreciate Lumajang farmers planting corn as a intercrop in the sengon forest. We hope that Lumajang farmers will optimally grow corn on dry land so that there is no land abandoned," said Rahmanto who also served as the Person in Charge of
Head of Lumajang District Agriculture Office, Imam Suryadi said that corn planting intercropped in the sengon forest is being intensified, last February the harvest area reached 2,345 hectares but scattered spots. The harvest area is only on dry land and intercropping, while the harvest is in paddy fields in September-October.
"Although only intercrops, corn productivity remains high at around 5.5 to six tons of dry shelled per hectare. While in Selok Awar-Awar village there are 41 hectares which are managed by six farmer groups," said Suryadi.
According to him, Lumajang farmers are used to planting corn between sengon trees and various plants such as corn, chili, cassava and even elephant grass when the sengon tree is under the age of two years.
"Because leaf cover of the sengon trees aged one to two years is still possible for other plants to grow well," Suryadi said.