Rp144 Ribu per Ha, Subsidi Premi Asuransi untuk Ganti Rugi Sawah Petani
Indonesian Paddy Fields Insurance Premiums Borne by the Central Govt
Editor : M. Achsan Atjo
Translator : Dhelia Gani

PUBLISHED: Selasa, 02 Juli 2019 , 20:15:00 WIB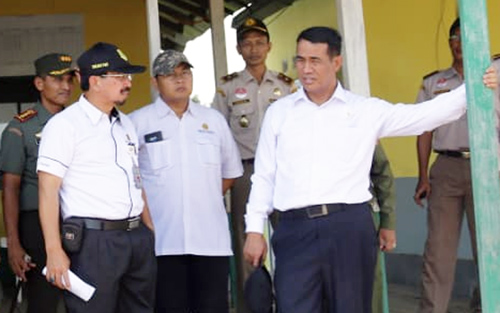 KOORDINASI LAPANGAN: Dirjen PSP Kementan, Sarwo Edhy [topi hitam] koordinasi dengan Mentan Amran Sulaiman [kanan] di sela kunjungan kerja di Kalsel [Foto: Humas Ditjen PSP Kementan]
Jakarta [B2B] - Asuransi Usaha Tani Padi [AUTP] merupakan kebijakan Kementerian Pertanian RI untuk melindungi sawah milik petani padi dari kerugian akibat bencana banjir, kekeringan atau serangan organisme pengganggu tanaman [OPT]. Pemerintah RI khususnya Kementerian Pertanian RI memberikan subsidi Rp144.000 per hektar sawah, dan petani hanya dibebani premi Rp36.000 per hektar.
"Kementan berharap petani padi di seluruh Indonesia mendaftar sebagai peserta AUTP. Biaya premi murah dan sangat bermanfaat untuk mengantisipasi bencana alam dan serangan OPT," kata Dirjen PSP Kementan, Sarwo Edhy di Jakarta, Sabtu [29/6].
AUTP saat ini tak hanya diperuntukkan bagi petani yang lahan sawahnya berada di kawasan rawan bencana dan serangan OPT. Tetapi juga untuk petani yang lahan sawahnya aman dari bencana. Sebab, yang namanya bencana atau serangan OPT itu tak bisa diduga.
"AUTP akan terus kami sosialisaikan pada petani, karena ini menjadi bentuk perlindungan kepada mereka, dan saat ini sudah banyak petani yang sudah menjadi anggota AUTP, " katanya.
Data Kementan menyebutkan, jumlah petani peserta AUTP dari tahun ke tahun terus meningkat. Adapun dari target 1 juta hektar, realisasi AUTP pada 2018 mencapai 806.199,64 hektar atau 80,62%. Sementara itu, klaim kerugian yang diajukan petani mencapai 12.194 hektare atau 1,51%.
Dirjen Sarwo Edhy menambahkan, pengembangan AUTP pun tak menemui banyak kendala. Artinya, pembayaran klaim yang dilakukan PT Jasindo sampai saat ini berjalan lancar. Bahkan untuk mempermudah pendaftaran dan pendataan asuransi, Kementan bersama PT Jasindo menerbitkan layanan berbasis online melalui Sistem Informasi Asuransi Pertanian (SIAP). Sur
Jakarta [B2B] - The Rice Farm Business Insurance [AUTP] is the policy of the Indonesian Agriculture Ministry to protect farmers´ fields of losses due to floods, droughts or attacks by plant pest organisms. Indonesian government especially the Agriculture Ministry provides subsidies of Rp144,000 per hectare of rice fields, and farmers are only charged a premium of IDR36,000 per hectare.