Raker DPR, Mentan Elaborasi Program Kerja Kementan 2021 disesuaikan SPBI
Indonesia´s Agriculture Minister Expects Parliamentary Support
Editor : M. Achsan Atjo
Translator : Dhelia Gani

PUBLISHED: Senin, 22 Juni 2020 , 20:21:00 WIB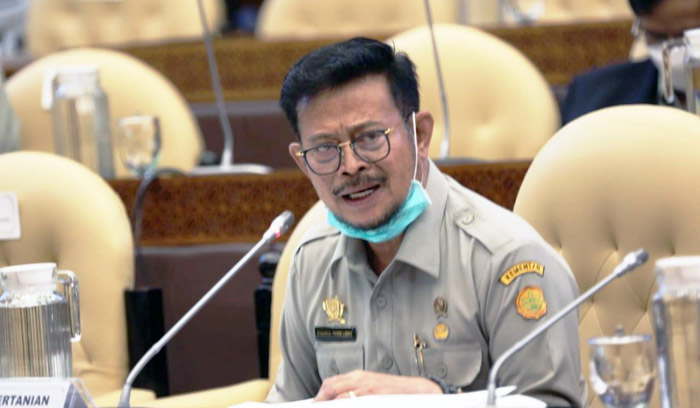 TARGET KOMODITAS: Kementan ditargetkan memenuhi sasaran produksi komoditas strategis seperti padi 63,50 juta ton; jagung 26 juta ton; kedelai 0,48 juta ton; dan daging sapi atau kerbau 0,463 juta ton. [Foto: Biro Humas Kementan/Makmur H]
Jakarta [B2B] - Target kerja Kementerian Pertanian RI pada 2021 masih fokus pemulihan dan pembangunan sektor pertanian yang lebih maju, mandiri dan modern dengan merumuskan program yang disesuaikan nomenklatur Surat Bersama Pagu Indikatif [SBPI], khususnya program dukungan manajemen ketersediaan akses dan konsumsi pangan berkualitas [Program Spesifik].
"Ada juga program nilai tambah dan daya saing industri, kemudian program riset dan inovasi ilmu pengetahuan dan teknologi serta program pendidikan dan pelatihan vokasi," kata Menteri Pertanian RI Syahrul Yasin Limpo pada rapat kerja dengan Komisi IV DPR RI di Jakarta, Senin [22/6].
Mentan menguraikan dalam pelaksanaannya, alokasi terbesar akan diarahkan pada Program Ketersediaan, Akses dan Konsumsi Pangan Berkualitas sebesar Rp10,53 triliun. Sesuai dengan SBPI, Kementan juga ditargetkan memenuhi sasaran produksi komoditas strategis seperti padi 63,50 juta ton; jagung 26 juta ton; kedelai 0,48 juta ton; dan daging sapi atau kerbau 0,463 juta ton.
"Tugas utama kami menyediakan pangan penduduk dengan rancangan target 2021 seperti komoditas bawang merah 1,74 juta ton, cabai 1,45 juta ton dan target peningkatan komoditas strategis lain dibandingkan 2020," katanya.
Mentan Syahrul menambahkan pembangunan pertanian mendapat dukungan Dana Alokasi Khusus [DAK] pertanian. Dketahui, pagu alokasi anggaran DAK 2021 mencapai Rp1,4 triliun, diarahkan untuk pembangunan atau perbaikan infrastruktur dasar pertanian dan sarana pendukungnya di daerah.
"Kami berharap mendapat dukungan dari pimpinan dan para Anggota Komisi IV DPR RI, supaya Kementan dapat menjalankan program-program dengan maksimal dan tanpa kendala," katanya.
Kementan juga mengusulkan penambahan anggaran 2021 sebesar Rp10 trilun, yang dinilai penting untuk merealisasikan pemulihan ekonomi yang akan banyak bertumpu pada sektor pertanian.
"Pagu indikatif Rp18,4 triliun yang dialokasikan kepada Kementan pada 2021 nampaknya masih jauh dari memadai," tutupnya.
Sebagai informasi, rapat kerja bersama ini merupakan rapat dengan tatap muka perdana antara Kementan dengan Komisi IV DPR RI, setelah hampir tiga bulan menggelar rapat virtual akibat pandemi Covid 19.
Jakarta [B2B] - Indonesian Agriculture Minister Syahrul Yasin Limpo expects parliamentary support to encourage farmers, agricultural extension workers and stakeholders to support increased strategic food production.