Pompanisasi Solusi Dirjen Sarwo Edhy Atasi Kekeringan di Purwakarta
Pompanization is Solution to the Drought in Indonesia`s West Java Rice Fields
Editor : M. Achsan Atjo
Translator : Dhelia Gani

PUBLISHED: Sabtu, 27 Juli 2019 , 20:26:00 WIB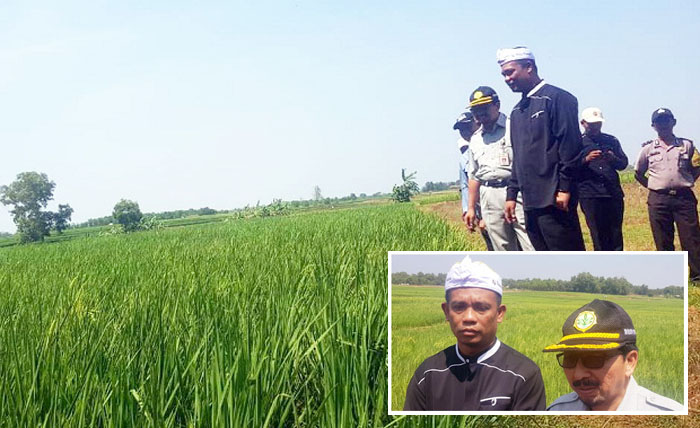 SIAP PANEN: Dirjen PSP Kementaqn, Sarwp Edhy [tippi hitam] dan Wakil Bupati Purwakartga, Aming meninjau lahan persawahan di Kecamatan Bungursari, Kabupaten Purwakarta [Foto: istimewa]
Purwakarta, Jabar [B2B] - Mengantisipasi kekeringan areal persawahan di Kabupaten Purwakarta, Provinsi Jawa Barat, Direktorat Jenderal Prasarana dan Sarana Pertanian - Kementerian Pertanian RI [Ditjen PSP Kementan] memberi solusi berupa pompanisasi dan pipanisasi didukung pembuatan embung untuk kebutuhan sumber air, tujuannya menyelamatkan potensi lahan persawahan seluas 500 hektar dari potensi kekeringan seluas 1.500 hektar.
Langkah serupa diterapkan Ditjen PSP Kementan pada daerah lain di seluruh Indonesia dalam tiga tahun terakhir sebanyak 100.000 mesin pompa air, sementara untuk 2019 mencapai 20.000 unit didukung 7.300 meter [setara 7,3 km] selang air, sedangkan Purwakarta mendapat bantuan 300 unit mesin pompa.
"Solusinya dengan pompanisasi, Kementan membantu pompa air untuk daerah-daerah yang kekeringan seperti di kawasan Pantura [pantai utara], permintaan untuk 2019 yang masuk ke Kementan mencapai 20 ribu unit pompa," kata Dirjen PSP Kementan, Sarwo Edhy kepada pers di Purwakarta, Rabu [24/7] saat memantau areal persawahan di Desa Cibodas, Kecamatan Bungursari, didampingi oleh Wakil Bupati Aming dan Kepala Dinas Pertanian dan Pangan Purwakarta, Agus Rachlan Suherlan.
Ditjen PSP Kementan juga mendorong pengembangan embung, yang akan diakomodir Kementan dengan syarat harus di lahan desa, lahan pemerintah atau hibah dari masyarakat, tujuannya agar pengembangan embung tidak sia-sia sehingga dapat dimanfaatkan oleh para petani.
"Anggarannya kita bantu melalui DAK [dana alokasi khusus], asalkan lahan yang disiapkan minimal 25 x 25 meter, kedalaman dua metar di lahan yang aman dan bukan di atas lahan pribadi agar tidak dijual dan dibongkar," kata Sarwo Edhy.
Sementara Kadistan Purwakarta, Agus RS mengatakan untuk mengantisipasi kekeringan areal pesawahan,terutama keberadaan sumber air, pihaknya akan memanfaatkan areal bekas galian C untuk sumber air terutama untuk pesawahan tadah hujan.
"Kita manfaatkan saja galian C sebagai sumber air alternatif,akan tetapi kesulitannya kan lahannya milik personal sehingga kita hanya memberikan imbauan," kata Agus RS.
Dia mengakui, saat ini pihaknya memanfaatkan bekas galian C untuk mengairi sawah yang rawan kekeringan, dan rata-rata milik dari perorangan atau dari perusahaan maka akan ditempuh melalui program khusus dan pemerintah daerah dapat menyediakan lahan bekas galian golongan C menjadi sumber air bagi pertanian dan pemerintah terus berupaya memfasilitasinya.
Rencana tersebut selaras dengan rencana Bupati Aming tentang sumber mata air dimana kebijakannya membeli sumber mata air dari masyarakat.
"Selain embung, keinginan bupati adalah penyediaan air dengan membeli sumber mata air, dan bekas gaian C adalah salah satu cara untuk mewaspadai potensi kekeringan," kata Agus.
Purwakarta of West Java [B2B] - Anticipating the drought in rice fields in Purwakarta Regency, West Java Province, the Indonesian Ministry of Agriculture provides a pumping solution supported by the development of reservoirs for water resources needs, the goal is to save potential of 500 hectares of rice fields from the threat of 1,500 hectares of drought in Purwakarta the goal is to save potential of 500 hectares of rice fields.