Embung di Musim Kemarau Bermanfaat Atasi Dampak Kekeringan
Indonesian Farmers Develops Small Farm Reservoir to Anticipate Drought Season
Editor : M. Achsan Atjo
Translator : Dhelia Gani

PUBLISHED: Sabtu, 22 Juni 2019 , 20:27:00 WIB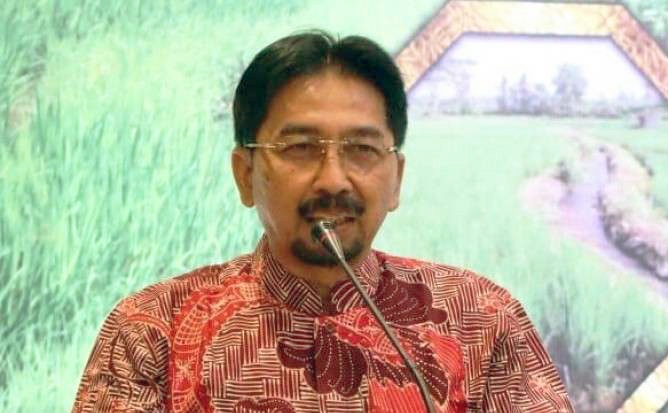 Dirjen PSP Kementan, Sarwo Edhy: "Embung merupakan salah satu teknik pemanenan air yang sangat sesuai di segala jenis agroekosistem" [Foto: Humas Ditjen PSP]
Jakarta [B2B] - Teknologi embung atau tandon air, salah satu teknik pemanenan air yang sangat sesuai di segala jenis agroekosistem dan bermanfaat untuk mengantisipasi musim kemarau, setelah menampung kelebihan air hujan di musim penghujan, kemudian digunakan sebagai sumber irigasi suplementer untuk budidaya komoditas pertanian.
Direktorat Jenderal Prasarana dan Sarana Pertanian - Kementerian Pertanian RI (Ditjen PSP) mengembangkan embung atau tandon air atau waduk berukuran mikro di lahan pertanian (small farm reservoir) setelah menyadari air merupakan sumber daya yang menentukan kinerja sektor pertanian sehingga harus dikelola secara efektif dan efisien.
"Embung merupakan salah satu teknik pemanenan air yang sangat sesuai di segala jenis agroekosistem. Embung di lahan rawa atau dikenal sebagai pond, berfungsi sebagai tempat penampungan air drainase saat kelebihan air di musim hujan dan sebagai sumber air irigasi pada musim kemarau," kata Dirjen PSP Kementan, Sarwo Edhy kepada pers di Jakarta.
Menurutnya, air dari embung selain untuk pertanaman juga membantu proses pencucian untuk mengurangi kadar keasaman tanah, sehingga dapat meningkatkan produktivitas padi yang ditanam di lahan rawa.
"Embung bermanfaat meningkatkan indeks pertanaman dari satu kali tanam dalam setahun menjadi dua kali tanam dengan memanfaatkan embung saat musim kemarau," katanya. [Sur]
Jakarta [B2B] - The small farm reservoir locally known as the embung was chosen by Indonesian Agriculture Ministry to support the provision of water on agricultural land, especially in swamps to meet water needs in tidal and swamp land.
The Directorate General of Agricultural Infrastructure and Facilities or Ditjen PSP developing reservoirs to accommodate excess rainwater in the rainy season as the supplementary irrigation source for agricultural cultivation.
"The embung is a rainwater harvesting technique that is very suitable in all agroecosystems. The reservoir serves to hold water when excess water in the rainy season and irrigation water sources in the dry season," said Director General Sarwo Edhy.
According to him, water of embung also supports land washing to reduce soil acidity, to increase productivity of rice in swamplands.
"The embung is useful for increasing cropping indexes, from one planting in a year to twice planting, using embung during the dry season," he said.