Kelola Tata Air, Kunci Sukses Produktivitas Pertanian di Lahan Rawa
Water Management Determines Success of Agriculture in Indonesia`s Swamp Land
Editor : M. Achsan Atjo
Translator : Dhelia Gani

PUBLISHED: Rabu, 24 Juli 2019 , 20:47:00 WIB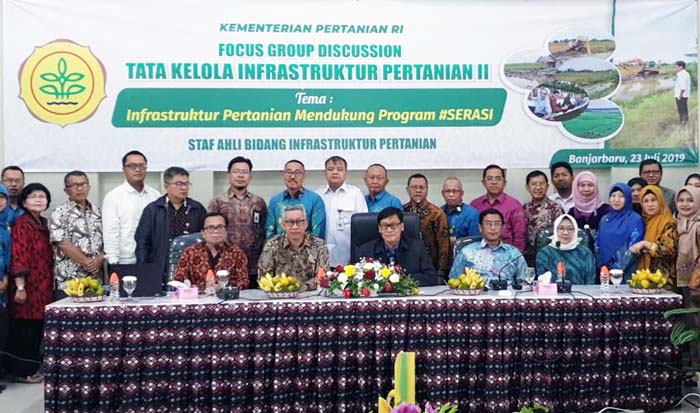 FGD #SERASI: Staf Ahli Mentan, Prof Dedi Nursyamsi [duduk, kemeja hitam] bersama Prof Budi Indra Setiawan; Hendri Sosiawan Cesa dan Kadistan TPH Kalsel, Syamsir Rahman [Foto: Humas Kementan]
Banjarbaru, Kalsel [B2B] - Pembenahan tata kelola air makro dan mikro di lahan tidur, rawa dan lebak, harus dimulai dari pengembangan infrastruktur untuk menunjang produktivitas pada Program ´Selamatkan Rawa Sejahterakan Petani´ disingkat #Serasi di Kalimantan Selatan, yang menerapkan tata air makro sistem garpu sementara di Sumatera Selatan dan Riau menggunakan sistem sisir.

Hal itu dikemukakan oleh Staf Ahli Menteri Pertanian Bidang Infrastruktur Pertanian [SAM] Prof Dedi Nursyamsi; Guru besar Fakultas Teknologi Pertanian IPB, Prof Budi Indra Setiawan; Kepala Balai Penelitian Pertanian Lahan Rawa [Balittra - Balitbangtan] Hendri Sosiawan Cesa pada Focus Group Discussion [FGD] ´Tata Kelola Infrastruktur Pertanian II´ di Banjarbaru, Kalsel pada Selasa [23/7] yang dihadiri Kepala Dinas Tanaman Pangan dan Hortikultura Pemprov Kalsel, Syamsir Rahman.

Kegiatan FGD bertujuan menjaring masukan tentang pengelolaan infrastruktur air, implementasi inovasi teknologi, dan pemberdayaan petani mendukung program #Serasi.

"Pembenahan ini harus dimulai dari perbaikan infrastruktur seperti normalisasi saluran primer, sekunder, tersier, kuarter, serta perbaikan pintu air, gorong-gorong, border dan lain-lain," kata Dedi Nursyamsi saat membuka FGD.

Menurutnya, upaya pemerintah mengembangkan lahan tidur akan semakin mudah apabila didukung kesiapan infrastruktur, seperti halnya Kementerian Pertanian RI yang sedang mengembangkan #Serasi.

"Upaya selanjutnya, implementasi inovasi teknologi pertanian rawa seperti varietas padi Inpara, pemupukan berimbang, pupuk hayati dan pengendalian organisme pengganggu tanaman atau OPT. Tak kalah penting adalah pemberdayaan petani rawa, baik melalui penyuluhan dan demonstration farm mengembangkan lahan rawa menjadi sentra produksi pertanian," katanya lagi.

Sistem Garpu
Prof Budi Indra Setiawan menambahkan secara garis besar, tata air makro di lahan rawa nasional khususnya #Serasi ada dua macam: sistem garpu dan sisir. Sistem garpu dikembangkan di Kalsel dan sistem sisir di Sumsel dan Riau. Secara teknis, sistem tersebut merupakan kontribusi dari kearifan lokal masyarakat Banjar di lahan rawa, sehingga kebutuhan air di lahan rawa terpenuhi.

Hendri Sosiawan Cesa menyoroti tata air makro dan mikro telah diterapkan di Kabupaten Barito Kuala, Kalsel, yang kini berkembang menjadi sentra produksi padi dan jeruk dengan kualitas bagus. "Petaninya hidup makmur, bahkan mereka mampu melaksanakan ibadah haji dan umroh beberapa kali."

Syamsir Rahman menyatakan kesiapan pemerintah daerah untuk mendukung suksesnya program #Serasi secara masif antara lain melalui penyelesaian survey investigasi desain (SID), pemeliharaan dan perawatan alat mesin pertanian [Alsintan] termasuk eskavator, dan pengadaan bahan bakar minyak.

Sebagaimana diketahui, Program #Serasi sudah memasuki tahap panen di Kalsel, Sumsel dan Sulsel, sementara fokus kegiatan utamanya adalah menggarap lahan pada sawah eksisting.
Banjarbaru of South Borneo [B2B] - Improvement of water management, macro and micro in abandoned fields, marshes and swampy, must start of infrastructure development to support productivity of the program ´´the development of swamps becomes an agricultural area´ [#Serasi] in Indonesia such as in South Borneo province who applied a fork system to macro water management, while in South Sumatra and Riau province use a comb system.