ItJenTan Dukung Pemkab Bogor Wajibkan ASN Beli Beras 5 Kg/Bulan
Indonesia`s Bogor Civil Servants are Obliged to Buy Rice of Farmers
Editor : M. Achsan Atjo
Translator : Dhelia Gani

PUBLISHED: Kamis, 14 Maret 2019 , 20:55:00 WIB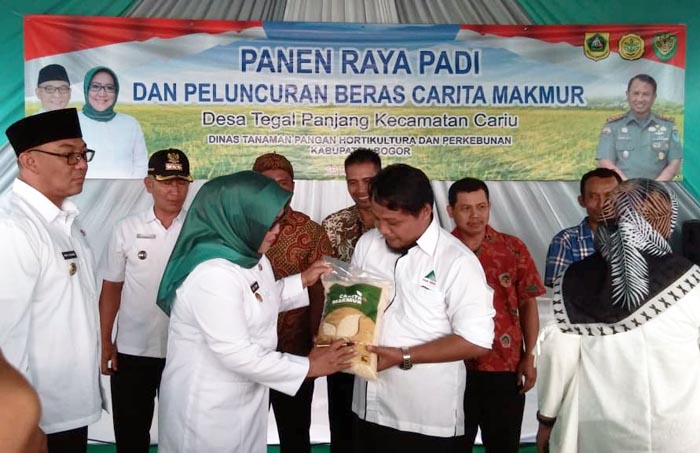 PJ UPSUS BOGOR: Bupati Ade Yasin (hijab hijau) menyerahkan beras kepada Camat Cariu (kanan) usai panen dan peluncuran beras lokal merek Carita Makmur di Cariu, Bogor (Foto2: Humas ItJenTan)
Bogor, Jabar [B2B] - Pemkab Bogor menggagas ´Gerakan Membeli Beras Lokal´ yang mewajibkan setiap aparatur sipil negara [ASN] membeli beras petani lima kg per orang, untuk tahun pertama dialokasikan 85 ton per bulan, yang akan dipasok oleh 18 Gapoktan di Kabupaten Bogor, Provinsi Jawa Barat sebagai bagian dari program ´Panca Karsa Bogor Maju´ sekaligus mendukung program serap gabah/beras petani atau Sergap.
"Dengan program Panca Karsa Bogor Maju diharapkan setiap ASN di Kabupaten Bogor setiap bulan membeli beras petani minimal lima kg per orang," kata Bupati Ade Yasin usai panen raya di Desa Tegal Panjang, Kecamatan Cariu pada lahan seluas 35 hektar yang dikelola Gapoktan Sinar Sejati, Rabu (13/3).
Langkah yang digagas Pemkab Bogor diapresiasi oleh Dahono, Pelaksana Harian [Plh] Inspektur III Inspektorat Jenderal Kementerian Pertanian RI selaku Penanggung Jawab Upaya Khusus [PJ Upsus] Kabupaten Bogor.
"ItJenTan sebagai PJ Upsus Bogor tanpa lelah mengawal dan mendorong Poktan dan Gapoktan untuk mengoptimalkan luas tambah tanam atau LTT untuk mendukung peningkatan hasil panen, sekaligus meningkatkan kesejahteraan petani," kata Dahono kepada pers usai peluncuran beras segar Bogor asli merek ´Carita Makmur´ di Bogor.
Menurutnya, panen raya padi membuktikan kesungguhan petani Bogor mendukung program swasembada pangan nasional yang dicanangkan oleh Kementan dengan Program Upsus terus mengawal dan mendorong agar petani kita sejahtera dan hasil panen yang berkualitas.
Turut hadir Kepala Dinas Tanaman Pangan dan Hortikultura Provinsi Jawa Barat, Sity Nurianty; Ketua DPRD Kabupaten Bogor, Ilham Permana; Dandim 0621/Surya Kencana, Letkol Inf Harry Eko Sutrisno; dan kelompok tani di Kecamatan Jonggol. [Ri2n]
Bogor of West Java [B2B] - Indonesia´s Bogor district government initiated the ´movement to buy local rice´ by requiring district civil servants to buy farmer´s rice as much as five kg per person, for the first year allocated 85 tons per month which will be supplied by 18 farmer groups across the district of West Java province.
"The program to support Bogor farmers requires every civil servant every month you buy farmer´s rice at least five kg per person, to buy farmer´s rice every month, at least five kg per person," said Regent Ade Yasin after the rice harvest in Tegal Panjang village of Cariu subdistrict on Wednesday [March 13].
The program initiated by the Bogor district government was appreciated by Dahono, Acting of Inspector III of Inspectorate General at the Agriculture Ministry or the ItJenTan as the Person in Charge of increase rice production or the PJ Upsus.
"The ItJenTan as the PJ Upsus Bogor continue to monitor and encourage Bogor farmers to increase rice production and improve farmers´ welfare," Dahono told the press here.
According to him, the rice harvest proves the sincerity of Bogor farmers to support the national food self-sufficiency program launched by Indonesian Agriculture Ministry.