Trans Papua, Kementan Identifikasi Status Lahan agar `Clean and Clear`
Indonesian Govt Identifies the Status of Land for Agriculture in Trans Papua
Editor : M. Achsan Atjo
Translator : Dhelia Gani

PUBLISHED: Jum'at, 28 Juni 2019 , 21:15:00 WIB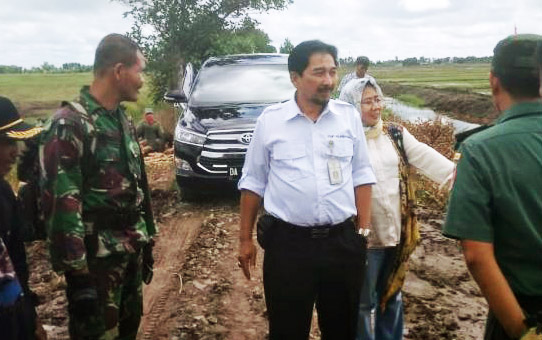 PANTAU LAPANGAN: Dirjen PSP Kementan, Sarwo Edhy [kemeja putih] didampingi Direktur Perluasan dan Perlindungan Lahan, Indah Megawati [hijab] Foto: Humas Ditjen PSP Kementan
Jakarta [B2B] - Perluasan areal daerah penyangga Trans Papua, Kementerian Pertanian RI mengidentifikasi beberapa kritikal poin dalam usaha tani, khususnya terkait lahan, prasarana dan sarana produksi, kepastian usaha, resiko harga, kegagalan panen dan ekonomi biaya tinggi serta perubahan iklim.
"Kementan mengharapkan kepastian status lahan sebaiknya dapat dijamin clear dan clean guna pengembangan komoditas secara berkelanjutan," kata Dirjen PSP Kementan, Sarwo Edhy di Jakarta, belum lama ini pada rapat koordinasi Pengembangan Kawasan Trans Papua.
Menurut Sarwo Edhy, Kopi Arabika merupakan salah satu komoditas yang sangat sesuai untuk wilayah pegunungan. Untuk itu, akan diupayakan penanaman kopi sepanjang jalur Trans Papua dengan mengutamakan pada ketersediaan sumber daya manusia (petani).
"Pengembangan komoditas tanaman pangan, hortikultura akan diupayakan guna memenuhi kebutuhan akan pangan pokok secara in situ," tambahnya.
Untuk itu, akan ada koordinasi lintas sektor Pemerintah Pusat dan Daerah sebagai tindak lanjut Rapat Koordinasi ini. Akan dibentuk Tim Kerja guna melakukan action ke depan, peninjauan ke lokasi, Staf khusus akan laporkan Presiden RI, terkait peresmian jalan trans dan membukaan lahan untuk pertanian dan perkebunan pada bulan Agustus 2019.
"Harapannya, Trans Papua memiliki makna dalam mendorong tumbuhnya pengembangan ekonomi komoditas dan melayani komunitas lokal di wilayah terpencil," katanya.
Dari sisi hulu, Kementerian Pertanian memperluas titik-titik produksi. Sedangkan, di sisi hilir sudah dijalankan oleh beberpaa mitra sehingga ke depannya perlu disinkronkan dan disinergikan.
"Ke depan kita akan mengembangkan bagaimana orang Papua bisa hidup dengan pertanian yang sudah mereka miliki," katanya. [Sur]
Jakarta [B2B] - The expansion of Trans Papua buffer zone, Indonesian Agriculture Ministry identified several critical points in farming specifically related to land, infrastructure and production facilities, business certainty, price risk, crop failure and high cost economy and climate change.