Realisasi Okmar 71,95%, PJ Upsus Lampung Pimpin Capai Target 582.562 Ha
Indonesian Govt Coordinated with the Regions to Reach Target of LTT
Editor : M. Achsan Atjo
Translator : Dhelia Gani

PUBLISHED: Sabtu, 09 Februari 2019 , 21:22:00 WIB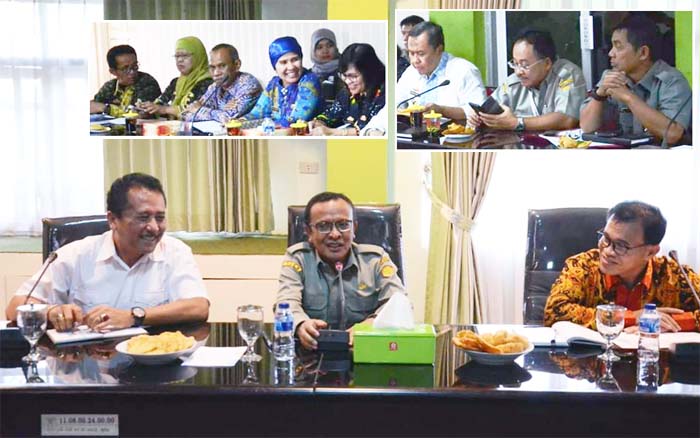 ITJENTAN `FULL TEAM`: Irjentan Justan Siahaan (tengah) memimpin Rakor LTT didampingi Inspektur IV, IGMN Kuswandhana (kiri) dan Kadistan Lampung, Edi Yanto; dan para eselon satu ItJenTan (inset) Foto2: Humas
Bandar Lampung, Lampung (B2B) - Realisasi tanam padi Oktober 2018 hingga Maret 2019 disingkat Okmar di Provinsi Lampung hingga Kamis, 7 Februari, mencapai 419.178 hektar atau 71,95% dari target 582.562 ha. Penanggung Jawab Upsus Lampung, Justan Siahaan memimpin langsung upaya pencapaian target luas tambah tanam (LTT) dengan timnya dari Inspektorat Jenderal Kementerian Pertanian RI (ItJenTan) dan pihak-pihak terkait di Lampung.
"Ayooooo .... kita buat sejarah baru dalam pencapaian peningkatan LTT di Lampung," kata Justan S saat memimpin ´rapat koordinasi intern LTT´ di kantor dinas pertanian dan tanaman pangan Provinsi Lampung, Kamis (7/2).
Justan S selaku PJ Upsus Lampung mengingatkan kepada 17 PJ Upsus kabupaten/kota di seluruh provinsi untuk segera merealisasikan target LTT sampai akhir Maret, dan harus mencapai target yang ditetapkan, lebih baik lagi kalau bisa melampui target Kementan.
"Tim Upsus LTT Lampung harus mengedepankan strategi responsif dan komunikatif untuk mengatasi kendala di lapangan, sehingga dapat memastikan target LTT dapat dicapai," kata Justan S dalam Rakor yang digagas oleh Inspektur IV, IGMN Kuswandhana.
Kepala Dinas Pertanian dan Tanaman Pangan Pemprov Lampung, Edi Yanto mengaku optimistis dapat mencapai target LTT sampai Maret mendatang, dan mengharapkan dukungan seluruh 17 kantor dinas terkait di seluruh Lampung.
Tampak hadir sejumlah pejabat eselon dua ItJenTan antara lain Inspektur I Susanto; Inspektur II Tin Latifah; Kepala Balai Pengkajian dan Penerapan Teknologi Lampung, Arifin Rivai; Kepala Balai Pelatihan Pertanian Lampung, Dadan Sunarsa; dan para kepala dinas pertanian kabupaten/kota. (Ri2n)
Bandar Lampung of Lampung (B2B) - Realization of rice planting of October 2018 to March 2019 or Okmar in Lampung province until Thursday, February 7, reached 419,178 hectares or 71.95% of the target of 582,562 hectares. The Person in Charge of Lampung Food Production or the PJ Upsus, Justan Siahaan leads the rice planting intensification program or the LTT with his team of Inspectorate General at the Indonesian Agriculture Ministry or the Itjentan and related parties in Lampung.
"C´mon ... we made history to reach the target of LTT in Lampung," said Siahaan while opened the ´LTT internal coordination meeting´ here on Thursday (February 7).
Siahaan reminded the 17 PJs of districts/cities across the province to immediately realize the LTT target until the end of March, and must reach the set target, even better if it can exceed the ministry´s target.
"The Upsus LTT Lampung team must prioritize responsive and communicative strategies to overcome obstacles in the field, so that it can ensure the target can be achieved," said Siahaan in the coordination meeting was initiated by Inspector IV, IGMN Kuswandhana.
The head of the Agriculture and Food Crop Service office, Edi Yanto, said he was optimistic that he could reach the LTT target until next March, and hoped support of 17 related service offices across the province.