Kinerja Anggaran, Ditjen PSP Kementan Evaluasi Capaian Semester I 2019
Development of Indonesian Agricultural Iinfrastructure was Evaluated by the Ministry
Editor : M. Achsan Atjo
Translator : Dhelia Gani

PUBLISHED: Senin, 22 Juli 2019 , 02:13:00 WIB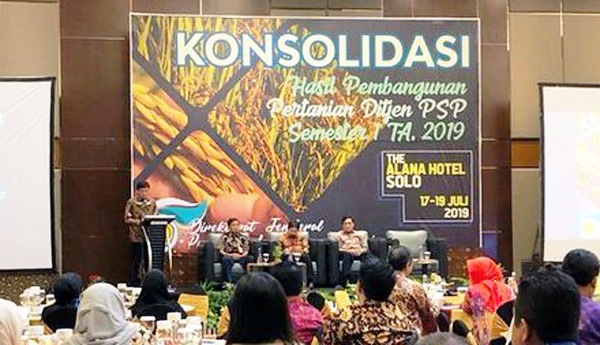 TANTANGAN & KENDALA: Dirjen PSP Kementan Sarwo Edhy proses pelaksanaan kegiatan Ditjen PSP mengalami tantangan dan kendala khususnya realokasi anggaran dan kendala administrasi [Foto: Humas Ditjen PSP]
Solo, Jateng [B2B] - Evaluasi kinerja semester pertama 2019, Januari - Juni, dilakukan oleh Direktorat Jenderal Prasarana dan Sarana Pertanian - Kementerian Pertanian RI [Ditjen PSP Kementan] untuk pengawalan dan antisipasi dini terhadap tantangan dan kendala pada semester kedua 2019.
"Kegiatan konsolidasi, sebagai evaluasi yang merupakan bentuk pengawalan dan antisipasi dini sebagai early warning, sehingga pelaksanaan kegiatan dapat dilaksanakan sesuai dengan rambu-rambu yang telah ditetapkan," kata Dirjen PSP Kementan, Sarwo Edhy dalam arahannya saat membuka Rapat Konsolidasi Hasil Pembangunan Pertanian Semester I TA 2019 di Solo, Jateng, belum lama ini.
Sarwo Edhy mengakui proses pelaksanaan kegiatan-kegiatan Ditjen PSP mengalami banyak tantangan dan kendala, baik dari sisi penganggaran seperti realokasi anggaran, kendala administrasi dan teknis pelaksanaan kegiatan, maupun aspek lain seperti pergantian atau rotasi pejabat di daerah.
"Hal itu berdampak pada penundaan atau terhambatnya pelaksanaan kegiatan secara keseluruhan," kata Dirjen PSP pada rapat yang dihadiri Sekretaris Ditjen PSP Kementan, Mulyadi Hendiawan dan sejumlah pejabat eselon dua hingg eselon empat.
Dirjen Sarwo Edhy mengimbau seluruh satuan kerja (satker) lingkup Ditjen PSP agar lebih intensif, fokus, dan bekerja lebih giat, untuk dapat menyelesaikan kegiatan-kegiatan Ditjen PSP yang sampai saat ini belum menunjukkan perkembangan yang memuaskan.
"Semua harus tingkatkan kinerja dan sinergi agar semua program-program bisa terlaksana dengan baik," kata Sarwo Edhy. [Sur]
Solo of Central Java [B2B] - Performance evaluation for the first semester of 2019, January - June, is carried out by Directorate General of Agricultural Infrastructure and Facilities of Indonesian Agriculture Ministry [Ditjen PSP Kementan] to anticipate early challenges and obstacles in the second semester of 2019.