Produksi Sapi Perah, Tiga BUMN Dukung Peternak Jatim Tingkatkan Produksi Susu
Indonesian SOEs Support Dairy Farmers to Increase Milk Production
Editor : M. Achsan Atjo
Translator : Dhelia Gani

PUBLISHED: Minggu, 23 September 2018 , 21:41:00 WIB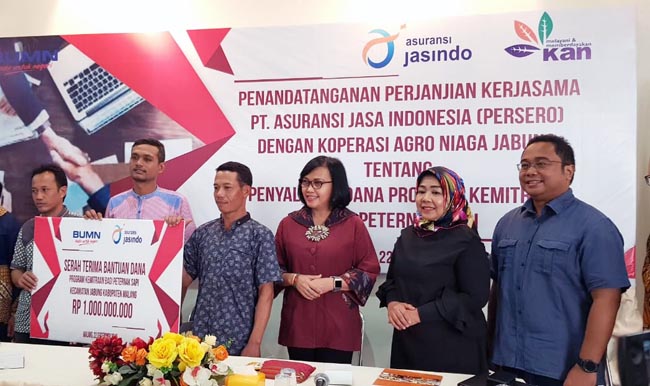 Jasindo menyediakan sumber pembiayaan murah Rp1 miliar dengan bunga 3% dan masa pengembalian tiga tahun bagi 50 peternak dari Koperasi Agro Niaga (KAN) Jabung (Foto: Humas Kementan)
Malang, Jatim (B2B) - Sejumlah BUMN terkemuka mendukung pengembangan sapi perah untuk meningkatkan produksi susu di Provinsi Jawa Timur. PT Asuransi Jasa Indonesia (Jasindo) menyediakan sumber pembiayaan murah Rp1 miliar dengan bunga 3% dan masa pengembalian tiga tahun bagi 50 peternak dari Koperasi Agro Niaga (KAN) Jabung, untuk membeli 50 ekor sapi perah.
Program kemitraan dengan peternak sapi perah juga dilaksanakan oleh Sucofindo dan PT Pelindo III dengan Koperasi Setia Kawan di Kabupaten Pasuruan sebesar Rp15,2 miliar untuk 24 kelompok peternak beranggotakan 554 orang, sementara jumlah sapi mencapai 1.080 ekor.
Pernyataan tertulis dari Biro Humas dan Informasi Publik Kementerian Pertanian RI menyatakan dukungan ketiga BUMN melalui Program Kemitraan Bina Lingkungan (PKBL) diharapkan dapat menjadi solusi peningkatan produksi susu dalam negeri yang saat ini masih jauh dari mencukupi untuk memenuhi kebutuhan nasional.
"Untuk meningkatkan skala usaha peternak sapi perah, Kementan terus mendorong semua pihak, baik swasta maupun BUMN bermitra dengan peternak," menurut siaran pers Kementan.
Disebutkan, produksi susu segar nasional 2017 masih rendah, hanya 922,9 ribu ton, dan sampai saat ini 79,2% kebutuhan susu masih diimpor lantaran perkembangan populasi dan produktivitas sapi perah belum sesuai harapan.
Malang of East Java (B2B) - A number of leading Indonesian SOEs support development of dairy cows to increase milk production in East Java Province. Indonesian Insurance Services or Jasindo provide IDR1 billion with 3% interest and three years loan repaymentfor 50 farmers of the Agro Niaga Cooperative (KAN) Jabung to buy 50 dairy cows.
The partnership program with dairy farmers is also carried out by Sucofindo and PT Pelindo III with the Setia Kawan Cooperative in Pasuruan district of IDR 15.2 billion for 24 breeders of 554 members, while the number of cattle reached 1,080.
The written statement of Indonesian Agriculture´s Public Relations Bureau stated support of SOEs through the environmental development partnership program expected to be a solution to increase domestic milk production which is currently far from sufficient to meet national needs.
"To increase the scale of the dairy farming business, the ministry continues to encourage all parties, the private sector and SOEs partner with farmers," according to the ministry´s press release.
As is known, the national fresh milk production 2017 is still low, only 922.9 thousand tons, and currently 79.2% of milk needs are still imported because the population and productivity of dairy cows have not met the target.