SKP dan Tukin 2019, Inspektur IV ItJenTan Ingatkan Penilaian Kinerja 50%
Indonesian Govt Increases the Performance Allowance of Civil Servants
Editor : M. Achsan Atjo
Translator : Dhelia Gani

PUBLISHED: Jum'at, 22 Maret 2019 , 21:43:00 WIB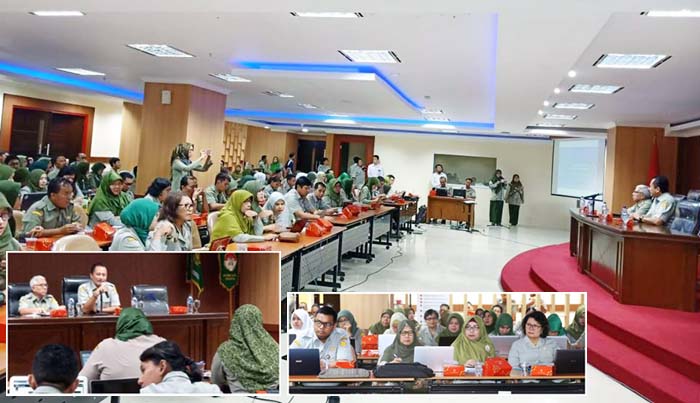 SASARAN KINERJA PEGAWAI: Auditor dan PNS di ItJenTan ikuti Bimtek SKP 2019 yang dibuka Inspektur IV IGMN Kuswandhana didampingi Karo OKE Abdul Halim [inset] Foto2: Humas ItJenTan/Ririn
Jakarta [B2B] - Auditor dan PNS di lingkup Inspektorat Jenderal Kementerian Pertanian RI [ItJenTan] boleh berharap tunjangan kinerja [Tukin] 2019 akan naik, namun kenaikan Tukin mensyaratkan peningkatan kinerja melalui alat ukur yang disebut ´sasaran kinerja pegawai´ atau SKP sehingga seluruh jajaran di ItJenTan dapat mengukur kinerja yang telah dicapai dalam kurun waktu tertentu, sebagai dasar pembayaran Tukin-nya.
Hal itu dikemukakan oleh Inspektur IV ItJenTan, IGMN Kuswandhana dan Kepala Biro Organisasi Kepegawaian Sekretariat Jenderal [Setjen] Kementan, Abdul Halim pada sosialisasi dan bimbingan teknis SKP 2019, untuk menindaklanjuti Peraturan Menteri Pertanian [Permentan] Nomor 12/2019 tentang Penilaian Kinerja Pegawai untuk mendukung reformasi birokrasi dan penilaian SKP berdasarkan kinerja.
"Seluruh jajaran ItJenTan harus menjadi auditor dan pegawai yang profesional dan berintegritas tinggi terhadap tugas dan tanggung jawab yang diemban, karena kita telah menerima tunjangan kinerja 80 persen. Kita berharap Tukin 2019 akan naik, namun kenaikan tunjangan harus dibarengi dengan peningkatan kinerja masing-masing pegawai," kata IGMN Kuswandhana dalam arahannya di Jakarta, Kamis [21/3].
Abdul Halim menambahkan, penilaian SKP mengacu pada kehadiran 50% dan penilaian kinerja 50%, yang akan dimulai per 1 April 2019, "untuk itu perlu menentukan target kinerja masing-masing pegawai."
Menurutnya, target kinerja harus dibuat berdasarkan kondisi pada masing-masing unit kerja sehingga kinerja pegawai tercapai dan Tukin 2019 dibayarkan sesuai dengan tugas, tanggung jawab dan jabatannya. [Eko]
Jakarta [B2B] - The auditors and civil servants at the Inspectorate General of Indonesia Agriculture Ministgry [ItJenTan] may expect the 2019 civil servants´ performance allowances [Tukin] will be raised, and Tukin requires performance improvements as measured by ´performance targets´ or the SKP so that it can measure performance based on a one-year working period as a basis for paying the Tukin.
It was stated by Inspector IV of ItJenTan, IGMN Kuswandhana and Head of Organization and Personnel Bureau of the Secretariat General, Abdul Halim on the SKP 2019 socialization and technical guidance, follow up of the Agriculture Minister Regulation Number 12/2019 about employee performance evaluation to support bureaucratic reform.
"Let´s be auditors and civil servants who are professional and have integrity in their respective duties and responsibilities, because we have got an 80 percent performance allowance.
"Civil servants in ItJenTan must be professional and integrity government human resources for their duties and responsibilities," said Kuswandhana in his direction here on Thursday [March 21].
Abdul Halim said the SKP refers to the attendance rate of 50% and 50% performance and will begin on April 1, 2019, "by determining each performance target."
According to him, performance targets must be made based on the conditions in each work unit so as to achieve performance targets, and the Tukin 2019 payments according to duties, responsibilities and positions.