Integritas dan Jabatan, ItJenTan Survei Online Tanggung Jawab Pegawai
Online Survey of Integrity and Position of Indonesian Civil Servants
Editor : M. Achsan Atjo
Translator : Dhelia Gani

PUBLISHED: Jum'at, 11 Oktober 2019 , 02:15:00 WIB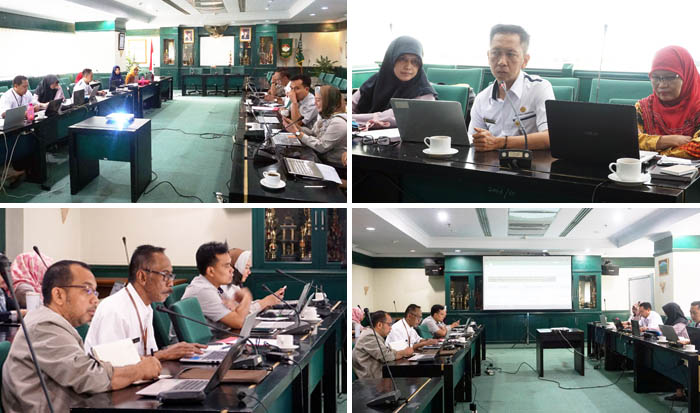 Arah jarum jam: Kegiatan survei online; Kabag Organisasi Kepegawaian Hukum dan Humas, Edi Puspito; survei tertutup dan terbuka; Kasubbag Humas Eko Supriyanto [kemeja putih, kiri bawah] Foto2: Humas ItJenTan/Irfan]
Jakarta [B2B] - Guna meningkatkan integritas aparatur dan organisasi, Inspektorat Jenderal Kementerian Pertanian RI [ItJenTan] melakukan survei integritas organisasi dan jabatan terhadap 19 pegawai di lingkup ItJenTan. Metode survei secara online merupakan kebaruan dari sebelumnya, 2018 yang dilakukan secara manual dengan menyebar kuesioner, sebagai bagian dari rangkaian kegiatan penilaian penilaian reformasi birokrasi oleh Kementerian Pendayagunaan Aparatur Negara - Reformasi Birokrasi [Kemenpan - RB].
Kegiatan ´survei online integritas dan jabatan´ dipimpin oleh Kabag Organisasi Kepegawaian Hukum dan Humas ItJenTan, Edi Puspito di Jakarta pada Rabu [9/10] dilanjutkan Kasubbag Organisasi dan Kepegawaian [OKe] Darmawan.
"Pimpinan berharap ini tidak sekadar survei, tetapi juga motivasi bagi kita untuk berbenah diri menjadi pelayan masyarakat yang lebih baik lagi. Survei ini dilakukan untuk memperbaiki kinerja kita. Tujuannya, semua harus bekerja maksimal," kata Edi Puspito saat membuka kegiatan survei online tersebut yang berlangsung di ruang rapat SPI Gedung B Kementan.
Survei berlangsung dalam dua tahap. Pertama, pertanyaan tertutup dengan memilih jawaban yang sesuai. Kedua, berupa pertanyaan terbuka terkait tugas, kegiatan rutin dan output kegiatan.
Menurut Edi Puspito, kegiatan survei diharapkan memberikan gambaran integritas pegawai dalam melaksanakan tugas sesuai jabatan yang menjadi tanggung jawabnya.
"Pejabat administrator mengetahui tugas, wewenang, dan kewajibannya melaksanakan pekerjaan untuk memberikan hasil maksimal. Begitu pula dengan pejabat pengawas, fungsional tertentu dan fungsional umum," kata Edi Puspito. [Eko]
Jakarta [B2B] - In order to improve of apparatus and organizations, Indonesian Agriculture Ministry conducted survey of integrity and positions of 19 civil servants at the ministry´s Inspectorate General. The online survey method is a new thing from before, 2018, by distributing questionnaires, according to the junior official of the ministry.