Mentan: "Penas XVI - Padang 2020 Harus Membanggakan, Bukan Apa Adanya"
Indonesian Farmers and Fishermen`s Week will be Held 2020 in West Sumatera
Editor : M. Achsan Atjo
Translator : Dhelia Gani

PUBLISHED: Selasa, 21 Mei 2019 , 02:15:00 WIB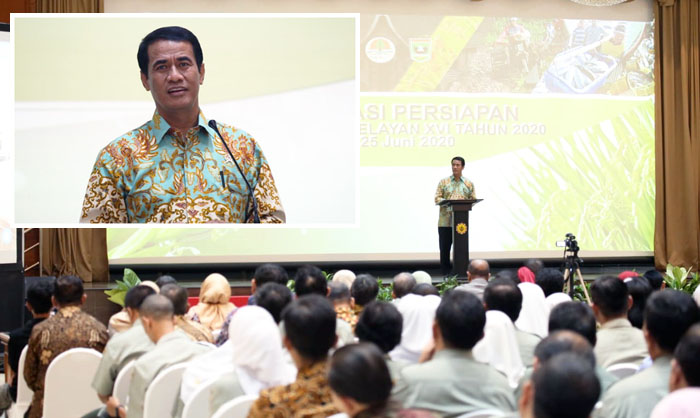 WUJUD PRODUKTIVITAS: Mentan Amran Sulaiman membuka Rakor Penas XVI - Padang 2020 dihadiri lebih 500 dari tiga kementerian dan Pemprov Sumbar [Foto2: Humas BPPSDMP & Pusluhtan/Pito & Bima PS]
Jakarta [B2B] - Pekan Nasional Petani Nelayan ke-16 di Padang, Sumatera Barat pada 20 - 25 Juni 2020 [Penas XVI - Padang 2020] yang mempertemukan 50.000 petani, nelayan, petani hutan dan penyuluh pertanian hendaknya mampu memperlihatkan pada masyarakat dan warga dunia tentang kemajuan pembangunan pertanian nasional, yang menjadi kebanggaan seluruh rakyat Indonesia, dan bukan tampil apa adanya.
Hal itu dikemukakan Menteri Pertanian RI Andi Amran Sulaiman saat membuka Rapat Koordinasi Persiapan Penas XVI - Padang 2020 di Jakarta, Senin siang [20/5] yang dihadiri oleh Wakil Gubernur Sumbar, Nasrul Abit; Ketua Kontak Tani Nelayan Andalan [KTNA] Winarno Tohir; Kepala BPPSDMP Kementan, Momon Rusmono; Kepala Pusluhtan, Siti Munifah; dan perwakilan dari Kementerian Kelautan dan Perikanan [KKP] serta Kementerian Lingkungan Hidup dan Kehutanan [LHK].
"Mesti ditingkatkan metode dan mampu memperlihatkan bagaimanan kemajuan dan hasil produksi pertanian Indonesia dalam 4,5 tahun terakhir di era Joko Widodo. Hal itu yang akan menjadi semangat para petani untuk berhasil lebih baik lagi di tahun-tahun mendatang," kata Mentan Amran Sulaiman dalam arahannya di depan panitia pelaksana di tingkat pusat dan daerah dari seluruh Indonesia.
Mentan mengharapkan Penas XVI - Padang 2020 diharapkan dapat menjawab kesiapan insan-insan pertanian, perikanan dan kehutanan menghadapi tantangan era industrialisasi 4.0, yang menjadi ´entry point´ pembangunan nasional di ketiga sektor atas keunggulan teknologi informasi khususnya jaringan internet mendukung peningkatan produksi, akses perbankan, transaksi online dan memperluas pangsa pasar domestik hingga mancanegara.
"Penas 2020 di Padang jangan hanya menjadi ajang berkumpul dan silaturahim tapi dapat menjadi sarana memperlihatkan capaian prestasi selaku pelaku utama dalam pembangunan pertanian, perikanan dan kehutanan," kata Mentan Amran Sulaiman.
Dia mengharapkan Penas XVI - Padang 2020 dapat meneruskan semangat para tokoh tani dan nelayan sebagai penggagas Penas I - Cianjur 1971 di Desa Cihea, Kabupaten Cianjur, Provinsi Jawa Barat pada 18 - 25 September 1971 sebagai wadah pertemuan kontak tani, nelayan dan petani hutan untuk saling mengisi dan memperkuat kepemimpinan agribisnis.
"Termasuk melakukan konsolidasi, pengembangan diri, tukar menukar informasi, apresiasi, kemitraan dan promosi hasil pertanian, perikanan dan kehutanan yang diselenggarakan secara teratur dan berkelanjutan," kata Mentan Amran Sulaiman dalam arahannya yang berlangsung lebih dari 30 menit, di luar kebiasaannya selama menjabat menteri pertanian.
Tampak hadir Sekretaris BPPSDMP Prihasto Setyanto; Sekretaris Ditjen Peternakan dan Kesehatan Hewan [PKH] Nasrullah; Sekretaris Ditjen Perkebunan, Antarjo Dikin; Kepala Pusat Pendidikan Pertanian [Pusdiktan] Idha Widi Arsanti; Kabid Penyelenggaraan Penyuluhan - Pusluhtan, I Wayan Ediana; dan Kabid Standarisasi dan Sertifikasi Profesi Pertanian - Puslatan, Zuroqi Mubarok.
Jakarta [B2B] - The Indonesia's 16th Fisherman Farmers' National Week in Padang City of West Sumatra province on June 20 to 25, 2020, locally known as the Penas XVI - Padang 2020, will bring together 50,000 farmers, fishermen, forest farmers and agricultural extensionists can show the progress of Indonesian agricultural development at home and abroad, according to agriculture minister.
"The Penas XVI - Padang 2020 must show progress and increase in Indonesia's agricultural production in the last 4.5 years of Joko Widodo administration. It will be spirit of farmers to succeed better in the future," said Agriculture Minister Andi Amran Sulaiman here on Monday [May 20].
Minister Sulaiman expects the Penas XVI - Padang 2020 expected to answer the readiness of farmers and fishermen to face challenges of industrialization 4.0 which is the 'entry point' for agriculture and fisheries sector utilizing information technology to support increased production, banking access, online transactions and expand the domestic to foreign market share.
"The Penas XVI - Padang 2020 should not only be gathering place and friendship, but it becomes a means of showing their achievements in supporting Indonesia's development," he said.
Minister Sulaiman expects the the Penas XVI - Padang 2020 can continue the spirit of the farmers and fisherman leaders as initiators of the Penas I - Cianjur 1971 in Cihea village of Cianjur district in West Java provinsi of September 18 to 25, 1971 as the forum for farmers, fishermen and forest farmers across the country.