Permentan No 01/2020 Terbit, Pupuk Bersubsidi Segera Disalurkan
Indonesian Govt Oversees the Distribution of Subsidized Fertilizer for Farmers
Editor : M. Achsan Atjo
Translator : Dhelia Gani

PUBLISHED: Sabtu, 04 Januari 2020 , 21:53:00 WIB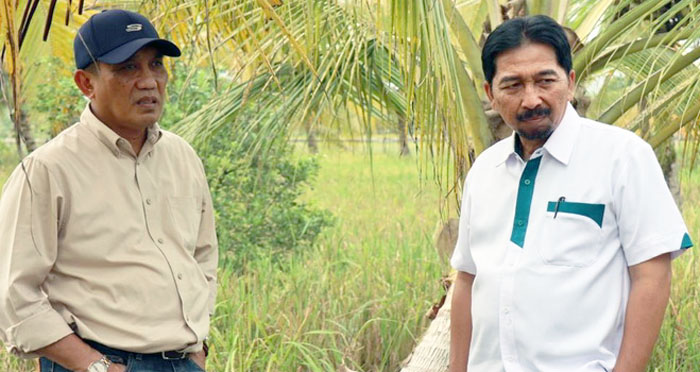 PANTAU PENYALURAN: Dirjen PSP Kementan, Sarwo Edhy [kanan] dan Sesditjen PSP, Mulyadi Hendiawan sinergi memantau penyaluran pupuk bersubsidi kepada petani di seluruh Indonesia [Foto: Humas Ditjen PSP]
Jakarta [B2B] - Kementerian Pertanian RI meminta pemerintah daerah segera menindaklanjuti Peraturan Menteri No 01 tahun 2020 [Permentan] tentang Alokasi dan Harga Eceran Tertinggi Sektor Pertanian Tahun Anggaran 2020, yang telah diterbitkan pada Kamis [2/1]. Ditjen Prasarana dan Sarana Pertanian [PSP] akan meminta produsen pupuk segera koordinasi dengan dinas pertanian provinsi agar segera mengalokasikan pupuk sesuai Rencana Definitif Kebutuhan Kelompok [RDKK].
"Permentan No 01 tahun 2020 terkait pupuk bersubsdi sudah terbit. Pemerintah daerah melalui dinas pertanian provinsi, kabupaten dan kota dapat segera membuat surat keputusan atau SK agar produsen bisa segera menyalurkan pupuk bersubsdi," kata Dirjen PSP Kementan, Sarwo Edhy di Jakarta, Jumat [3/1].
Dirjen Sarwo Edhy menambahkan penyaluran pupuk bersubsidi harus segera dilakukan, karena beberapa wilayah sudah memasuki masa pemupukan, namun dalam penyalurannya tetap berbasis e-RDKK yang sudah ditentukan alokasinya.
"Produsen memang belum bisa menyalurkan apabila belum ada Permentan, tapi kini sudah terbit, maka bisa segera disalurkan, karena di sejumlah wilayah seperti Jawa Timur sudah masuk masa pemupukan," katanya.
Dalam Permentan tersebut dijelaskan, pupuk bersubsdi meliputi pupuk anorganik dan organik. Pupuk anorganik meliputi Urea, SP-36, ZA dan NPK. Penyaluran pupuk bersubsdi ini akan dilaksanakan oleh PT Pupuk Indonesia yang telah ditunjuk oleh Menteri Badan Usaha Milik Negara [BUMN].
"Pupuk bersubsdi diberikan kepada petani yang sudah tergabung dalam kelompok tani dan kelompok tani yang berhak mendapatkan pupuk bersubsdi adalah yang sudah menyusun e-RDKK," kata Sarwo Edhy.
Dia berharap, tahun ini tidak terjadi kelangkaan pupuk bersubsdi lagi. Pasalnya, kebutuhan alokasi diusulkan dari daerah mulai tingkat kecamatan hingga provinsi.
"Semua akan disalurkan berdasarkan e-RDKK yang diusulkan. Apabila terjadi kekurangan di tingkat kecamatan, maka kabupaten berhak melakukan realokasi, tapi kalau terjadi kekurangan di tingkat kabupaten, maka provinsi yang berwenang melakukan realokasi," kata Sarwo Edhy.
Sementara, harga eceran tertinggi [HET] pupuk bersubsdi, Permentan No 01 Tahun 2020 menyebutkan pupuk urea seharga Rp1.800, SP-36 [Rp2.000], ZA [Rp1.400] dan NPK [Rp2.300]. Sementara pupuk NPK Formula Khusus HET [Rp3.000] dan pupuk organik [Rp500].
"HET pupuk bersubsdi ini berlaku untuk pembelian petani di pengecer resmi baik menggunakan uang tunai ataupun Kartu Tani. Pupuk dalam kemasan 50 kg untuk anorganik dan 40 kg untuk organik," kata Sarwo Edhy.
Dirjen PSP Kementan menambahkan, pihaknya akan meningkatkan pengawasan penyaluran pupuk bersubsdi, dan mengharapkan pemerintah daerah juga melakukan hal serupa.
"Kami telah berkoordinasi dengan pihak-pihak terkait, termasuk aparat hukum terkait pengawasan penyaluran pupuk bersubsdi ini. Pemerintah daerah pun mempunyai tanggung jawab yang sama," kata Sarwo Edhy. [Sur]
Jakarta [B2B] - Indonesian Agriculture Ministry continues to control distribution of subsidized fertilizers to target them due to the long distribution chain, dualism of prices, scarcity of products, mixing of non-subsidized and subsidized fertilizers, weakness of supervision, and counterfeiting of quota fertilizers to improve the distribution of subsidized fertilizer through Definitive Plans for Group Needs by online [e-RDKK] and Farmer Cards.