CPNS Badan SDM Kementan Berperan Dukung Target RI Lumbung Pangan Dunia 2045
Indonesian Civil Servant Candidates Must Support the Agricultural Development
Reporter : Gusmiati Waris
Editor : Cahyani Harzi
Translator : Dhelia Gani

PUBLISHED: Minggu, 04 Februari 2018 , 21:55:00 WIB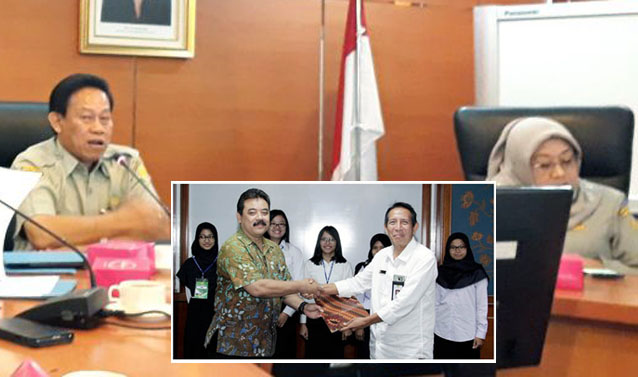 LUMBUNG DUNIA: Kepala BPPSDMP Kementan, Momon Rusmono memberi arahan (kiri) didampingi Kapuslutan Siti Munifah dan Kapuslatan Widi Hardjono menyerahkan SK CPNS kepada Kepala BBPP Kupang, Adang Warya (inset) Foto2: Humas/Pito
Jakarta (B2B) - Calon pegawai negeri sipil (CPNS) berjumlah 436 orang yang ditempatkan di Kementerian Pertanian RI merupakan hasil seleksi ketat 80.306 sarjana dari seluruh Indonesia, yang diharapkan menjadi generasi muda yang berperan penting mendukung Indonesia menjadi lumbung pangan dunia, dengan menjadi abdi negara terbaik, jujur, loyal, disiplin, berintegritas, dan antikorupsi.

Hal itu dikemukakan oleh Kepala Badan Penyuluhan dan Pengembangan SDM Pertanian (BPPSDMP) Kementan, Momon Rusmono di Jakarta, Kamis (1/2) saat memberi arahan kepada 39 CPNS yang ditempatkan di Badan SDM Pertanian untuk mendukung kinerja 19 unit pelaksana teknis (UPT) bidang penyuluhan, pelatihan, dan pendidikan pertanian.

"Jadilah abdi negara terbaik. Kalian adalah harapan untuk mengubah Indonesia menjadi lumbung pangan dunia. Bergeraklah bersama-sama agar bisa mengubah wajah pertanian, wajah Indonesia, sehingga kita diakui dunia," kata Momon Rusmono.

Dia mengingatkan kepada 39 CPNS untuk senantiasa bersyukur kepada Tuhan YME, karena mendapat kesempatan luar biasa untuk lolos dari seleksi ketat puluhan ribu pelamar CPNS di Kementan.

"Keberhasilan ini jangan menjadikan Anda semua menjadi sombong, namun memanfaatkan peluang ini sebagai momentum membuka lembaran baru untuk menjadi generasi pertanian terbaik," katanya lagi.

Sebelumnya diberitakan, Kementan menerima sebanyak 436 CPNS dari formasi awal yang ditetapkan sebanyak 475 orang, separuh dari total 436 CPNS yang diterima merupakan lulusan baru yang merupakan formasi khusus, tamatan jenjang pendidikan S1 dan S2, yang sebelumnya ikut seleksi kompetensi dasar dan memenuhi passing grade.

Berdasarkan data Kementan total ada 80.306 jumlah pelamar online yang rencananya disaring menjadi hanya 475 saja. Mereka dibagi ke dalam empat kriteria yakni dari 112 formasi cumlaude yang lolos 107 orang. Selanjutnya dari 10 warga Papua hanya delapan orang yang diterima, dari delapan orang penyandang disabilitas hanya enam orang yang lolos ujian, dan dari 345 posisi jabatan untuk umum hanya 315 orang yang diterima.

Tampak hadir Sekretaris BPPSDMP Kementan, Surachman Suwardi; Kepala Pusat Pelatihan Pertanian (Puslatan) Widi Hardjono; Kepala Pusat Penyuluhan Pertanian (Kapuslutan) Siti Munifah dan beberapa kepala UPT SDM Kementan di antaranya Kepala Pusat Pelatihan Manajemen dan Kepemimpinan Pertanian - PPMKP Ciawi, Herry Suliyanto; Kepala Balai Pelatihan Pertanian - BBPP Ketindan, Kresno Suharto; Kepala BBPP Batangkaluku, Kemal Mahfud; Kepala Balai Pelatihan Peternakan - BBPP Batu Malang, Apri Handono; Kepala BBPP Kupang, Adang Warya; Kepala Sekolah Tinggi Penyuluhan Pertanian - STPP Magelang, Ali Rachman yang diwakili Kabag Administrasi Umum, Irwan JS.
Jakarta (B2B) - 436 civil servant candidates or CPNS at Indonesian agriculture ministry are selected from 80,306 graduates from all over Indonesia is expected to support Indonesia into a world food barn, and develop capability as the country´s best servant honest, loyal, disciplined, integrity, and anti-corruption.

It was stated by by the Director General of Agricultural Extension Human Resources Development or the BPPSDMP, Momon Rusmono here on Thursday (February 2) while giving directions to 39 CPNS placed in 19 technical implementation unit or UPT for agricultural extension, training, and education.

"Be the best public servants. You are the hope of turning Indonesia into the world food barn. Work together for the advancement of national agriculture," Mr Rusmono said.

He reminded them to always be grateful to God Almighty, for having the extraordinary opportunity to pass the rigorous selection of tens of thousands of applicants servants in agriculture ministry.

Previously reported, the agriculture ministry received 436 CPNS of the initial formation of 475 CPNS, half of the 436 CPNS are graduates with special formation, graduates of first and second level of education, who previously participated in selection of basic competencies and passing grades.

Based on ministry data there are 80,306 the number of applicants online and received only 475 CPNS. They were divided into four criteria, from 112 cumlaude formations that passed 107 people. Of the 10 Papuans only eight passed the selection, from eight people with disabilities only six pass the test, and of 345 positions for general category only 315 people passed the test.

It was attended by the Secretary of BPPSDMP, Surachman Suwardi; Director of Agricultural Training Center, Widi Hardjono; Director of of Agricultural Extension Center Siti Munifah; and several heads of BPPSDMP technical implementation units including the Director of Ciawi´s Agricultural Management and Leadership Training Center - PPMKP Ciawi, Herry Suliyanto; Director of Ketindan´s Agricultural Training Center - BBPP Ketindan, Kresno Suharto; Director of of BBPP Batangkaluku, Kemal Mahfud; Director of Batu Malang´s Livestock Training Center - BBPP Batu Malang, Apri Handono; Director of the BBPP Kupang, Adang Warya; Director of Magelang´s Agricultural Extension - STPP Magelang, Ali Rachman represented by Head of General Administration, Irwan JS.