Asuransi Ternak Sapi dari Ditjen PSP Didukung Pemerintah Daerah
Local Govt Supports Cattle Insurance Programs of Indonesian Govt
Editor : M. Achsan Atjo
Translator : Dhelia Gani

PUBLISHED: Minggu, 23 Juni 2019 , 21:07:00 WIB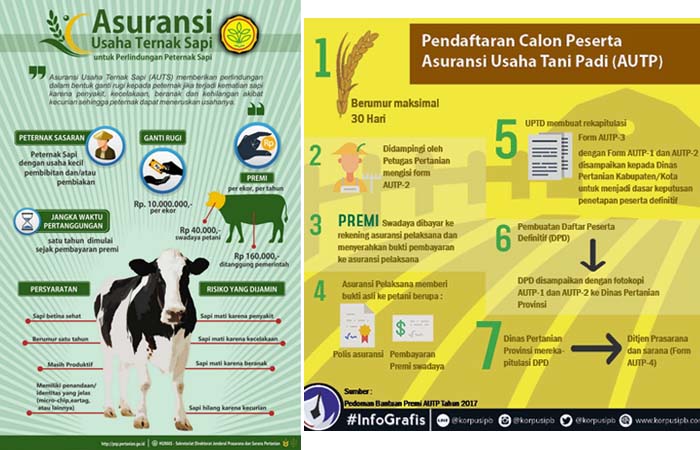 Ditjen PSP Kementan mendorong peternak mengikuti program AUTS untuk mengasuransikan sapi betina produktif sesuai target asuransi ternak adalah komoditas yang mudah terkena risiko [Infografis: Ditjen PSP Kementan]
ASURANSI usaha ternak sapi [AUTS] kian diminati peternak dan didukung penuh oleh pemerintah daerah, yang bertujuan menarik minat para peternak sapi di seluruh Indonesia menempuh langkah serupa.
"Ditjen PSP Kementan mendorong peternak mengikuti program AUTS untuk mengasuransikan sapi betina produktif sesuai target asuransi ternak adalah komoditas yang mudah terkena risiko. Jangan sampai sapi betina dipotong atau tidak dikembangbiakkan dan hal itu memaksa pemerintah harus mengimpor sapi indukan," kata Dirjen PSP Sarwo Edhy di Jakarta, belum lama ini.
Menurutnya, Kementan mendukung penuh semangat dan motivasi para pemangku kepentingan bisnis peternakan untuk mengikuti asuransi ternak sapi.
"Kita semua tahu bahwa risiko berusaha di bidang peternakan begitu rentan, misalnya sapi terkena penyakit, yang menyebabkan kematian, serta rawan pencurian, sehingga perlu ada upaya khusus untuk melindungi peternak dan keberlangsungan usaha ternak tersebut," katanya. [Sur]
CATTLE insurance in Indonesia attracts farmers and is fully supported by local governments, which aims to attract cattle farmers across the country to take similar steps.