Satu Data PKH, Kementan dan BPS Revisi Juknis Data Peternakan
Indonesian Govt is Targeting One Data Livestocks and Animal Health
Reporter : Gusmiati Waris
Editor : Cahyani Harzi
Translator : Dhelia Gani

PUBLISHED: Rabu, 04 Desember 2019 , 02:20:00 WIB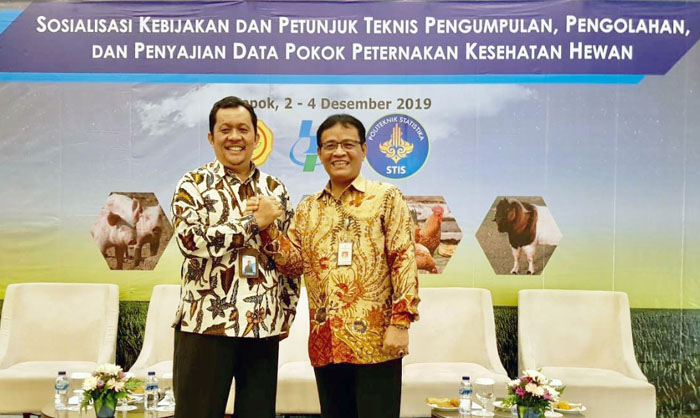 SOSIALISASI: Dirjen PKH Kementan, I Ketut Diarmita [kanan] dan Deputi Bidang Statistik Produksi BPS, M Habibullah [Foto: Biro Humas Kementan]
Depok, Jabar [B2B] - Kementerian Pertanian RI bersama Badan Pusat Statistik [BPS] didukung Politeknik Statistika - Sekolah Tinggi Ilmu Statistik [STIS] melakukan revisi Keputusan Dirjen Peternakan dan Kesehatan Hewan No 98/Kpts/OT.140/F/10/2012 tentang Petunjuk Teknis Pengumpulan dan Penyajian Data Peternakan, sebagai standar prosedur baku dalam hal 'pengumpulan, pengolahan, dan penyajian data peternakan dan kesehatan hewan [PKH] di pusat dan daerah yang memenuhi prinsip Satu Data Indonesia.
"Harapannya revisi Juknis dapat digunakan dalam proses pendataan ternak oleh KostraTani yang akan dibangun oleh Kementan," kata Dirjen PKH Kementan, I Ketut Diarmita di Depok pada Senin [2/12].
Menurutnya, Ditjen PKH juga berupaya melakukan perbaikan dan membangun koordinasi intensif dengan BPS, sebagai lembaga yang berkompeten dalam menghasilkan data nasional dan dilindungi oleh UU, serta membangun kerjasama dengan Politeknik Statistika STIS dalam pengembangan teknologi aplikasi pengumpulan data PKH.
Ketut menambahkan, Ditjen PKH menyadari bahwa tantangan yang dihadapi subsektor PKH ke depan cukup berat. Mengacu proyeksi Badan Perencanaan Pembangunan Nasional RI [Bappenas] dan BPS hasil Survei Penduduk Antar Sensus [Supas] maka penduduk Indonesia pada 2020 diperkirakan 269,60 juta jiwa dan pada 2035 diproyeksikan meningkat ke 304,21 juta jiwa. Seiring pertumbuhan penduduk dan pertumbuhan ekonomi, kebutuhan akan pangan khususnya pangan asal ternak kian meningkat.
Deputi Bidang Statistik Produksi BPS, M Habibullah mengatakan bahwa berdasarkan Peraturan Presiden [Perpres] Nomor 39/2019 tentang Satu Data Indonesia sebagai kebijakan tata kelola data pemerintah untuk menghasilkan data akurat, mutakhir, terpadu, dapat dipertanggungjawabkan, mudah diakses dan dibagipakaikan antar instansi pusat dan daerah.
Sebelumnya diberitakan, Menteri Pertanian RI Syahrul Yasin Limpo [SYL] mengatakan "dalam 100 hari harus dapat harus bisa menyeragamkan data. Tidak boleh ada dua atau tiga data. Harus ada data valid yang kita sepakati bersama".
Target tersebut akan dicapai Mentan SYL dengan mengembangkan Komando Strategis Pembangunan Pertanian [KostraTani] didukung Agriculture War Room [AWR] dan pengakurasian data lahan dan produksi pertanian.
Depok of West Java [B2B] - Indonesian Agriculture Ministry and the Central Statistics Agency revised government regulations for collecting and presenting of livestocks and animal health data towards the One Indonesian Data, according to senior official of the ministry.