Kecap Pamor STPP Yogyakarta, Mentan Dorong Mahasiswa Kejar Peluang Pasar Pangan Organik
Students of Agricultural Extension in Indonesia`s Yogyakarta Developing Organic Soy Sauce
Reporter : Gusmiati Waris
Editor : Cahyani Harzi
Translator : Dhelia Gani

PUBLISHED: Selasa, 13 Maret 2018 , 22:04:00 WIB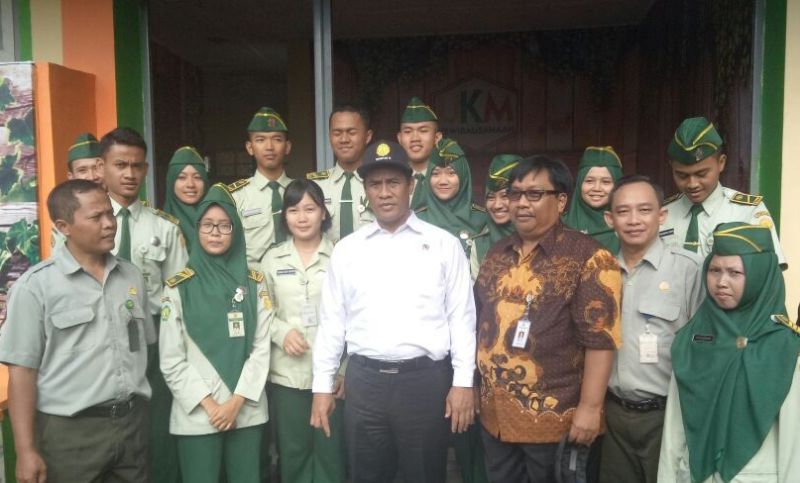 KECAP PAMOR: Mentan Andi Amran Sulaiman (kemeja putih) bersama dengan Ketua STPP Yogyakarta, Ali Rachman dan mahasiswa/i serta dosen STPP Yogyakarta (Foto: Humas STPP Yogyakarta)
Yogyakarta, DIY (B2B) - Pengembangan produk kecap organik merek Pamor oleh mahasiswa jurusan penyuluhan pertanian (Jurluhtan) di Sekolah Tinggi Penyuluhan Pertanian Yogyakarta - STPP Yogyakarta diapresiasi dan didorong oleh Menteri Pertanian RI Andi Amran Sulaiman di tengah kecenderungan konsumen yang menyukai produk pangan organik dari varietas kedelai Malika sebaiknya diproduksi secara masif

"Ini saja yang mahasiswa jual, bisa jadi konglomerat, yang mahal itu gagasan. Kecerdasan. Produksi secara masif kemudian pasarkan secara luas," kata Mentan Amran Sulaiman usai kuliah umum di STPP Yogyakarta, Senin pagi (12/3).

Sebagai inovator dan pengusaha sukses, Amran Sulaiman kemudian membuat kalkulasi tentang pemasaran kecap organik ´Pamor´ per tahun di Daerah Istimewa Yogyakarta (DIY) akan menghasilkan omset sekitar Rp1,4 triliun.

Kalkulasi Mentan mengacu pada jumlah penduduk Provinsi DIY saat ini sekitar 3,7 jiwa dengan peluang pasar sebotol kecap tanpa pengawet (organik) 150 ml dijual Rp10.000 per botol, masa habis pakai dua pekan.

"Ini baru Yogya, bagaimana (keuntungannya) kalau (dijual) se-Indonesia. Jangan cuma jual kecap dari kedelai varietas Malika di etalase skala kecil. Kembangkan melalui kerjasama dengan swasta. Minta royalti saja sehingga akan terlatih berinovasi," katanya yang didampingi Ketua STPP Yogyakarta, Ali Rachman.

Menurut Mentan, tidak ada yang mustahil karena cuma kesulitan yang menghadang, dan dia pun mengisahkan tentang peluang dan tantangan mendorong peningkatan produksi pangan strategis khususnya bawang merah, beras dan jagung.

"Dahulu kita impor jagung Rp12 triliun per tahun, kini sebaliknya. Indonesia mampu ekspor ke sejumlah negara khususnya Malaysia dan Filipina. Bertambah devisa, petani pun sejahtera," kata Mentan.
Yogyakarta, DIY (B2B) - Indonesian Agriculture Minister Andi Amran Sulaiman appreciated and encouraged development of organic soy sauce products, Pamor brand, by students of agricultural extension at Yogyakarta´s Agricultural Extension College or STPP Yogyakarta, amid consumer trends that favor organic food products from the Malika soybean varieties.

"Students selling organic soy sauce, can make students rich because of ideas and innovation. Massive production, and marketed widely," said Minister Sulaiman after public lecture at STPP Yogyakarta on Monday morning (March 12).

As a successful innovator and entrepreneur, Mr. Sulaiman then makes calculations on the marketing of organic soy sauce ´Pamor´ per year in special areas of Yogyakarta, the turnover is estimated to reach 1.4 trillion rupiah.

The calculation refers to the current population of Yogyakarta about 3.7 people for the market opportunity of organic soy sauce market, the price of 10,000 rupiah per bottle, and the consumables of two weeks.

"It´s for the Yogya market, what about the whole country, do not just sell soy sauce from Malika varieties in small-scale storefronts. Cooperation with the private sector. Ask for royalty so as to trigger innovation," Minister Sulaiman accompanied by the Rector of STPP Yogyakarta.

According to him, nothing is impossible, and he also tells about the opportunities and challenges to encourage increased strategic Indonesian food production especially onion, rice and corn.

"In the past Indonesia, imports of maize 12 trillion per year, is now the opposite. Indonesia exports of maize to countries such as Malaysia and the Philippines," Minister Sulaiman said.