Keterbukaan Informasi Publik, Ditjen PKH Kementan Perkuat Peran PPID
Indonesia`s Information Management for Agriculture Development
Reporter : Gusmiati Waris
Editor : Cahyani Harzi
Translator : Dhelia Gani

PUBLISHED: Jum'at, 08 November 2019 , 22:12:00 WIB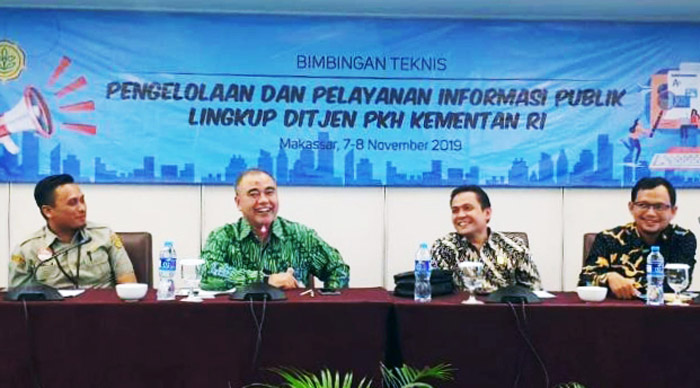 BIMTEK PPID MAKASSAR: Sekretaris Ditjen PKH Kementan, Nasrullah ke-2 kiri] bersama narasumber dari KIP Hendra J Kede dan Komaruddin dari Biro Humas dan Informasi Publik Kementan, Komarudin [Foto: Humas Ditjen PKH]
Makassar, Sulsel [B2B] - Kementerian Pertanian RI khususnya Direktorat Jenderal Peternakan dan Kesehatan Hewan [Ditjen PKH] memperkuat komitmen dan peran Pejabat Pengelola Informasi dan Dokumentasi [PPID] dalam pelayanan informasi publik.
"Tujuannya, untuk meningkatkan koordinasi dan penyamaan persepsi terkait pelaksanaan pengelolaan dan pelayanan informasi publik dari mulai dari pusat hingga ke unit pelaksana teknis atau UPT di jajaran Ditjen PKH," kata Sekretaris Ditjen PKH, Nasrullah dalam sambutannya mengutip arahan Dirjen PKH Kementan, I Ketut Diarmita di Makassar, Kamis [7/11] pada pembukaan bimbingan teknis [Bimtek] 'Pengelolaan dan Pelayanan Informasi Publik Lingkup Ditjen PKH yang berlangsung hingga hari ini.
Dirjen PKH menambahkan bahwa informasi merupakan kebutuhan mendasar bagi setiap orang. Hak memperoleh informasi merupakan hak asasi manusia dan keterbukaan informasi publik merupakan salah satu ciri penting negara demokratis yang menunjang tinggi kedaulatan rakyat untuk mewujudkan penyelenggaraan negara yang baik.
Pelaksanaan pelayanan informasi harus berpedoman pada Enam Azas yakni transparansi, akuntabilitas, kondisional, partisipatif, kesamaan hak serta keseimbangan hak dan kewajiban.
"Melalui pelaksanaan kegiatan ini maka ke depan diharapkan pengelolaan, pelayanan, informasi dan dokumentasi disingkat PPID lingkup Ditjen PKH akan jauh lebih baik dibanding 2019," kata Nasrullah mengutip arahan Dirjen I Ketut Diarmita.
Komisioner Komisi Informasi Publik [KIP] Hendra J Kede mengapresiasi keseriusan dan komitmen Kementan, khususnya Ditjen PKH dalam keterbukaan informasi publik.
"Informasi merupakan hak konstitusional masyarakat yang harus dipenuhi oleh pemerintah, dan Kementan telah menunjukkan komitmen yang luar biasa untuk hal ini, karena tujuan akhir dari keterbukaan infomasi adalah menjadikan masyarakat lebih sejahtera," kata Hendra J Kede.
Sementara itu narasumber dari Biro Humas dan Informasi Publik, Komarudin mengungkapkan bahwa keterbukaan informasi publik merupakan salah satu pilar demokrasi yang mendorong transparansi dan partisipasi aktif masyarakat dalam pembangunan. Hal ini sejalan dengan Undang undang nomor 14 tahun 2008 tentang keterbukaan informasi publik, pemerintah sebagai penyelenggara program dan layanan publik wajib membuka akses layanan informasi kepada masyarakat.
"Terkait hal itu maka PPID adalah ujung tombak keterbukaan informasi publik," tambahnya.
Nasrullah mengharapkan, dengan adanya keterbukaan data dan informasi bagi publik yang diberikan oleh PPID lingkup Ditjen PKH, diharapkan dapat meningkatkan peran masyarakat dalam pembangunan peternakan dan kesehatan hewan.
Makassar of South Sulawesi [B2B] - Indonesian Agriculture Ministry through the Directorate General of Livestocks and Animal Health encourages information and documentation management officers, or PPID to improve the performance of the PPID and website despite being the best website and PPID, according to senior official of the ministry.