Pupuk Bersubsidi, Komisi IV DPR Ingatkan Pusri Tingkatkan Kualitas Produksi dan Distribusi
Indonesian MPs Reminds Subsidized Fertilizer Producers to Improve Product Quality
Editor : M. Achsan Atjo
Translator : Dhelia Gani

PUBLISHED: Sabtu, 28 April 2018 , 22:19:00 WIB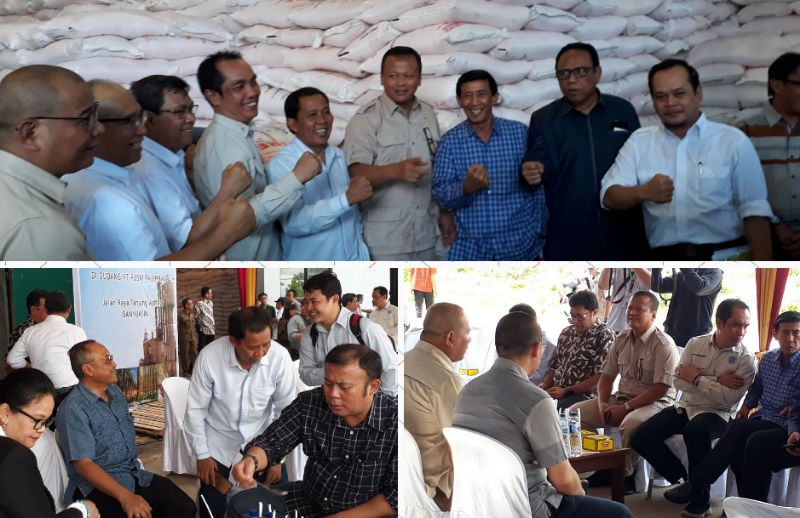 Turut hadir Dirjen PSP Kementan, Pending Dadih Permana yang menyertai rombongan Komisi IV DPR dari Jakarta (Foto: B2B/Mac)
Palembang, Sumsel (B2B) - Produsen pupuk, PT Pupuk Sriwijaya (Pusri) diingatkan untuk meningkatkan kualitas produksinya, khususnya jenis urea yang kualitasnya masih rendah, dan Pusri diharapkan dapat mendukung pemenuhan target penyediaan pupuk bersubsidi untuk 2018 hingga 9,55 juta ton, sementara manajemen Pusri menegaskan komitmennya untuk menjaga kualitas produksinya untuk mendukung peningkatan produksi pangan strategis.
Hal itu dikemukakan oleh Ketua Komisi IV DPR Edhy Prabowo, Anggota Komisi IV DPR Fauzih Amro, dan Direktur Komersial Pusri, Romli HM pada kunjungan reses komisi pangan dan lingkungan DPR RI di gudang Pusri di Jl Raya Tanjung Api-api, Kabupaten Banyuasin, Sabtu siang (28/4) sekitar 20 km dari kota Palembang.
Turut hadir Dirjen Prasarana dan Sarana Pertanian (PSP) Kementerian Pertanian RI, Pending Dadih Permana yang menyertai rombongan Komisi IV DPR dari Jakarta dan tiba Sabtu pagi di Bandara Sultan Mahmud Badaruddin II Palembang.
Edhy Prabowo, politisi Gerindra menegaskan kunjungan reses ke gudang Pusri bertujuan mengetahui kesiapan dan kemampuan Pusri memenuhi kebutuhan alokasi pupuk bersubsidi 2018.
"Kami sebagai wakil rakyat tidak ingin hanya sekadar laporan tapi melihat langsung kondisinya seperti gudang Pusri hari ini," kata Edhy dari daerah pemilihan Sumsel.
Fauzih Amro menilai Pusri masih belum memperhatikan kualitas produknya, karena masih banyak ditemukan pupuk bersubsidi dalam kondisi karung sobek atau rusak, bahkan kerap ditemui timbangannya kurang dari bobot pupuk yang tertera di kemasan.
"Kami minta Pusri memperhatikan hal itu, kalau kuantitas berkurang tentu akan mempengaruhi kualitas tanaman pangan khususnya padi yang diproduksi petani," kata Fauzih dari Dapil Banyuasin.
Romli sebagai direktur Pusri menyanggah tudingan tersebut, lantaran hal itu kerap terjadi pada kualitas kemasan, dan gudang Pusri segera mengganti dengan yang baru.
"Keluar dari gudang Pusri jalannya panjang dan berjenjang untuk sampai ke pengecer, kemungkinan kerusakan akibat proses bongkar, tapi kami selalu sortir, kalo rusak diganti dengan yang baru," kata Romli.
Menurutnya, tudingan tersebut tergolong kasuistis karena secara umum kondisi kemasan berikut isinya dalam kondisi baik hingga sampai ke konsumen.
Palembang of South Sumatera (B2B) - Producer of Indonesia´s subsidized fertilizer, Pupuk Sriwijaya Corp. or Pusri reminded to improve the quality of subsidized fertilizer especially urea which is still low quality, and is expected to support the target of providing subsidized fertilizer for 2018 of 9.55 million tons.
It was stated by Chairman of Indonesian parliament of the food and environment commission or Komisi IV, Edhy Prabowo; member of parliament (MP) Fauzih Amro; Director General of Infrastructure and Agricultural Facility, Pending Dadih Permana; and Director of Commercial Pusri, Romli HM.
Edhy Prabowo, Gerindra politician confirms the visit to the warehouse Pusri aims to determine the readiness and ability Pusri meet the needs of allocation of subsidized fertilizer 2018.
"We as representatives of the people do not want just a report but look directly at his condition of Pusri warehouse today," said Mr Prabowo.
Mr Amro assess Pusri still not pay attention to the quality of its products, because there are still many subsidized fertilizers found in damaged sacks, often found weigh less than the weight of the fertilizer contained in the packaging.
"We ask Pusri to pay attention to it, if the quantity is reduced will certainly affect the quality of food crops, especially paddy produced by farmers," he said.
Romli as the director of Pusri refuted the accusation, because it often happens on the quality of packaging, and Pusri warehouse immediately replace with a new one.
"Out of the Pusri warehouse to get to the retailer, the possibility of damage due to unloading process, but we always sort, if damaged replaced with a new one," Romli said.
According to him, the allegations are classified as casuistic because in general the condition of the packaging and its contents in good condition to the consumer.