Evaluasi 2018, ItJenTan 2019 Fokus e-Kinerja berbasis `GoWas Auditor 4.0`
Indonesia`s Inspectorate General of Agriculture Monitors Performance based Online App
Editor : M. Achsan Atjo
Translator : Dhelia Gani

PUBLISHED: Senin, 04 Februari 2019 , 02:22:00 WIB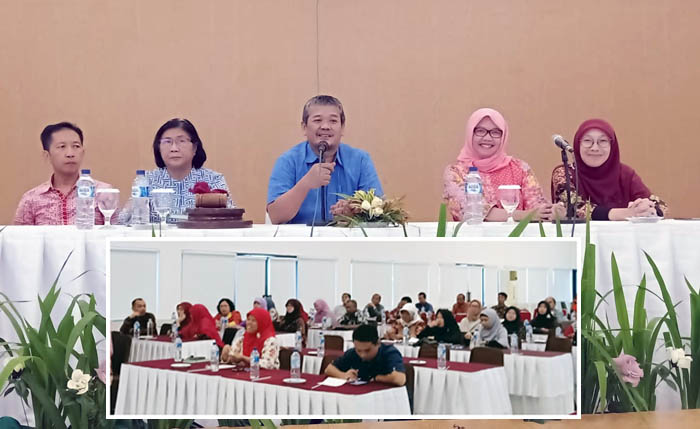 RAKER EVALUASI PNS: Sekretaris ItJenTan, Suprodjo Wibowo (kemeja biru) membuka Rapat Kerja Evaluasi 2018 didampingi para pejabat eselon tiga di antaranya Kabag OKH Edi Puspito (kiri) Foto2: Humas ItJenTan
Bogor, Jabar (B2B) - Seluruh jajaran di Inspektorat Jenderal Kementerian Pertanian RI disingkat ItJenTan di tahun 2019 harus kerja lebih cepat, kehadiran pegawai juga harus meningkat, demi mempertahankan sekaligus meningkatkan nilai reformasi birokrasi dari 2018 melalui sistem pengawasan dan pengawalan pertanian yang berbasis pada sistem dan aplikasi online.
"Para pegawai di lingkup ItJenTan harus lebih disiplin dan meningkatkan kinerja, untuk menuju e-Kinerja. Artinya, semua penilaian kinerja mengacu capaian tiap pegawai tahun lalu harus ditingkatkan," kata Sekretaris ItJenTan, Suprodjo Wibowo dalam arahannya, Jumat (1/2), saat membuka rapat kerja evaluasi kinerja 2018, yang rutin dilakukan setiap awal tahun.
Dalam kegiatan rapat kerja evaluasi yang berlangsung selama tiga hari, kegiatan dibagi dua kelas untuk auditor dan sekretariat, Suprodjo W mengatakan peningkatan kinerja mutlak dilakukan untuk mempertahankan nilai reformasi birokrasi Kementerian Pertanian pada tahun sebelumnya.
"Reformasi birokrasi merupakan upaya untuk melakukan pembaharuan dan perubahan mendasar terhadap sistem penyelenggaraan pemerintahan terutama menyangkut aspek-aspek kelembagaan, ketatalaksanaan dan SDM berbasis GoWas Auditor 4.0.
Pada 2018, Kementerian Pertanian RI merupakan salah satu kementerian yang dinilai baik oleh Kementerian PAN dan RB dalam pelaksanaan reformasi birokrasi. Penilaian ini diapresiasi dengan kenaikan tunjangan kinerja bagi pegawai Kementerian Pertanian terhitung mulai bulan Mei 2018. (Ri2n)
Bogor of West Java (B2B) - The whole range at the Inspectorate General of Indonesian Agriculture Ministry or the ItJenTan in 2019 had to work faster, the working presence of civil servants or the PNS must also increase, in order to maintain and improve the score of bureaucratic reform of 2018 through oversight system of online application base.
"ItJenTan civil servants must be more disciplined and improve performance, referring to e-Kinerja. The point is referred to the achievements of each civil servant last year, and this year must be increased," said Secretary of ItJenTan, Suprodjo Wibowo in his direction here on Friday (February 1).
In an evaluation work meeting that lasts for three days, the activity is divided into two classes for auditors and secretariat, Wibowo said the performance improvement was absolutely done to maintain score of the bureaucratic reform of the ministry in the previous year.
"Bureaucratic reform is an attempt to renew the system of governance especially regarding institutional, management and HR aspects based on GoWas Auditor 4.0.
In 2018, the Indonesian Agriculture Ministry is one of the ministries that is well regarded by the Bureaucratic Reform Ministry in the implementation of bureaucratic reform. Increased salary payments for the ministry civil servants since May 2018 is the appreciation of the Indonesian government.