Peranan UPJA, Petani Diminta Ditjen PSP Optimalkan Bantuan Alsintan
Indonesian Farmers Optimize Agricultural Machinery
Editor : M. Achsan Atjo
Translator : Dhelia Gani

PUBLISHED: Jum'at, 14 Juni 2019 , 22:36:00 WIB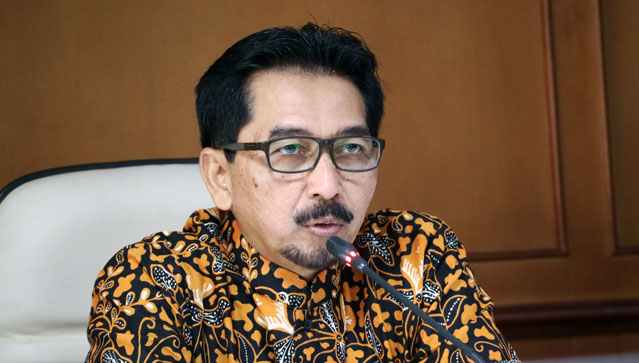 OPTIMALISASI ALSINTAN: Dirjen PSP Kementan, Sarwo Edhy [Foto: Humas]
Jakarta [B2B] - Direktorat Jenderal Prasarana dan Sarana Pertanian - Kementerian Pertanian RI [Ditjen PSP Kementan] meminta unit pelayanan jasa Alsintan (UPJA) mengoptimalkan penggunaan alat mesin pertanian (Alsintan) ke petani, untuk mendukung para petani menjalankan usaha tani.
Dirjen PSP Sarwo Edhy meminta UPJA pengelola Alsintan aktif mencari peluang ke daerah lain agar penyewaan Alsintan bisa berjalan lancar. Pengurus UPJA yang mengelola alsintan harus jeli membaca potensi pengguna alsintan di wilayah dan daerah sekitarnya.
"Misalnya, jika di daerahnya sudah selesai panen, maka combine harvester-nya dialihkan ke daerah lain yang sedang panen. Begitu juga kalau di daerahnya sudah selesai olah lahan dan tanam, traktor dan rice transplanter-nya bisa disewakan ke daerah lain," kata Sarwo Edhy di Jakarta, Kamis [13/6].
Menurutnya, untuk mengoptimalkan alsintan yang dikelola UPJA, Ditjen PSP Kementan sedang melakukan inventarisasi yang sudah diberikan ke sejumlah UPJA, kelompok usaha bersama (KUB), koperasi, dan Brigade Alsintan.
"UPJA atau KUB yang mengelola alsintan tersebut akan kami kumpulkan di setiap provinsi, kemudian kami lakukan sosialisasi agar bisa mengoptimalkan penggunaan alsintan. Kami juga memberi bekal kepada pengurus UPJA tentang cara mengelola alsintan yang baik," kata Dirjen Sarwo Edhy.
Dia menegaskan, bila ada pengurus UPJA yang dinilai kurang maksimal dan tak responsif dalam mengembangkan usaha alsintan, maka Ditjen PSP Kementan bisa membubarkan dan segera membentuk UPJA baru untuk mengelola bantuan alsintan dari pemerintah. [Sur]
Jakarta [B2B] - Directorate General of Agricultural Infrastructure and Facilities of Indonesian Agriculture Ministry [Ditjen PSP Kementan] asked the farm machinery rental cooperative [UPJA] to optimize the use of agricultural machinery [Alsintan] to support farmers to develop national agricultural potential.