Lagi, Kementan `Blacklist` Lima Importir Manipulasi Bawang Bombai Mini
Indonesian Govt Blacklist Commodity Importers of Garlic
Reporter : Gusmiati Waris
Editor : Cahyani Harzi
Translator : Dhelia Gani

PUBLISHED: Jum'at, 22 Juni 2018 , 22:38:00 WIB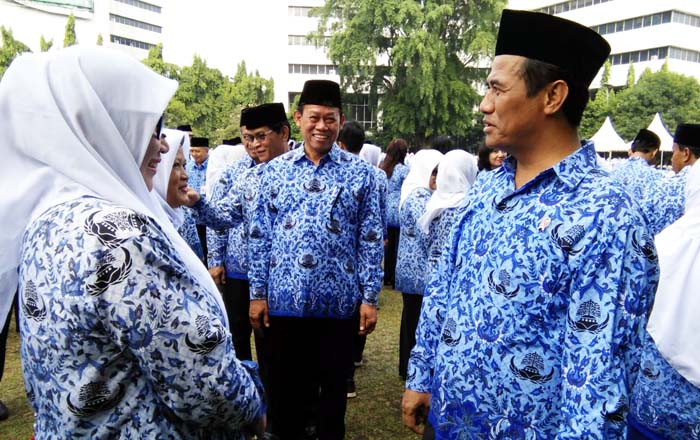 Mentan Andi Amran Sulaiman (kanan) berbincang dengan PNS Kementan didampingi Kepala BPPSDMP Momon Rusmono usai upacara peringatan Hari Krida Pertanian 2018 di kanpus Ragunan (Foto: B2B/Mya)
Jakarta (B2B) - Lima importir kembali dimasukkan daftar hitam (blacklist) oleh Kementerian Pertanian RI setelah melakukan manipulasi impor, dan patut diduga mengimpor bawang bombai mini, ukuran kurang dari 5 cm, tapi begitu masuk pasar kemudian dijual sebagai bawang merah dengan harga jual lebih murah dari bawang merah lokal, sehingga harga hasil produksi petani anjlok di pasar.
"Kementan kembali menemukan dan harus mem-blacklist lima perusahaan yang berlaku curang. Menipu negara. Merugikan petani dan konsumen," kata Mentan Andi Amran Sulaiman usai upacara peringatan Hari Krida Pertanian 2018 di Jakarta, Jumat (22/6).
Dari 10 importir, lima importir sudah diaudit Kementan yakni PT TAU, PT SMA, PT KAS, PT FMP, dan PT JS dan seluruh kroninya untuk dilarang keras melakukan perdagangan komoditas pangan, sebagai bukti komitmen Kementan untuk melindungi hasil produksi petani dan pemenuhan kebutuhan pangan konsumen.
Mentan Amran Sulaiman mensinyalir sebagian besar bawang bombai mini diimpor dari India melalui Pelabuhan Belawan di Medan, Sumut dan Pelabuhan Tanjung Perak di Surabaya, Jatim. Modusnya, menyelipkan karung-karung berisi bawang bombai mini di antara bawang putih impor untuk mengelabui petugas yang berwenang di pelabuhan.
"Komposisi manipulasi hampir 70 persen dan sisanya bawang bombai besar, sehingga importir untung besar karena membeli dengan murah tapi dijual dengan harga di bawah harga pasaran bawang merah lokal," katanya.
Mentan mengelaborasi harga bawang bombai mini di India hanya Rp2.500 per kg setelah ditambah biaya pengiriman, clearance dan sebagainya maka biaya pokok per kg adalah Rp6.000, kemudian dipasarkan ke distributor sekitar Rp10.000 dan dijual Rp14.000 per kg kepada konsumen.
Jakarta (B2B) - Five Indonesian importers are blacklisted by the Agriculture Ministry after manipulating imported garlic small size, less than 5 cm, but on the market sold as shallot at cheaper prices than local products, so that the Indonesian shallot farmers lose money, according to the Indonesian minister.
"The ministry found and had to blacklist five fraudulent companies. Manipulate government policy. Detriment of farmers and consumers," said Agriculture Minister Andi Amran Sulaiman here on Friday (June 22).
Of the 10 importers, five importers have been audited by the ministry, the initials of importers are TAU, SMA, KAS, FMP, and JS and company cronies are strictly forbidden to trade in food commodities, as the government´s commitment to protect the farmers ´production and the fulfillment of consumers´ food needs.
Minister Sulaiman indicated that most of the illegal garlic small size were imported from India through Belawan Port in Medan of North Sumatra, and Tanjung Perak Port in Surabaya, East Java.
"The manipulation composition is almost 70 percent, and the rest of the garlics are large, so importers earn a lot of money because they buy cheaply but are sold at a price below the local shallot market price," he said.
The minister elaborated on the price of small Indian garlic for only 2,500 rupiah per kg, after added shipping cost, clearance and so on, the capital price per kg is 6,000, then marketed to distributor 10,000 and sold 14,000 rupiah per kg to the consumer.