Andalkan Sumur Bor, Sawah Tadah Hujan Sanggau Panen 7,7 ton/ha di Musim Kemarau
Indonesia`s West Borneo Develops Drilling Wells for Irrigation in Paddy Fields
Editor : M. Achsan Atjo
Translator : Dhelia Gani

PUBLISHED: Kamis, 26 Juli 2018 , 22:39:00 WIB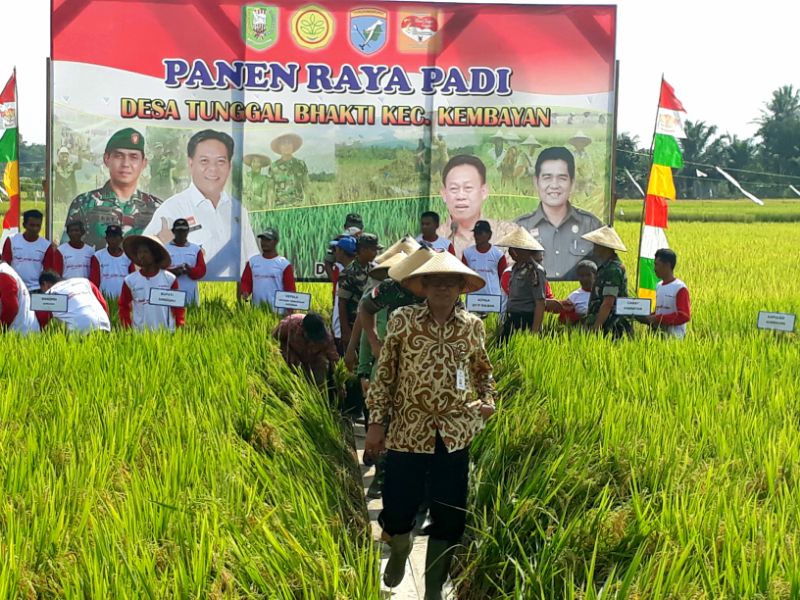 PJ Upsus Kalbar, Momon Rusmono (batik kuning) usai panen raya di Kecamatan Kembayan, Kabupaten Sanggau di lahan tadah hujan yang diairi sumur bor sebagai pilot project Kementan yang didukung BPTP Kalbar (Foto: B2B/M. Achsan Atjo)
Sanggau, Kalbar (B2B) - Penanggung Jawab Upsus Kalbar, Momon Rusmono melakukan panen di pilot project sawah tadah hujan seluas 100 hektar di Kecamatan Kembayan, Kabupaten Sanggau, Kamis siang (26/7), yang memanfaatkan air dari sumur bor untuk mengairi padi varietas Inpari 32 dan 33 yang tahan hama. Perkiraan panen dari hasil ubinan mencapai 7,7 ton per hektar meski di tengah kemarau.
"Panen di percontohan lahan kering seluas 100 hektar ini menjadi bukti tak ada yang tak mungkin apabila mau bekerja keras, dan bekerjasama memanfaatkan seluruh potensi yang ada mengantisipasi dampak musim kemarau," kata Momon Rusmono pada panen raya di Desa Tunggal Bhakti bersama para petani dari Gapoktan Bhakti Bersama.
Pengembangan proyek percontohan tersebut di bawah koordinasi Kementerian Pertanian Indonesia idukung oleh Balai Pengkajian dan Penerapan Teknologi (BPTP) Kalbar, dinas pertanian provinsi dan kabupaten, bintara pembina desa (Babinsa) dari Kodim 1204/Sanggau - Sedakkau, tujuannya agar petani di Kalbar tetap bisa menanam dan panen padi meski cuaca tidak kondusif.
"Itulah bukti dari kerjasama dan kebersamaan untuk mengatasi masalah petani sebagai produsen pangan pokok kita. Buktinya, petani Desa Tunggal Bhakti dapat meraih hasil panen dengan perkiraan produktivitas dari hasil ubinan sekitar 7,7 ton per hektar di tengah kemarau," kata Momon Rusmono, yang juga menjabat Kepala Badan Penyuluhan dan Pengembangan SDM Pertanian (BPPSDMP) Kementan.
Untuk diketahui, BPTP Kalbar mendukung pengembangan pompa air untuk irigasi lahan kering sebesar Rp2,5 juta per sumur bor. Momon Rusmono mengapresiasi efisiensi tersebut sebagai bukti komitmen petani, karena sukarela membuat sumur bor tanpa dibayar. "Dari petani untuk petani sebagai semangat luar biasa membangun potensi pertanian di Desa Tunggal Bhakti."
"Saya harapkan BPTP Kalbar melakukan replikasi dari keberhasilan ini ke desa, kecamatan dan kabupaten lain di seluruh Kalbar, agar target tiada hari tanpa tanam dan panen padi segera terwujud," kata Momon.
Tanpak hadir pada saat panen Kepala Dinas Pertanian Pemprov Kalbar, Heronimus Hero; Kepala Dinas Pertanian Pemkab Sanggau, John Henri; Komandan Kodim 1204/Sanggau - Sedakkau, Letkol Inf. Herry Purwanto; Kepala BPTP Kalbar, Achmad Musyafak; dan Tim Upsus Kalbar, Septalina Pradini.
Sanggau of West Borneo (B2B) - Person in Charge of West Borneo´s Increase Food Production or the PJ Upsus Kalbar, Momon Rusmono in dry land pilot project conduct rice harvest in dry land pilot project of Indonesian Agriculture Ministry in an area of 100 hectares in Kembayan subdistrict of Sanggau district.
"The rice harvest in the rain-fed rice field is a proof that nothing is impossible if you want to work hard, to anticipate the impact of the dry season," said Mr Rusmono in Tunggal Bhakti village to rice harvest with the local farmer group.
The pilot project under coordination of ndonesian Agriculture Ministry supported by West Borneo Technology Assessment and Implementation Center or the BPTP, the provincial and district agricultural offices, the village counselor or Babinsa, the goal is that farmers in West Borneo can still grow and harvest rice despite the weather is not conducive.
"That is proof of cooperation and togetherness to overcome the problems of farmers as our staple food producers. The proof, the farmers of Tunggal Bhakti village can achieve crop yields with an estimated productivity of 7.7 tons per hectare," said Mr Rusmono who also serves as the Director General of Agricultural Extension and HR Development of the ministry.
To be known, the BPTP Kalbar support development of water pumps for irrigation dry land 2.5 million rupiah per well drill. Mr Rusmono appreciated efficiency as a proof of commitment of farmers, after the farmer helped to make the well drilled without pay.
"I expect the BPTP Kalbar to replicate this success to villages, sub-districts and other districts across the West Borneo," Mr Rusmono said.