Komoditas Peternakan, Pemprov NTT Dukung Program GratiEks Kementan
Indonesian Govt and Local Governments Agree to Increase Cattle Production
Reporter : Gusmiati Waris
Editor : Cahyani Harzi
Translator : Dhelia Gani

PUBLISHED: Minggu, 15 Desember 2019 , 02:24:00 WIB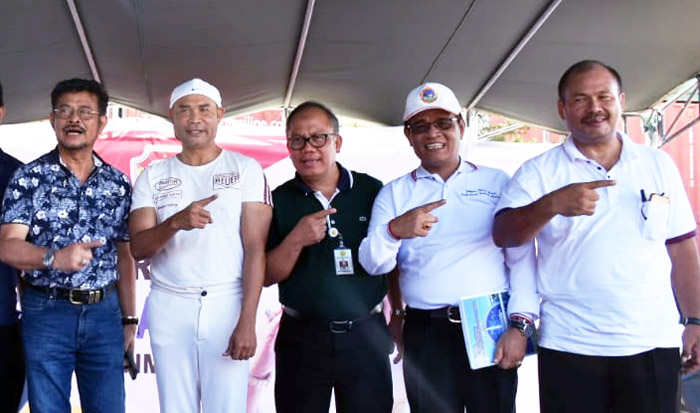 Kiri ke kanan: Mentan Syahrul Yasin Limpo; Gubernur NTT Victor Laiskodat dan Dirjen PKH Kementan, I Ketut Diarmita [ke-2 kanan] usai penandatanganan MoU di Kupang [Foto: Humas Ditjen PKH Kementan]
Kupang, NTT [B2B] - Pemerintah Provinsi Nusa Tenggara Timur [Pemprov NTT] menyatakan komitmen mendukung Gerakan Tiga Kali Ekspor [Gratieks] komoditas peternakan dengan penandatanganan nota kesepahaman oleh Dirjen Peternakan dan Kesehatan Hewan Kementan [PKH] I Ketut Diarmita dengan Gubernur NTT Victor Laiskodat disaksikan Menteri Pertanian RI Syahrul Yasin Limpo [SYL] di Kupang, Sabtu [14/12].
Mentan SYL mengatakan kesepakatan Kementan dan Pemprov NTT didasari keinginan bersama untuk sinergi potensi, tugas, fungsi dan kewenangan dan program untuk Gratieks komoditas peternakan.
"Kita sepakat bekerjasama mewujudkan peningkatan populasi dan produksi dalam rangka ekspor komoditas peternakan. Apalagi NTT merupakan salah satu lumbung ternak sapi nasional, dan Kabupaten Kupang merupakan salah satu penyuplai terbesar kebutuhan protein hewani," kata SYL saat melepas ekspor komoditas pertanian dan pengiriman sapi dari NTT melalui tol laut serta penyerahan bantuan kepada petani NTT untuk 2020 di Pelabuhan Tenau, Kota Kupang.
Menurut SYL, kebutuhan daging sapi nasional sangat tinggi sehingga memerlukan dukungan dari sentra produksi ternak sapi, dalam upaya pemerintah mewujudkan ketahanan pangan untuk komoditas daging sapi.
"Upaya ini tidak sebatas hanya pada kemampuan dalam menyediakan pangan yang cukup bagi masyarakatnya saja tetapi juga harus disertai peningkatan kualitas konsumsi pangan masyarakat yang berbasis sumberdaya lokal," kata Mentan.
Dia menambahkan bahwa Kementan perlu menggerakkan seluruh sumber daya termasuk kontribusi daerah dalam pembangunan peternakan.
Terkait kerjasama Ditjen PKH Kementan dan Pemprov NTT, Kementan menegaskan komitmen NTT untuk mampu meningkatan produksi komoditas peternakan antara lain sapi potong dan unggas minimal 7% per tahun, artinya terjadi peningkatan penyerapan tenaga kerja subsektor peternakan dan kesehatan hewan.
"Kami mendukung pembangunan pertanian di NTT maka pengembangan prasarana dan sarana pengembangan komoditas menjadi prioritas. Namun harus sesuai dengan agroklimat dan ekosistem agar bisa berkembang," kata Mentan.
Kupang of East Nusa Tenggara [B2B] - East Nusa Tenggara provincial government supports increasing exports of Indonesian livestock commodities to foreign countries, marked the signing of the memorandum of understanding by the Directorate General of Livestock and Animal Health Ministry of Agriculture with Governor Victor Laiskodat witnessed by Indonesian Agriculture Minister Syahrul Yasin Limpo here on Saturday [December 14].