Pupuk Bersubsidi, PJ Upsus Bogor Pantau Penyaluran Kartu Tani
Indonesia`s Bogor Farmers Get the Farmer Card to Buy Subsidized Fertilizer
Editor : M. Achsan Atjo
Translator : Dhelia Gani

PUBLISHED: Kamis, 11 Oktober 2018 , 22:43:00 WIB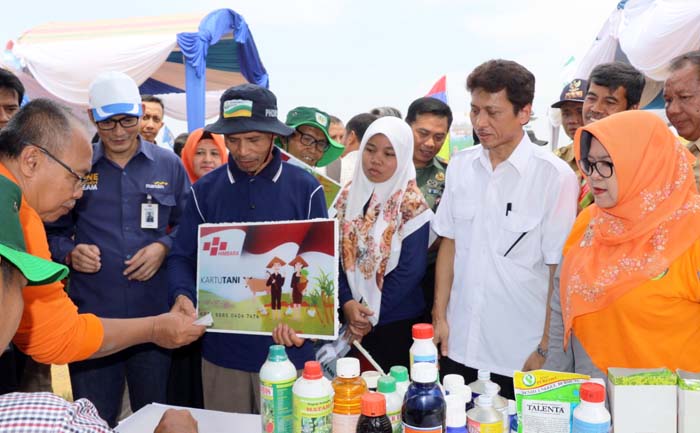 GERTAM PAMIJAHAN: PJ Upsus Swasembada Kabupaten Bogor, Bambang Pamuji (kemeja putih) didampingi Kadistan Siti Nurhayati (kanan) menyaksikan penyaluran Kartu Tani kepada petani Pamijahan (Foto: Humas Itjentan)
Bogor, Jabar (B2B) - Hari-hari ke depan, sedikitnya 2.935 petani di Kecamatan Pamijahan yang telah menerima Kartu Tani dari Bank Mandiri, sudah dapat memanfaatkannya untuk menebus pupuk bersubsidi lebih praktis dan mudah di kios pupuk resmi, dari target 18.439 petani penerima Kartu Tani di Kabupaten Bogor, Provinsi Jawa Barat.
Penyerahan Kartu Tani kepada petani yang terdata dilakukan pada kegiatan Gerakan Tanam Serentak (Gertam) seluas 135 hektar di Desa Ciasmara, Selasa (9/10) pada lahan milik Poktan ´Cinta Tani´, yang dihadiri oleh Penanggung Jawab Upaya Khusus Swasembada Pangan - PJ Upsus Kabupaten Bogor, Bambang Pamuji.
"Petani diharapkan dapat memanfaatkan Kartu Tani agar lebih mudah mendapatkan pupuk bersubsidi, dan memutus rantai penyimpangan distribusi pupuk bersubsidi, untuk mendukung petani meningkatkan produktivitas tanaman pangan khususnya padi," kata Bambang Pamuji, yang juga menjabat Inspektur III di Inspektorat Jenderal Kementerian Pertanian RI (Itjentan).
Menurut Bambang Pamuji, pertanian berperan penting mendukung kehidupan masyarakat untuk mendapatkan pangan sebagai kebutuhan pokok manusia, dan hal itu harus didukung dengan memberi kemudahan pada petani untuk mendapatkan pupuk bersubsidi.
"Dampak penting lain dari Kartu Tani adalah mencegah petani menjual lahan pertanian miliknya karena kesulitan dalam bertani, dan memilih beralih ke profesi lain karena menjadi petani dianggap tidak menguntungkan," katanya.
Kepala Dinas Tanaman Pangan, Hortikultura dan Perkebunan Kabupaten Bogor, Siti Nurhayati mengatakan peluncuran Kartu Tani di Pamijahan turut mendukung upaya pemerintah mendata sektor pertanian kabupaten, sebagai bahan informasi dan pemantauan khususnya terhadap ketersediaan dan kebutuhan akan sarana dan prasarana pertanian khususnya pupuk bersubsidi, benih, dan pestisida.
Hingga akhir September 2018, Kartu Tani yang dicetak mencapai 20.154 buah dan telah dibagikan 18.439 buah. Khusus Kecamatan Pamijahan jumlah petani yang terdata mencapai 2.395 orang, dan yang menerima Kartu Tani sebanyak 1.663 orang, dan 732 petani belum mendapatkan Kartu Tani.
Bogor of West Java (B2B) - In the coming days, at least 2,935 farmers in Pamijahan subdistrict have received the Farmer Cards from Mandiri Bank, can buy subsidized fertilizer more practically and easily at official kiosks, from the target of 18,439 farmers in Bogor district of West Java province.
The Farmer Card are given to the farmers who are recorded as being given to simultaneous planting activities in Ciasmara village on Tuesday (October 9) which was attended by Person in Charge of food Self-sufficiency or the PJ Upsus, Bambang Pamuji.
"Farmers are expected to use the Farmer Card to make it easier to get subsidized fertilizer, and cut off the chain of irregularities in the distribution of illegal subsidized fertilizers to support farmers to increase the productivity of food crops, especially rice," said Pamuji, who also served as the Inspector III at the Indonesian Agriculture Ministry´s.
According to Mr. Pamuji, agriculture plays an important role in supporting people´s lives to get food as a basic human need, and it must be supported by providing facilities for farmers to get subsidized fertilizer.
"Another important impact of the Farmer Card is to prevent farmers from selling their agricultural land due to farming difficulties, and choose to stop being a farmer because it is considered not profitable," he said.
Head of Bogor Agriculture Service Office, Siti Nurhayati said the Farmer Card for Pamijahan supports the government´s efforts to record the district´s agricultural sector, as information material and monitoring the availability and needs of agricultural facilities and infrastructure, especially subsidized fertilizers, seeds, and pesticides.
Until the end of September 2018, the printed Farmer Cards reached 20,154 pieces and had distributed 18,439 pieces. Specifically in the Pamijahan sub-district there were 2,395 farmers, and those who are entitled to get 1,663 Farmers´ Cards and 732 farmers have not been recorded.