Upsus Pajale Mumpuni, Ubah `Mindset` RI dari Importir jadi Eksportir Jagung
Indonesia Managed to Increase Corn Production to become an Exporter
Editor : M. Achsan Atjo
Translator : Dhelia Gani

PUBLISHED: Jum'at, 09 Maret 2018 , 22:44:00 WIB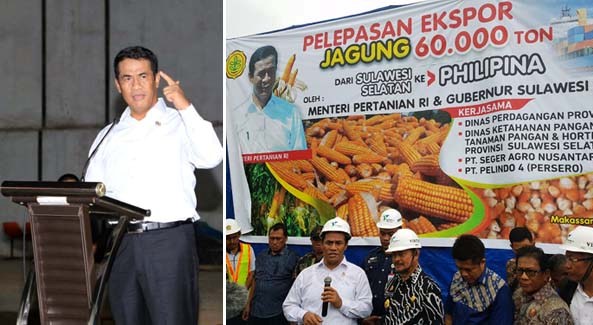 Foto: Humas Kementan
Jakarta (B2B) - Setelah ekspor jagung 57.000 dari Gorontalo ke Filipina, hari ini di Makassar, Menteri Pertanian RI Andi Amran Sulaiman melepas ekspor jagung 60.000 ton ke Filipina. Pekan depan, Mentan akan melepas ekspor jagung dari Sumbawa, Nusa Tenggara Barat (NTB) disusul Jawa Timur dan Sulawesi Barat. Tahun ini, Indonesia menargetkan ekspor jagung 300.000 ton dan berhasil sehingga mengubah ´mindset´ sebagai negara importir menjadi eksportir jagung.

Hal itu dikemukakan oleh Mentan Amran Sulaiman di Pelabuhan Makassar didampingi Gubernur Sulawesi Selatan, Syahrul Yasin Limpo; Pangdam XIV/Hasanuddin, Mayjen TNI Agus Surya Bhakti; Kapolda Sulsel, Irjen Pol Drs Umar Septono; dan Direktur Utama Pelindo IV, Doso Agung.

"Kini, 2018, Indonesia ekspor jagung ratusan ribu ton. Seandainya tidak ada program Upsus Pajale, kita tetap akan impor jagung empat sampai lima juta ton," kata Mentan di Makassar (9/3).

Menurutnya, ekspor jagung merupakan prestasi luar biasa dan ´sejarah penting´ dari para petani jagung di seluruh Indonesia, yang berhasil memutar balik posisi Indonesia dari importir menjadi eksportir jagung.

"Ekspor jagung 2018 diawali dari Gorontalo sebanyak 57 ribu ton, hari ini dari Makassar 60 ribu ton. Minggu depan kita ekspor dari Sumbawa di NTB kemudian dari Jatim dan Sulbar. Total target ekspor jagung tahun ini 300 ribu ton dari seluruh Indonesia," kata Mentan.

Dampak Ekonomi
Ekspor jagung tidak hanya berdampak positif pada devisa Indonesia, juga meningkatkan kesejahteraan petani apabila dikalkulasi dari total produksi jagung Sulsel sekitar 2,23 juta ton per tahun dengan harga jual Rp3.150 per kg maka petani akan meraih Rp7 triliun.

"Minimal petani mendapat keuntungan hingga Rp5 triliun setelah dipotong biaya produksi sehingga petani pun akan sejahtera dari menanam jagung," kata Mentan.

Gubernur Syahrul Yasin Limpo mengingatkan apabila petani didukung pemerintah dan pihak-pihak terkait untuk meningkatkan produksi jagung maka tidak ada yang mustahil, dan menyatakan Sulsel sebagai provinsi yang terlarang untuk impor jagung.

"Kalau kita serius dan memanfaatkan lahan pertanian maka produksi jagung Sulsel bisa lebih besar. Kita bisa capai 2,6 juta ton yang nilainya sangat menggiurkan," kata Syahrul.

Data Badan Pusat Statistik (BPS) menyebutkan produksi jagung nasional 2015 hingga 2018 meningkat dari 19,6 menjadi 23,6 juta ton dan 2017 mencapai 27,9 juta ton. Demikian pula di Provinsi Sulawesi Selatan selama tiga tahun terakhir naik dari 1,5 juta ton pada 2015 menjadi 2,23 juta ton pada 2017.
Jakarta (B2B) - Indonesian Agriculture Minister today in Makassar, the capital of South Sulawesi province Indonesia´s Agriculture Minister Andi Amran Sulaiman remove 60,000 tons of maize exports to the Philippines. Next week, Minister Sulaiman will release exports of maize from Sumbawa, West Nusa Tenggara province and then East Java and West Sulawesi provinces. Indonesia´s export of maize target this year is estimated at 300,000 tons.

It was stated by Minister Sulaiman in Makassar port accompanied by South Sulawesi Governor Syahrul Yasin Limpo; Commander of South Sulawesi´s Hasanuddin regional military, Maj. Gen. Agus Surya Bhakti; and President Director of Makassar Port, Doso Agung.

"Now, in 2018, Indonesia became an exporter of maize. If no program self-sufficient of maize, we still import to five million tonnes," Minister Sulaiman said (March 9).

According to him, the export of maize is a remarkable achievement and an important history for corn farmers throughout the country, who managed to turn the Indonesian position from importer to corn exporter.

"The export of maize in 2018 starts from Gorontalo with 57 thousand tons, today from Makassar 60 thousand tons.
Next week we export from Sumbawa then East Java and West Sulawesi. Total export target this year is 300 thousand tons across the country," Mr Sulaiman said.

Economic Impact
Maize exports not only have a positive impact on Indonesia´s foreign exchange, also the welfare of farmers if the total production of 2.23 million tons per year, the selling price of 3,150 rupiah per kg then the farmers get 7 trillion rupiah.

"Farmers at least will get a profit of up to 5 trillion rupiah after cut production costs," said Minister Sulaiman.

Governor Syahrul Yasin Limpo reminded the importance of government support and related parties to increase corn production, and declared as a province of South Sulawesi province forbidden for import maize.

"If serious work hard, South Sulawesi´s corn production can be bigger. We can achieve production of 2.6 million tons," Governor Limpo said.

Central Statistics Agency said national maize production in 2015 to 2018 increased from 19.6 to 23.6 million tons and 2017 reached 27.9 million tons. South Sulawesi province for the last three years increased from 1.5 million tons in 2015 to 2.23 million tons in 2017.